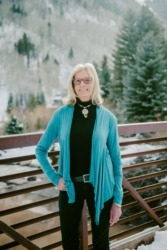 Telluride is a special place that nurtures the body, mind, and spirit.
Because Telluride is a hidden gem, our Real Estate prices are more affordable than Aspen. If you own here you will find a National Historic Town - all with uncrowded streets and slopes. The friendliest people you will ever meet as well as unsurpassed beauty and world-class skiing, unlimited hiking terrain, awesome biking trails, a stunning golf course, tennis courts, festivals galore and culture abounding.
I look forward to working with you, your family and your friends!
With passion and commitment, I find my clients the property of their dreams so they can live the lifestyle of their dreams. When it is time to sell, I put forth the same effort in Listing properties in order to obtain the best price in the least amount of time. My varied and extensive experience allows me to provide the ultimate in personal service, superior information, and resources needed to buy and sell a home in the Telluride area.
I joined Mountain Rose Realty July 1, 2022.
I am passionate about the Telluride community and deeply rooted here having served on boards including the Telluride Adaptive Sports Program and as a Volunteer for 19 years; The Telluride Women's Network and the Aldasoro Design Review Board. I contribute to the Telluride First Time Homebuyers Assistance Fund and the Hoot Brown Foundation.
I grew up in Great Falls, Montana and graduated from Gonzaga University in Spokane, Washington. I first worked as a Registered Nurse with Intensive Care and Emergency Room Experience. After extensive national and international travel, I raised two daughters, Kelly and Erin with my husband, Kirk, on the east coast. Because I was a westerner at heart and skiing was my passion, I founded and was CEO of a national Ski Resort Sales and Marketing Company for 20 years. That is how I first discovered Telluride in 1984 and it was love at first sight. I stood in the middle of Colorado Avenue staring at the box canyon and then called my husband from my hotel room. I told him that this is where we need to be. We bought a Condominium in Telluride and after 10 years of being a second homeowner, we bought a lot in Aldasoro in 1999. We moved here permanently in 2000 and moved into our Dream Home in 2003 and where we now live.
My hobbies and interests include Skiing, Golf, Tennis, Snowshoeing, Gardening, Mountain Biking, Hiking, Avid Reader, Artist.