50th Telluride Film Festival showcases a splendid program
Posted by Anne-Britt Ostlund on Thursday, August 31, 2023 at 12:40 PM
By Anne-Britt Ostlund / August 31, 2023
Comment
By Jill Brooke Planet Contributor Via Telluride News
Over 80 films and features this year, including 'Saltburn,' 'The Holdovers' and 'Daddio'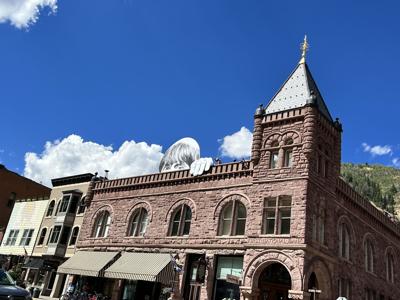 50th Telluride Film Festival showcases a splendid program. The late Agnès Varda blesses the Telluride Film Festival in a French artist/director JR-inspired appearance atop the roof of The Nugget Theater. (Courtesy photo)
The 50th Telluride Film Festival is a loving tribute to the film pioneers that founded this festival, Bill Pence and Tom Luddy. They would have been thrilled with this year's program. It's packed with great films, old and new, film events, and seminars that would make them proud, but also full of unexpected delights. One example is the cherubic face of the late Agnés Varda, French director and friend of Tom Luddy, that looks down from atop The Nugget Theatre.
Telluride Film Festival's 50th anniversary edition takes place on Thursday, August 31, through Monday, September 4.
Film Festivals are huge endeavors to produce, promote and stage. When that film festival is one that literally transforms a town like the Telluride Film Festival does, that feat is a daunting task. Throw in a SAG-AFTRA strike and challenges that range from lack of housing to shortage of volunteers to push-back from the town…the Telluride Film Fest staff has had an especially challenging year.
"Fifty years is a long time to do anything. And while we might be a little biased, we feel the work that TFF does is pretty important," comments Telluride Film Festival Director Julie Huntsinger. "We take the charge of preserving the theatrical experience and promoting film seriously, but with necessary winks here and there. We're ecstatic to share a program we feel reflects so much of the past 50 years, naturally and organically, films old and new, which stand as a testament to our beloved co-founders Tom Luddy and Bill Pence who are no longer with us."
The TFF team has curated an extraordinary program for this 50th year celebration. There are six guest directors: Alfonso Cuarón, Adam Curtis, Ethan Hawke, Steve McQueen and Mira Nair. Each of the guest directors chooses films that have personal meaning to them and those selections help fill out a program with older films that skirt SAG-AFTRA rules for talent promoting current works.
Fortunately, Telluride Film Festival doesn't rely on red carpets, or the celebrity draw that other similar festivals thrive on. Plus, SAG-AFTRA is formally encouraging performers whose movies have signed and obtained the guild's interim agreement to attend and promote their films. In consideration and solidarity with their actor/writer brethren, no acting or writing talent is listed in the program this year. Staff will also be banning photography at the Q&As. It's an issue of optics, even if they've been covered under the waiver of the guild, no one wants to appear on social media, out promoting films, while others are left behind on the picket line.
Julie Huntsinger and her team have crafted a program that celebrates the 50 years of the festival with plenty of tributes and conversations that will thrill and educate audiences. There's something for all interests and levels of film appreciation. TFF is screening over 80 feature films, short films, and revival programs representing 29 countries, along with filmmaker tributes, conversations, seminars, student programs and festivities.
This year's Silver Medallion Awards, given to recognize an artist's significant contribution to the world of cinema, will go to Greek filmmaker Yorgos Lanthimos (presenting his new film, "Poor Things"), Italian writer-director Alice Rohrwacher ("La Chimera") and German filmmaker Wim Wenders ("Anselm" & "Perfect Days"). Tribute programs generally include a selection of clips of the artist's work, presentation of the Silver Medallion and the film screening.
There are plenty of exciting directors that will be in attendance to promote their new films. Writer/director Emerald Fennell, who's film "Promising Young Woman" was one of my favorite films of 2020, brings "Saltburn," a biting Dickinson tale of class and dysfunction. Alexander Payne returns to the festival with the charming film "The Holdovers" starring Paul Giamatti.
As a fan of women directors, I'm looking forward to seeing first-time writer/director Christy Hall's film, "Daddio." Dakota Johnson stars as a passenger in Sean Penn's cab in what looks to be an eventful and unexpected ride. I was hoping the festival would find a place for the new short film by Pedro Almodóvar, the gay cowboy romance "Strange Way of Life." It's playing in a program with "The Golden West," directed by Tom Berkeley and Ross White.
There's been rumors in town of a big music star set to perform at the festival. Jon Batiste will be performing after the screening of his documentary, "American Symphony," directed by Matthew Heineman. Acclaimed playwright Tina Satter brings her reenactment of the interrogation of Reality Winner (Sydney Sweeney) in "Reality." The Agnès Varda's art installation, Patatutopia will run all weekend at the Sheridan Opera House, and there's a tribute to her work with screenings of "The Gleaners and I" and the short films, "The Black Panthers" and "Uncle Yanco."
Some of the most exciting moments at the festival are the unexpected. The conversations between artists in seminars and talks in the park yield insights into the work but also good-natured ribbing and even personal revelations. Watching a film under the stars at Town Park or Elks Park can be magical. Experiencing a silent film with musical accompaniment is a delight and something few people have a chance to experience.
Welcome to all those experiencing this excitement for the first time and to those returning for the umpteenth time. You'll find fellow film lovers all over town ready to discuss their favorite finds and discoveries. I hope you'll be open to wonder. Try something new for this year's festival. Step out of your comfort zone and visit a new venue or go to a film you've heard nothing about…tell them Tom Luddy and Bill Pence sent you. This year, expect the unexpected and you'll find it.
Thank you for joining us as we explored the highlights of the 50th Telluride Film Festival. It's clear that Telluride, with its breathtaking landscapes and vibrant cultural scene, is not just a hub for cinematic excellence but also a place where dreams of owning a home can become a reality. If you've fallen in love with this picturesque town and are considering making Telluride your home, look no further than Mountain Rose Realty.
Mountain Rose Realty specializes in Telluride real estate, and our dedicated team, led by the experienced Anne-Britt, is here to assist you in finding your perfect piece of Telluride. From cozy mountain cabins to luxurious estates, we have a wide range of Telluride homes for sale to suit every taste and budget.
Finding homes for sale in Telluride, CO, can be a daunting task, but with our expertise and local knowledge, we make the process seamless. Whether you're a first-time homebuyer or looking to invest in Telluride real estate, we're here to guide you every step of the way.
Don't miss the opportunity to live in this cinematic paradise. Contact Mountain Rose Realty today to start your journey towards owning your dream home in Telluride, Colorado. Your slice of mountain paradise awaits!
Phone(970) 759-4886

Email[email protected]

Address Anne-Britt Ostlund | Mountain Rose Realty
ER.40037299
Mountain Rose Realty
220 East Colorado Avenue Suite 210
Telluride, CO 81435