A Town We Love: Telluride, Colorado
Posted by Anne-Britt Ostlund on Saturday, March 11, 2023 at 10:30 AM
By Anne-Britt Ostlund / March 11, 2023
Comment
With its world-class skiing in the winter and stunning scenic hikes in the summer, Telluride earns the easy respect of visitors. But fall in Telluride shouldn't be overlooked. The town quiets, many hotels drop their prices, and the aspen leaves put on their best show of the season, changing from greens to golds and russets, before vanishing entirely. This is a time when the San Miguel River slows to a trickle.
A time when Telluride returns to its small-town roots. A time when you can bike a trail without seeing a single soul and afterwards chase up a pizza without navigating a long line. In short, in this brief window of time during October and November, after the summer tourists return home but before the winter tourists arrive, you'll find the Telluride you've always wondered about: authentic Telluride.
go prospecting
To make the most of your Telluride trip—start early!
Telluride's gold prospecting days may be over but that doesn't mean it's too late to ride the Prospect Trail. This glorious mountain biking trail cuts across the ski area, climbing and winding along for a 10.7-mile stretch, affording views of Mt. Wilson, Wilson Peak (yes, the one on the Coors label), Sunshine Peak to the south, and the La Sals in Utah to the west. The climb is moderate, less than 1,000 feet total elevation gain, one of the few biking trails in Telluride that takes it relatively easy on you but still delivers the goods along the way. It's a great way to start your day.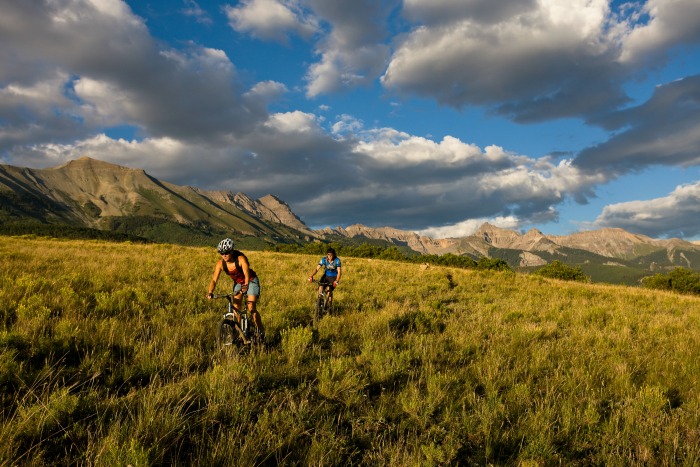 During Telluride's gold heyday, the town swelled to 5,000 people (more than double what it is today), and miners carted more than $360 million worth of gold out of this basin and the surrounding peaks. These days, just a few filaments of real gold remain in Prospect, but the gold of the aspens lives on.
Rent bikes at either Bootdoctors or Telluride Sports, both located on Main Street, which is officially named Colorado Avenue but never referred to as such. (Call it one of Telluride's endearing quirks.) Until mid-October, you can take Telluride's free gondola to the San Sophia station at the top of the ridge and exit with your bike at mid-ride. This saves you and your legs a grueling climb up the Boomerang Trail (or a more moderate, but longer climb up the Meadows and Jurassic Trail out of Lawson Hill). After the gondola closes for maintenance, though, you must power your own way up to this basin.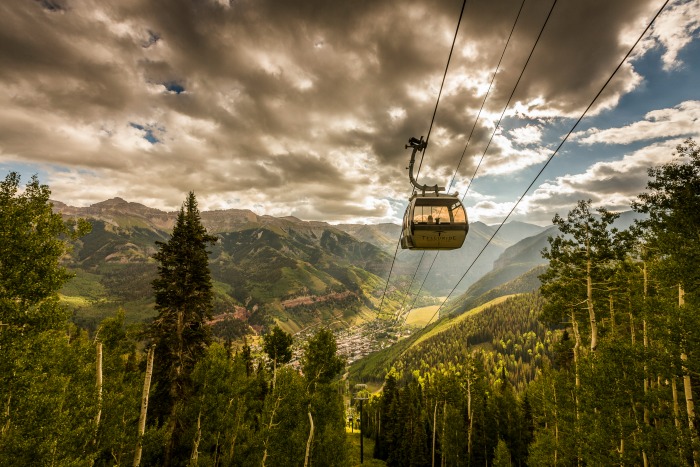 Either way, when you've finished the loop, you've earned a breakfast burrito at The Butcher & The Baker, one of Telluride's most loved restaurants. The wait time for food can be erratic but the quality of food never is.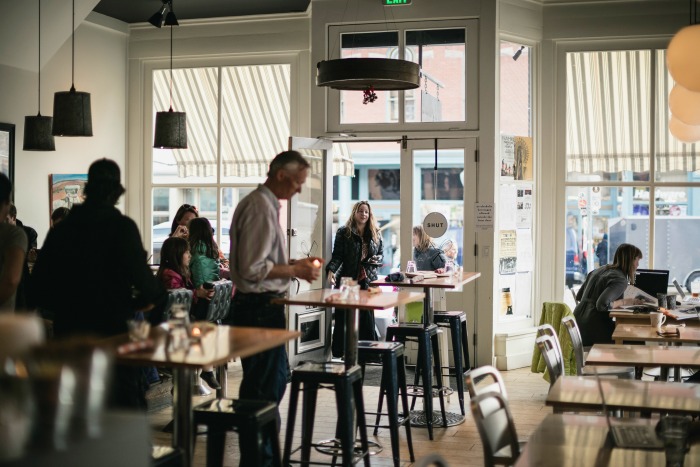 For years, the two longtime locals who run this joint worked side-by-side with a chocolatier in a small shared kitchen, producing food for catering events. The three used to affectionately riff on the old nursery rhyme and describe themselves as the "butcher, the baker, and the chocolate maker." When each chef got too popular, the chocolatier formed Telluride Truffles, one of Telluride's premier sweet spots, and the butcher and baker started their own café. There have been lines out the door ever since.
town loop
After brunch, enjoy a walk down Telluride's Main Street, filled with shops offering everything from women's clothing to the gear you need to outfit your next mountaineering trip. For the history buffs in the crowd, there are signs displayed on every block, celebrating the town's gold mining and outlaw history. If you're still hungering for more, wander up to the top of Fir Street, where the town's original hospital houses the small, but thorough Telluride Historical Museum. Or better yet, book a tour with history guide, Ashley Boling, who on his entertaining hour-long walking tours, can explain everything from why the town changed its name from Columbia to Telluride to what a night out on the town might have looked like for a turn-of-the-century miner ($2 went a long way!).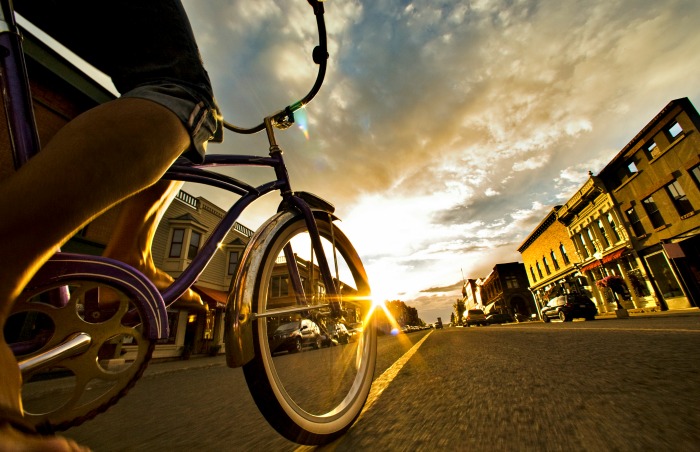 As you stroll town's six-block core, be sure to stop by Telluride's Free Box, one of town's hippy-roots vestiges, and select something for your next night on the town. There are several great places to refuel as you stroll Main Street, including the iconic horse trailer which houses The Coffee Cowboy, and the newer Ghost Town, which offers hipster treats like kombucha and avocado-topped toast, in addition to a top-notch cup of joe.
If you are feeling over-caffeinated, you can extend your walk and wander out towards two of Telluride's most famous waterfalls: Ingram and Bridal Veil Falls, both of which tumble off the sheer cliff that boxes in Telluride to the east. You can walk either the paved road or the dirt trail along the river, both of which extend for about two miles to the old Pandora Mine.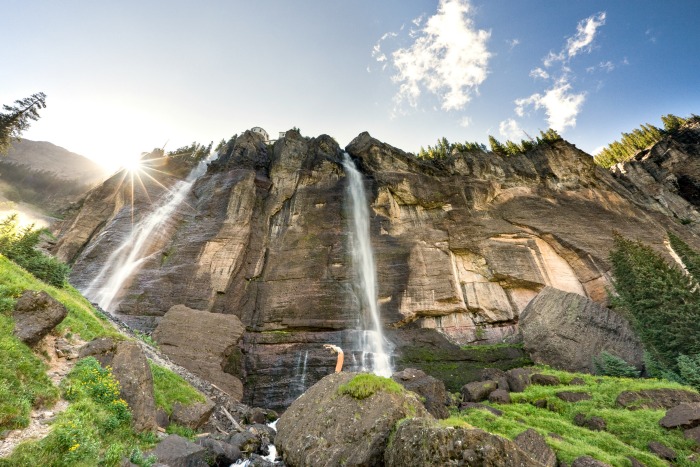 Or, if you want to be like a local and check off two outdoor activities in one day, you can put on some hiking shoes and hike the Jud Weibe Trail, which can be accessed by climbing to the top of either Aspen or Oak Street. This three-mile loop crisscrosses Coronet Creek and offers great views of the basin you just biked, as well as of Telluride's most famous peaks: Ajax and Ballard.
book nerds
Another great place to stop around town is the Wilkinson Public Library. The library jokingly passes out stickers stating, "Came for the skiing but stayed for the library," but it may as well be true. The beautiful brick building offers cassettes recording the last miners' stories, spectacular photojournalist coffee table books and the most current fiction, which you can read in one of their many wood-lined reading rooms. Additionally, they provide everything from free yoga classes for the adults to Harry Potter parties for the kids. Free fun for all.
Telluride also has a fantastic local bookstore, Between the Covers, which houses yet another great coffee shop. Although their selection is small, it is well curated, and the store does tremendous community events, hosting local and regional authors alike.
gone fishing
If it's the sporting life you're looking for, Telluride Outside has got your number. Longtime local John Duncan can set you up with fishing trips on Telluride's own San Miguel River or if you're so inclined, on overnight trips on the Gunnison River's dramatic Black Canyon.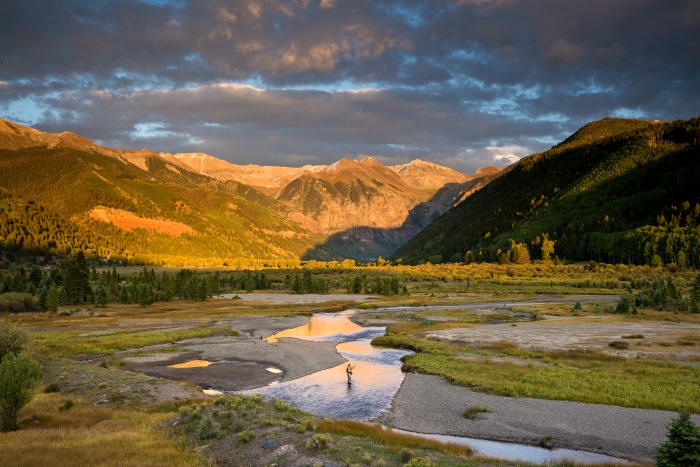 For jeep tours, you need only to pick your direction and ask that the snow cooperates (meaning not enough has fallen to close the pass.) Popular routes include Imogene Pass, which stretches from Telluride to the next mining town over, Ouray, and is also the course for the famous race by the same name. Another favorite jeeping path travels over Ophir Pass, connecting all of the big players back at mining's peak: Telluride, Ophir, Silverton, and Durango.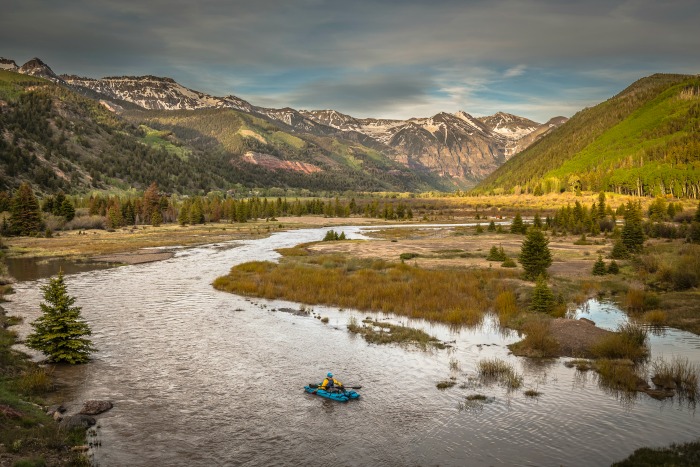 For hunting trips specializing in deer and elk, Telluride Outside partners with Telluride Hunting Guides. As Telluride is surrounded by National Forest in either direction, these trips take you up through the woods to fantastic vistas in search of such animals.
For those who like to shoot a camera instead of a gun, Telluride Outside will direct you to the best panoramic shots on their photography tours.
climb high
Telluride's paved road may officially end at the eastern end of the box canyon but the way out does not. In addition to jeeping and hiking the dirt road, Telluride offers something unique: the Via Ferrata, or in English, "Iron Road." This iron rung climbing route is essentially a series of ladders bolted up and across Bridal Veil's sheer cliff face.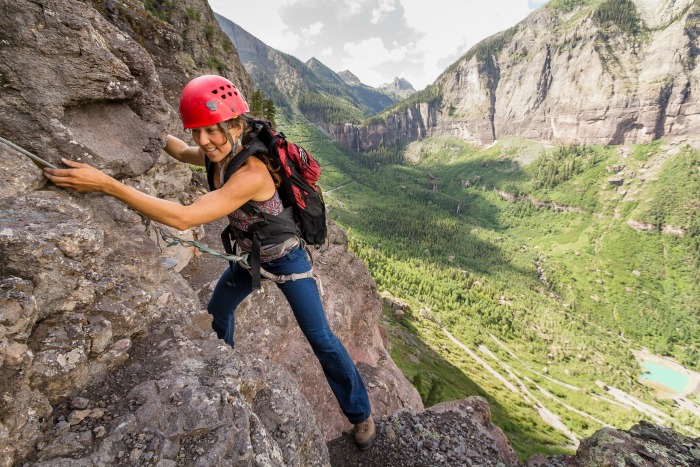 Via Ferratas, which are quite popular in Europe, were originally designed as a way to safely guide soldiers through the mountains during World War One. They are still relatively rare in the U.S., and Telluride's version could not be perched in a more spectacular setting. En route, you'll see all of Telluride, as well as the mountains that encircle it. If you didn't bring climbing gear, San Juan Mountain Guides can set you up. All you have to muster up is the nerve.
eat, drink & stay
EAT
La Cocina De Luz + Caravan Food Truck
Founder Lucas Price has a mission: bring healthy Mexican and Southwestern cuisine to the masses using as many organic and local ingredients as possible. (Not an easy feat at close to 9,000 feet!) He's recently expanded the same philosophy to his food truck, Caravan, which sits right out front and serves Mediterranean fare. The end result? Delicious food. Don't forget to order a handcrafted margarita. Yum. lacocinatelluride.com
Siam
When I have family visit from Chicago, the first place they want to eat is Siam. "There's no Thai food as good as this in the entire city!" The food is seriously that good. Hand rolls with inventive fillings like asparagus and soft shell crab are a specialty, but Siam also serves standard noodle dishes and curries. Arrive with time to spare because they don't take reservations. siamtelluride.com
There
Across the street from Siam is another gem for eating and drinking. A former Brooklyn resident started this Telluride hotspot as a cocktail bar and brought a little bit of New York sass to laid-back mountain life. Today, There serves brunch and dinner and it's been so popular that There is opening in Denver as well. Ask for the "library card," or the specialty, discount cocktail of the day—they're all good. Reservations recommended. therebars.com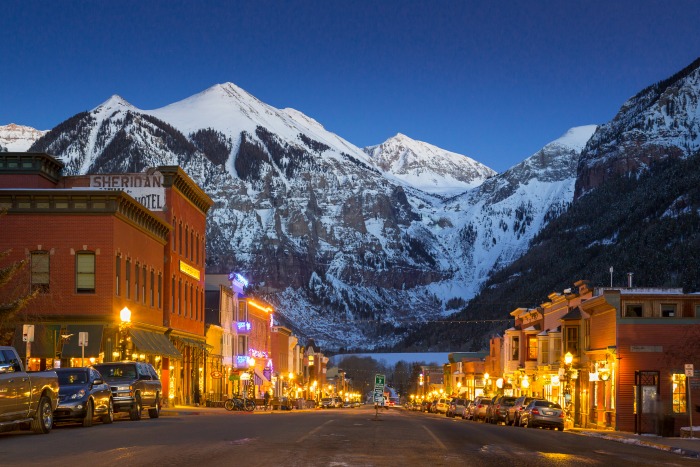 New Sheridan Chop House
This place is a splurge but a worthwhile one. Top-notch fare served by a premier waitstaff in this turn-of-the-century historic brick building (still named "new," even though the old one burned down over a 100 years ago). If the nights are still warm enough and relatively snow-free, they serve wine and cocktails and simpler fare such as burgers and charcuterie plates up on their rooftop deck. Get there an hour before sunset and you'll be in for a treat when town and the mountains settle into a cinnamon alpen-glow. The bar downstairs, which still has the old bar and metal-plated ceiling, is a must visit as is the attached opera house, one of the best places in Telluride to catch live music and theater. newsheridan.com
La marmotte
Date night? Head to La Marmotte. Housed in one of the oldest buildings in Telluride (the old ice storage building), La Marmotte is a long-time Telluride favorite. Recognized by Wine Spectator, La Marmotte has excellent Zagat ratings and a loyal following. The bistro cuisine and the carefully curated wine list will not disappoint. lamarmotte.com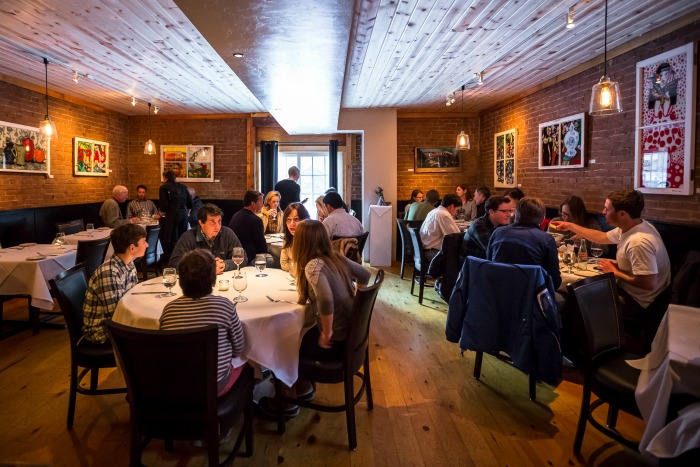 DRINK
Last Dollar Saloon
Never called by its name, "The Buck" has no website because it doesn't need one. It's been around for at least three decades and will be around for at least three more. There's nothing particularly surprising about what they serve—beer, shots of tequila and whiskey, more beer—but it's so old-school Western, particularly on cold nights, when they get the fire roaring, that it's worth a round (or two).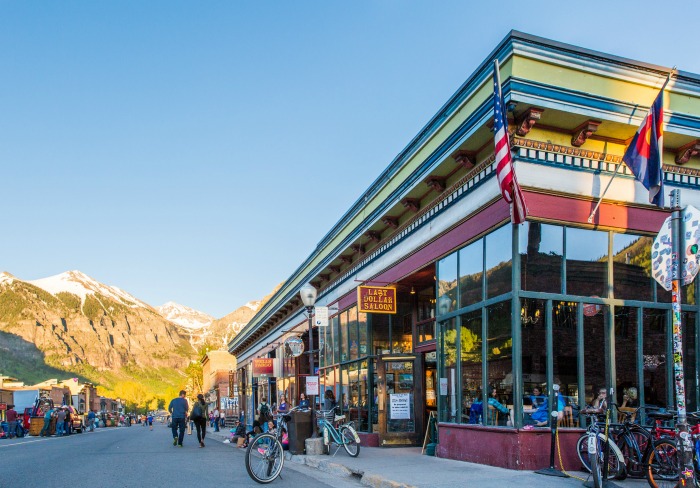 Bar at Allred's
Allred's Restaurant, at the gondola mid-station, is the perfect place for an elevated cocktail (and dinner too!). Time it just before sunset and watch that gorgeous light settle over Telluride, Mountain Village, and everything that surrounds it. If you'd like, you can hike up there from either direction, have a drink, and take the gondola down. They have slippers at the door for muddy-footed ruffians like yourself. tellurideskiresort.com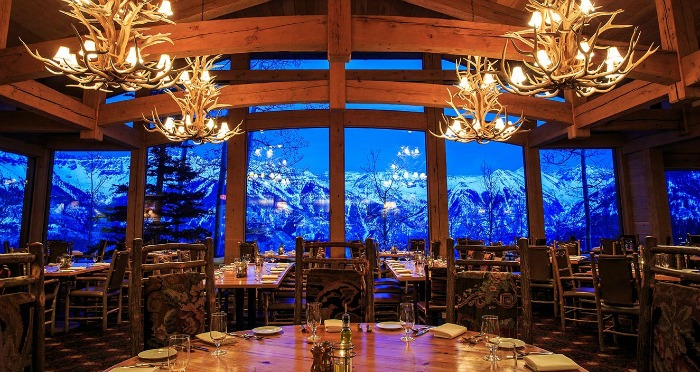 STAY
New Sheridan Hotel
You could do a whole night at the New Sheridan—drinks, dinner, and a show—and then crash out in one of the rooms upstairs. Mind you, room service isn't quite what it used to be: You can't call your "escort" on a direct line to a table in the bar. Nevertheless, the rooms are fun, and during the off-season, the hotel offers great discounts. newsheridan.com
The Hotel Columbia
The hotel, located right next to the gondola, is one of the classier places to stay in Telluride. And the smell of fresh bread coming out their sister restaurant, Cosmopolitan, where you get to eat breakfast, is enough to make every passing hiker and biker jealous. columbiatelluride.com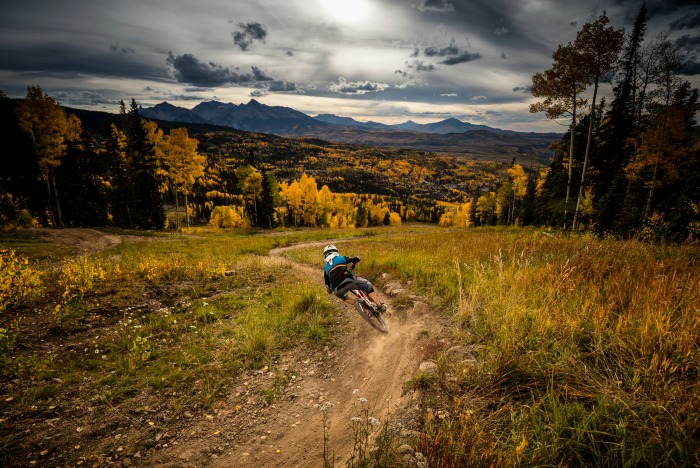 Anne-Britt of Mountain Rose Realty is Telluride's top real estate expert. With years of experience and local knowledge, she will help you find the perfect Telluride home to fit your needs. Whether you are looking for a luxurious ski-in/ski-out chalet or a cozy cabin in the mountains, Anne-Britt has access to Telluride's best listings and can provide insight into all aspects of Telluride real estate. With her guidance, you won't miss out on any opportunities when buying a Telluride property. Contact Anne-Britt today to get started on your Telluride home search!
This article is by Emily Brendler Shoff for BigLifeMag.com © BigLife Magazine 2023 • [email protected] | PO Box 814 • Sun Valley, ID 83353
Phone(970) 759-4886

Email[email protected]

Address Anne-Britt Ostlund | Mountain Rose Realty
ER.40037299
Mountain Rose Realty
220 East Colorado Avenue Suite 210
Telluride, CO 81435