An epic 50th anniversary celebration of the unbreakable Telluride Bluegrass Festival
Posted by Anne-Britt Ostlund on Tuesday, June 27, 2023 at 10:50 AM
By Anne-Britt Ostlund / June 27, 2023
Comment
Via Telluride News By Owen Perkins Planet Contributor Jun 20, 2023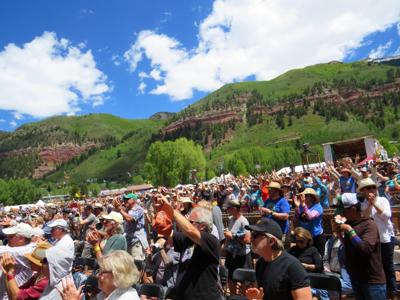 The Infamous Stringdusters brought the audience at the Telluride Bluegrass Festival to its feet on Sunday with applause. (Photo by Ashley Bunton/Telluride Daily Planet)
When we last left the Telluride Bluegrass Festival with the Planet's report from the first day and a half, the grounds were being cleared suddenly for the first of back-to-back evacuations due to dangerous thunderstorms and lightning striking in and around the town of Telluride.
The place emptied out in a heartbeat, but each time the rain and sleet and cold and lightning struck, faithful festivarians came back on cue, en masse, and with a vengeance, taunting Mother Nature with an, "Is-that-all-you've-got?" attitude.
With temperatures near freezing during Greensky Bluegrass' Friday night set, dubbed "NightGrass in Town Park" by dobro player Anders Beck as the weather pushed the schedule well past midnight, the grounds stayed packed with people, dancing and grooving madly in triumph as some of the worst weather in festival history made for some of the best memories to relish and embellish in the half century to come.
"Fifty years — it just goes to show, you can't break it," Tim O'Brien said as he opened a Saturday set at noon that he said felt like an après-ski gig.
O'Brien goes back to the 2nd annual Telluride Bluegrass Festival, with his Ophelia Swing Band mate and festival MC-emeritus, Pastor Mustard, current MC Chris Daniels with Magic Music and Sam Bush with New Grass Revival.
Bush's 49th appearance at the festival was a super-sized set that opened perfectly with John Hartford's "Granny Wontcha Smoke Some Marijuana," and the songs and memories he shared as the set moved on had him choking up on multiple occasions.
Bush and his band played a handful of New Grass Revival (NGR) songs, split among early and later years, with NGR alumnus Bela Fleck on the banjo for the three later songs from his era.
Bush also revived the iconic "Fly Through the Country" as part of a 20-minute bottleneck slide-electric mandolin medley to close the show.
Along with Daniels and Mustard, other guests included O'Brien for a beautiful "Gentle On My Mind," Del McCoury for his old boss Bill Monroe's "Blue And Lonesome Too," Jerry Douglas, Emmylou Harris, Drew Emmitt and Jay Starling from Leftover Salmon, Anders Beck from Greensky Bluegrass, and more for at least 15 folks on stage for the set's Hartford bookend encore jam to "Up on the Hill Where They Do the Boogie," a timeless Telluride Bluegrass Festival classic.
Bassekou Kouyate & Ngoni Ba were among the "discoveries" that highlight every Telluride Bluegrass Festival, though Kouyate has long since been discovered.
His impact on the traditional two-stringed African instrument, the ngoni, is perhaps as significant as Fleck's influence on the banjo, each taking their instruments to galaxies unknown. Friday afternoon, Kouyate and his blazing band took the awed Telluride audience with them.
Sierra Ferrell joined the "Eureka" ensemble, captivating audiences with her songwriting, singing, humor and her peerless musical pedigree. Another first-timer to Telluride, she already counted bluegrass royalty like Peter Rowan and Jerry Douglas among her admirers, both of whom joined her on stage for a mutual elevation session.
Ferrell is wholly original, though her arrival in Telluride was reminiscent of Kasey Musgraves' festival debut. She wove evocative lyrics across a musical tapestry echoing Hunter-Garcia-esque card games played with "the best of men," costing the speaker "everything."
For a final jaw-dropper, Yasmin Williams' Sunday afternoon set had the audience enraptured with her unique guitar playing. She stirs memories of festival favorites like the late Michael Hedges and the current Leo Kottke, but she goes places no innovator has gone before, in Telluride or beyond.
Williams gives new meaning to bluegrass terms like "hammer on," using dulcimer hammers to sound the strings on her guitar, taping an African kalimba, a kind of thumb piano, to the body of her guitar, and wearing tap shoes to beat out rhythms with her feet.
There was an element of surprise in hearing Nickel Creek playing Telluride together for the first time in nine years. The chance to see musicians collaborating again 34 years after first hitting the stage together and 30 years after experiencing break-through success when two of them were still tweens, proved fascinating. Revisiting their repertoire after a full lifetime of musical and personal evolution was all the better for the fact that none of them has ever stopped pushing and growing as musicians.
Mary Chapin Carpenter offered her triumphant return after a 20-year hiatus as an enduring festival highlight. She was emphatic in showing she could still rock Telluride, showcasing her powerful, literary, poignant, relevant and inspiring songs without ever losing the feel of the roadhouse rockers that still get crowds leaping to their feet in euphoric dance.
The Infamous Stringdusters showed up in the unexpected Sunday morning gospel set, and while some raised eyebrows at the placement ahead of time, there were about 10,000 conversions by the end of their time on stage. There has never been a bigger crowd for any morning set, and the Dusters set an incredible tone for a day of escalation.
The union of Emmylou Harris and Watchhouse inspired audiences. Andrew Marlin and Emily Frantz are exceptionally well-suited to accompany Harris at this phase in her career, expanding her soundscape through subtle harmonies and instrumentation on mandolin, fiddle and guitar. Harris is a master at finding the right band at the right time, and Watchhouse brought out the best in her.
The House Band — Bush, Fleck, Douglas, Edgar Meyer, Bryan Sutton and Stuart Duncan — remained unfathomable, offering their mind-boggling bluegrass take on standards and originals.
They were joined briefly by Alison Krauss, who took the chance to get her grass on in a way that wasn't as likely during her set with Robert Plant.
The all-star band hit something of a new high with their reggae-billy version of Bill Monroe's "Blue Moon Of Kentucky" for their encore, turning the well-worn standard into an instant only-in-Telluride underground gem.
The formal finale came with Plant and Krauss, the former representing a tradition of Rock and Roll Hall of Famers who have played Telluride over the years, and the latter doing the same for the International Bluegrass Music Hall of Famers.
The band featured Duncan, fresh off his House Band gig, who played screeching distorted "Led" fiddle when called for, as well as acoustic guitar, mandolin and a silky sweet violin often paired with Krauss' for a haunting effect that fit the set list.
Plant and Krauss drew from their two albums together, but they also pulled from his repertoire as a solo artist and with Led Zeppelin, including "Fortune Teller," "Rock and Roll," "In The Mood," "Gallows Pole," "The Battle of Evermore," and "When The Levee Breaks."
Plant is masterful with his material, and Krauss raised the roof for Plant, who said "she brought me back to life again," a worthy endeavor.
The final chords of the 50th fest belonged to the Punch Brothers, who played a NightGrass set at the tiny Sheridan Opera House for roughly 200 hard core fans. To mark the occasion — and founding fiddler Gabe Witcher's final show after 17 years with the group — their second set consisted of an unprecedented performance — in sequence — of their entire 2015 album, "The Phosphorescent Blues."
The 50th festival proved to be a perfect testament to all that came before, whether for the ears of a first-timer or for the musical palate of generations of veteran bluegrass lovers who stand shoulder-to-shoulder with the artists they come to enjoy, finding their way to the music and beyond through ceaselessly pushing traditional boundaries to the breaking point and ceaselessly surfing the ensuing erupting energy to the find the next wave of endlessly new frontiers.
If you're looking for the best in Telluride real estate, lifestyle news and tips, be sure to follow Mountain Rose Realty's blog. Our team of experienced professionals are dedicated to helping you find your perfect home or rental property in Telluride while providing helpful insights into local living. With regular updates on the latest developments in Telluride housing market as well as stories from our experts about life here, we guarantee that you won't miss a beat! So keep an eye out for new posts and make sure to follow us today!
Phone(970) 759-4886

Email[email protected]

Address Anne-Britt Ostlund | Mountain Rose Realty
ER.40037299
Mountain Rose Realty
220 East Colorado Avenue Suite 210
Telluride, CO 81435