Anne Brown voted in to fill county commission Dem seat
Posted by Anne-Britt Ostlund on Tuesday, May 16, 2023 at 6:30 AM
By Anne-Britt Ostlund / May 16, 2023
Comment
Vacancy Committee hybrid meeting included ballots and votes by text
Via Telluride News By Ashley Bunton, Associate Editor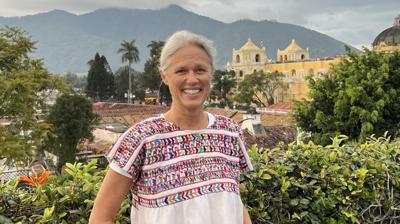 Anne Brown is joining the San Miguel County Commission to complete the term that was vacated by the resignation of commissioner Hilary Cooper. (Courtesy photo)
Democrat Anne Brown is the chosen candidate to fill the District One seat on the San Miguel County Commission vacated earlier this month by Hilary Cooper.
The San Miguel County Democratic Party Vacancy Committee held a meeting and a vote on Wednesday. The Vacancy Committee opened the meeting by saying it was created under the authorization of Colorado law to fill the vacant commission seat.
Brown is completing the rest of the term left vacant by the resignation of former commissioner Cooper, who announced her resignation in April and is planning to work on affordable housing initiatives as a director at the state level. Her last day as commissioner was on May 8.
"I am honored to have been selected to fill the District One commissioner position. And I'm excited," Brown said in a county news release on May 18.
Brown submitted a three-page letter of intent to the committee ahead of a candidate forum and the vote. Four other candidates for the District One seat were Doug Sanders, Kevin Jones, Robert Weatherford and Telluride Mayor DeLanie Young.
Participating as members of the Vacancy Committee and the vote on Wednesday were commissioners Lance Waring and Kris Holstrom, along with Bill Masters, Emil Sante, Stephannie VanDamme, Brandi Hatfield, Dan Enright, Joan May, Kathleen Erie, Erin Ries, Mason Osgood, Salli Russell, Galena Gleason, Linda Luther-Broderick, Lynn Black, Trevor Browning and Leslie Browning, and chair Eleni Constantine. Member Dave Foley was absent.
Following an official nomination of each of the five candidates at the start of the meeting, each candidate was given two minutes to speak.
ROBERT WEATHERFORD
Candidate Robert Weatherford spoke first.
"What I really wanted to focus on is that from my study of the East End Master Plan, I think there's no question that we will have a mandate to proceed with housing," Weatherford said. He said he would focus on community and housing.
"There's a lot of people that have contrary opinions and that's why I'm interested in this job," Weatherford said, "because I would like to take this campaign of trying to preserve our community to the next level, with support of the other commissioners. Let's make it happen."
KEVIN JONES
Next to speak was candidate Kevin Jones.
"I believe we are one community," he said. He noted that this is an economically, socially and culturally diverse community, which has its challenges, but that is what attracted him to becoming a candidate for the commission.
"This role is the opportunity to bring all these different pieces together," Jones said.
He focused part of his comments on supporting small businesses and helping with financial stability.
"So how can I help? First and foremost, I do go back to what this economically diverse area is," Jones said. "You have ranches and farms and then you have these main streets. What's a commonality? Small business. These are small businesses."
DOUG SANDERS
Candidate Doug Sanders spoke next. He said he had been outside on his lawn all week working on his deck and noticed a "number of people that have come by, even people I haven't seen in maybe 20 years, or don't know at all, that have thanked me for becoming part of this process because they really feel like they want a voice."
"There's a lot of people in this community that feel ignored," Sanders said, "and they don't have time to be that voice and I'm trying to speak for those people."
He said some people have expressed frustration with government transparency and that people want to "know more about what's happening."
Sanders said he placed housing at the top of his list as a candidate and added, "I don't think deed restriction is the only solution."
ANNE BROWN
Candidate Anne Brown opened her remarks by saying she would like to elevate voices as well, to emphasize immigrant friends and neighbors.
Brown then introduced a community member named Ximena Rebolledo León to speak on her behalf as a Chilean immigrant, "a full-time working mom, a registered nurse at the Telluride Medical Center, a local Latina leader and activist."
"I believe that our underrepresented community members need to be better included in the public process," León said. "In fact, when Anne told me she was running for this vacancy, I was immediately excited and optimistic exactly because of this need. Anne attends monthly meetings with the Telluride Foundation and our
immigrant community leaders. … She is a true ally, and there has been positive, tangible change due to her voice and perspective at pivotal times."
DELANIE YOUNG
Candidate, and Telluride's mayor, DeLanie Young spoke next. She highlighted her dedication to building relationships at the local, state and federal levels and said she has a "voracious appetite for new information."
"Transitioning from my current role as the mayor of Telluride and into the seat of San Miguel County Commissioner for District One would allow me to serve in a more expansive way," she said.
Young expressed her gratitude to the other candidates.
"Being a public servant exposes you to public scrutiny," Young said. "It takes courage to step forward and place yourself in that vulnerable position and I thank you all for being bold."
FINAL VOTE
Next, the Vacancy Committee was asked by the chair, Eleni Constantine, to write their votes on ballot forms and drop them in a cardboard box in the room. A handful of Vacancy Committee members participating via Zoom texted their ballot responses to a number previously sent to them by the committee. Two committee members took turns counting, and said Brown received a majority of the votes. The votes were not read aloud and no final tally was given of how many votes each candidate received. The meeting was then adjourned.
In her letter of intent to the Vacancy Committee, Brown had stated that she is a graduate of Yale University, a retired market researcher and has been a registered Democrat in San Miguel County since 1990.
---
At Mountain Rose Realty, we understand the importance of staying up to date on Telluride real estate news and updates. That's why we invite you to read our blog posts and subscribe to keep informed about all things related to buying or selling a home in Telluride. Our experienced real estate consultant Anne-Britt will provide insight into the market trends and help guide you through any questions you may have. So don't wait - follow us today for the latest information!
Anne-Britt of Mountain Rose Realty has established herself as one of the top real estate consultants in Telluride, Colorado. Her expertise and knowledge of the local area make her a valuable asset when it comes to buying or selling a home. Anne-Britt is dedicated to finding solutions that meet her clients' needs while upholding honest business practices. She often attends town meetings and city council sessions to stay abreast of current events which can affect the local real estate market.
We look forward to helping you find your dream home in Telluride!
Happy Home Hunting,
Mountain Rose Realty Team.