Buyer Traffic Is Still Stronger than the Norm
Posted by Anne-Britt Ostlund on Monday, August 28, 2023 at 9:18 AM
By Anne-Britt Ostlund / August 28, 2023
Comment
Are you putting off selling your house because you're worried no one's buying because of where mortgage rates are? If so, know this: the latest data shows plenty of buyers are still out there, and they're purchasing homes today. Here's the data to prove it.
The ShowingTime Showing Index is a measure of buyers touring homes. The graph below uses the latest numbers available and compares them to the same month in the last normal years to show just how active today's buyers still are: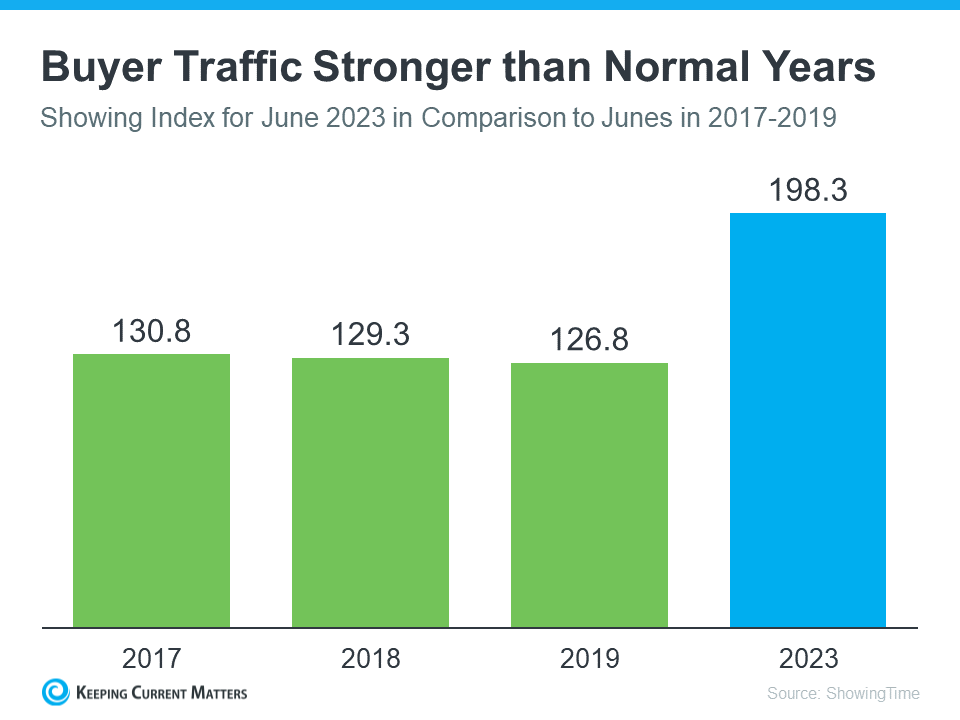 As you can see, when June 2023 numbers are stacked alongside what's typical for the housing market at this time of year, it's clear buyers are still active. And, they're actually a lot more active than the norm.
If you're wondering how this could possibly be true, it's because buyers are getting used to higher mortgage rates and accepting them as the new reality. As Danielle Hale, Chief Economist, Realtor.com, explains:
"Interest rate hikes continue to further cut into buyers' purchasing power, although they appear to have adapted to the higher mortgage rate environment . . ."
It's simple. Buyers will always need to buy, and those who can afford to move at today's rates are going to do so.
The Key Takeaway for You
While it's true things have slowed down from the frenzy of the last couple of years, it doesn't mean today's market is at a standstill. The reality is: buyer traffic is still strong today. Even with today's mortgage rates, plenty of buyers are still making their moves. So why delay your own move when there's clearly a market for your house?
Bottom Line
Thank you for taking the time to explore the exciting world of Telluride real estate with us at Mountain Rose Realty. If you've been hesitating to put your home on the market, let us assure you that now is the time to act. In today's dynamic real estate market, buyers are more active than ever, and your property could be just what they're searching for.
Anne-Britt, our dedicated real estate expert specializing in Telluride homes for sale, is here to guide you through every step of the selling process. With her extensive knowledge of the local market and a passion for helping homeowners like you, she can help you get your house ready to sell.
Don't miss out on the incredible opportunities in Telluride real estate. Whether you're looking for a quick sale or aiming to get the best possible price for your property, Anne-Britt and the Mountain Rose Realty team have you covered. We understand the unique charm of Telluride, CO, and we're here to make sure your home shines in the eyes of potential buyers.
So, take the first step toward a successful sale. Contact us today to learn more about how Mountain Rose Realty can help you achieve your real estate goals. Your dream of selling your home in Telluride is closer than you think, and we're here to turn it into a reality.
Phone(970) 759-4886

Email[email protected]

Address Anne-Britt Ostlund | Mountain Rose Realty
ER.40037299
Mountain Rose Realty
220 East Colorado Avenue Suite 210
Telluride, CO 81435