Community starts at the table: Friends collaborate on founding of new festival in Telluride
Posted by Anne-Britt Ostlund on Saturday, July 8, 2023 at 2:30 AM
By Anne-Britt Ostlund / July 8, 2023
Comment
Via Telluride Daily Planet By Ashley Bunton Associate Editor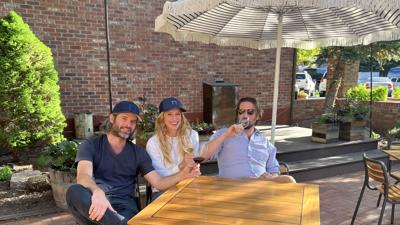 Telluride Table Founders, pictured left to right: Bryan Bailey, Rachel Bailey and Colin O'Neill. (Courtesy photo)
Three Telluride locals behind a grassroots effort to curate a new festival are bringing people together from all over the world this week to share the joy found in gathering together for food, music and wine.
Two of the co-founders behind the Telluride Table Festival, Bryan and Rachel Bailey, said they were ski bums in Telluride before delving into the venture. Bryan said over the last 25 years, he had found himself coming to Telluride more often.
During COVID, "We looked up after 100 days straight in 2021 and we hadn't gotten more than 11 miles as the crow flies from Telluride," he said. "Over a bottle of wine at Alpino Vino, I looked at my wife and said, we need a project. We need a reason to have to be in Telluride."
Rachel added, "We call it Telluride Table is…it all starts and ends with the table and having conversations around the table and bringing the community together. We're trying to activate the community."
Alpino Vino is notably the second-highest elevation restaurant in North America. As part of their project to found a new festival, along with their friend and co-founder Colin O'Neill, this year's inaugural event features a selection of wines crafted from high-altitude growing grapes.
The trio of festival co-founders said they invited a good friend and wine expert Eric Solomon to run a seminar for tasting 10 wines that are grown with grapes at high-altitudes. The seminar is called "Mountain Mavericks."
"Eric Solomon is considered one of the leading importers of Spanish wine into the U.S. and this is the first time he's ever done a festival in North America," O'Neill said.
It's these types of close connections that are part of the Telluride Table manifesto: "Family, whether forged by blood or bond, is the center of community and it all starts at the table. With a meal, with food, with wine. Around the table, we share our joys and our hardships, the good and the bad, the funny, the strange, the important. It all starts at the table."
"We're starting by ourselves from the bottom," O'Neill said. "We have a lot of relationships in this business and we're bringing in some people that are absolutely world class."
"If people want to come and listen, they'll learn, but it's also gonna be a lot of fun," Bryan said of the high-altitude wine tasting with Soloman.
While much of the menu items are not local to Moab, there will be foods prepared with locally harvested mushrooms in Telluride. Festival goers will find mushroom risotto on the menu, served along with steaks with radicchio and cherry tapenade.
Venison that is local to Hawaii is on the menu: Maui Nui Venison carpaccio with gin cured-garlic confit aioli-garnacha vinegar. Maui Nui Venison is renowned for its mission to help preserve the natural ecology in Maui through sustainable practices and stress-free meat methods.
Sustainably sourced seafood is on the menu and there will also be some cast iron mussels with pancetta chive butter.
"Our sort of general approach is creating a countercultural response to a lot of the food and wine festivals out there," Bryan said.
O'Neill said he hopes the new festival brings together full-time locals, second homeowners and visitors and helps to get people engaged in the community.
"We have friends coming from all over the country, plus friends that live here in Telluride full-time plus, second homeowners," O'Neill said. "I feel like a lot of times, working in restaurants, there's a lot of second homeowners that feel sort of disconnected from the fabric of Telluride and there's no reason for that, we can all be friends."
Thank you for joining me, Anne-Britt, on this captivating journey through the Mountain Rose Realty blogs. I hope you've enjoyed exploring the breathtaking beauty and unique lifestyle of Telluride through my words.
As a seasoned real estate professional and passionate Telluride resident, I have dedicated myself to helping you navigate the exciting world of Telluride real estate. From cozy mountain cabins to luxurious alpine estates, I'm here to guide you in finding the perfect home that reflects your individual style and fulfills your dreams.
But my commitment extends beyond just real estate. I'm here to share with you the essence of the Telluride lifestyle—the vibrant community, the exhilarating outdoor adventures, the thriving arts and culture scene, and the hidden gems that make this place truly extraordinary.
I invite you to continue this adventure with me by reading and following our blogs. Dive deeper into the Telluride lifestyle, uncover the best hiking trails, explore local restaurants and shops, and gain valuable insights into the ever-changing real estate market. Let me be your trusted companion on this journey.
Stay connected with me through our social media channels, where I share captivating stories, stunning photography, and timely updates about Telluride's real estate market and lifestyle trends. Join a community of passionate individuals who share a love for Telluride and a desire to experience the best it has to offer.
Don't miss out on exclusive tips, expert advice, and insider knowledge that will empower you to make informed decisions about your Telluride real estate journey. Let's turn your aspirations into reality, together.
Thank you for being a part of the Mountain Rose Realty family. I am grateful for the opportunity to share my knowledge and passion with you. Follow us, read our blogs, and let the Telluride lifestyle inspire and guide you.
Your next chapter in Telluride awaits. Let's make it extraordinary.
Phone(970) 759-4886

Email[email protected]

Address Anne-Britt Ostlund | Mountain Rose Realty
ER.40037299
Mountain Rose Realty
220 East Colorado Avenue Suite 210
Telluride, CO 81435