Equity Is a Game Changer for Homeowners Looking To Sell
Posted by Anne-Britt Ostlund on Sunday, August 13, 2023 at 10:12 AM
By Anne-Britt Ostlund / August 13, 2023
Comment
If you're a homeowner, you might be torn on whether or not to sell your house right now. Maybe that's because you don't want to take on a higher mortgage rate on your next home. If that's your biggest hurdle, understanding your equity may be exactly what you need to help you feel more comfortable making your move.
What Equity Is and How It Works
Equity is the current value of your home minus what you owe on the loan. And recently, that equity has been growing far faster than you may expect.
Over the last few years, home prices rose dramatically, and that gave your equity a big boost very quickly. While the market has started to normalize, there's still an imbalance between the number of homes available for sale and the number of buyers looking to make a purchase. And it's because homes are in such high demand that prices are back on the rise today. Rob Barber, CEO of ATTOM, a property data provider, explains:
"Equity levels were high even during the recent downturn, and now they are going back up and better than ever."
How Equity Benefits You in Today's Market
With today's affordability challenges, that equity can be a game changer when you move. Here's why. Based on data from ATTOM and the Census, nearly two-thirds (68.7%) of homeowners have either paid off their mortgages or have at least 50% equity (see chart below):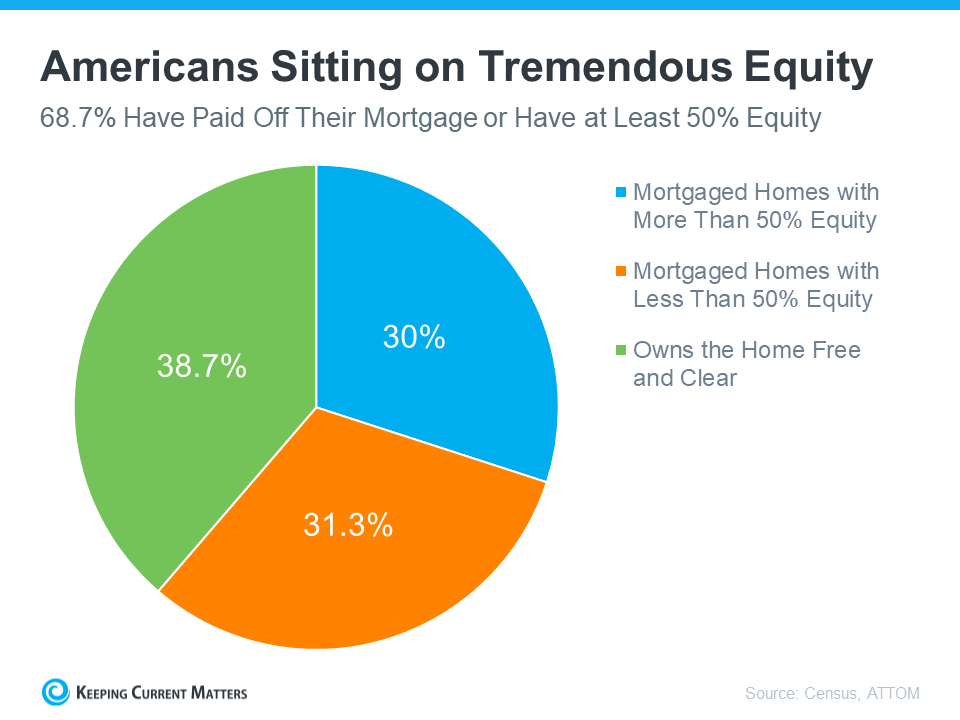 That means roughly 70% have a tremendous amount of equity right now.
Once you sell your house, you can use your equity to help with your next purchase. It could be some (if not all) of what you'll need for your next down payment. It may even be enough to allow you to put a considerably larger down payment on your next home, so you don't have to finance quite as much. And, if you've been in your current house for years, you may have even built up enough equity to pay in all cash. If that's true for you, you'd be able to avoid borrowing altogether, so you wouldn't have to worry about today's mortgage rates.
How To Find Out How Much Equity You Have
The best way to learn how much you have is to reach out to a trusted real estate agent for a Professional Equity Assessment Report (PEAR).
Bottom Line
As you contemplate your next steps, whether it's exploring Telluride homes for sale or considering a move within the region, it's important to harness the potential of the equity you've built in your current abode. Your home is not just a dwelling; it's an investment that can open doors to exciting opportunities. The thriving Telluride real estate market offers a wealth of options, and understanding your home's equity can significantly impact your decision-making process.
In the picturesque town of Telluride, where breathtaking mountain vistas and a charming community converge, Mountain Rose Realty stands as your trusted partner in navigating the realm of real estate. Specializing in Telluride real estate, the agency, led by the experienced Anne-Britt, is your go-to resource for all things property-related in this stunning Colorado destination.
Anne-Britt and her team at Mountain Rose Realty understand the nuances of Telluride's real estate landscape like no other. They can provide invaluable insights into the local market trends, property values, and investment prospects. By connecting with a knowledgeable and trusted real estate advisor, you'll be equipped with the information you need to make informed choices.
So, if you're ready to embark on a new chapter—whether it's upgrading to your dream Telluride home, downsizing to a more manageable space, or exploring investment opportunities—now is the time to take action. Reach out to Mountain Rose Realty and tap into Anne-Britt's expertise. Discover the potential locked within your current property's equity and let it fuel the exciting journey ahead.
Remember, the road to your next Telluride real estate venture starts with understanding your equity. Make the most of it by partnering with the experts at Mountain Rose Realty. Your dream property in the heart of the Rockies awaits—seize the moment today!
Phone(970) 759-4886

Email[email protected]

Address Anne-Britt Ostlund | Mountain Rose Realty
ER.40037299
Mountain Rose Realty
220 East Colorado Avenue Suite 210
Telluride, CO 81435