'Fun and kooky and wild': HAHA, Ah Haa's immersive-art community event, returns July 14-16
Posted by Anne-Britt Ostlund on Sunday, July 9, 2023 at 3:00 AM
By Anne-Britt Ostlund / July 9, 2023
Comment
Via Telluride Daily Planet By Leslie Vreeland Contributing Editor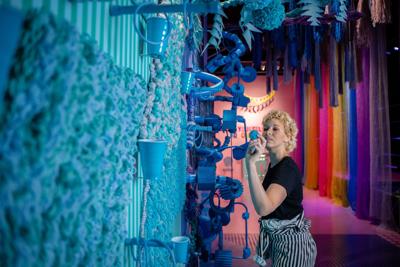 Artist Molly Sydnor (pictured) is slated to transform Ah Haa's Painting Studio during HAHA. Her works have been shown nationwide. (Courtesy photo)
Say it out loud — HAHA — and you catch the merriment.
The Ah Haa School's annual immersive art experience returns to the box canyon for three days, from July 14-16. It's an invitation to "Get lost in color, play in new environments, imbibe and enjoy," all while supporting Telluride's beloved, longstanding art school, which offers programs for all ages both outdoors (this time of year) and all-year-round from its new space on Pacific St.
Last year, almost 800 people attended the inaugural incarnation of HAHA, "an amazing swath of our community," said Malarie Clark, Ah Haa's marketing director. The fundraiser was conceived to take advantage of the school's new vibrant, multi-level space and to be an event that would bring the entire community together.
"We wanted to involve kids," Clark said, and indeed, there is a special HAHA event, Little Giggles, designed especially for kids to come and create.
Think Meow Wolf, on a local level: the popular immersive art experience evolved just down the road — in Santa Fe — and has outposts in Denver and Las Vegas, besides. HAHA is not an imitation of Meow Wolf, but it is a form of homage: both it and "Meow" bring artists together to create vibrant, interactive installations under one roof, and invite the community in to enjoy, and play along.
"Everything will be completely different than last year" when it comes to installations, Clark said. "Some rooms will be bright; others will be cavernous."
The challenge of HAHA, she said, remains the same: "How can we completely transform our building to the extent that it's unrecognizable, because it's completely packed with this wild artwork?"
Telluride artist Tree Dawn, of Tree Dawn Lighting, "designed all the lighting for us. It completely changes the mood and the setting."
Dawn is one of seven local artists (out of 12 overall) participating in HAHA. Other locals include collage artist Brandon Berkel, along with Alex Ferrari; "multi-hyphenate artist" Kathleen Morgan; Rachel Williams, who works in textiles, Ella Hassan and Lollie Lavercombe of Flowers by Ella; and the Telluride Dance Collective.
Multimedia sculptor Mike Stasiuk, of Telluride and Portsmouth, New Hampshire, was the propmaster for much-missed Mudd Butts Mystery Theater, whose props, masks and background were so gorgeous and crave-worthy, parents eagerly bid on them every year at end of each summer "theater intensive" in Telluride. (Mudd Butts staged its last performance in the box canyon in 2019.)
HAHA events for the community begin before July 14. In the week leading up to HAHA, beginning on July 10, the visiting New York City collective Illegal Art, "whose goal is create participatory-based public art to inspire self-reflection, thought and human connection" — and whose work has been featured at The White House, at Wonderspaces in San Diego, Austin and Mexico City, and on TEDx — will embark on a pair of projects outside of Ah Haa.
"We're in love with this collective," Clark said, "and we're thrilled that they're here."
One project, called "Wash Away Your Fears," offers participants a chance to spell out what frightens them, and then make it go away.
"You take chalk, you write out your fear on the pavement," Clark said. "You have a huge bucket and brush, and you get to wipe it all away. It's a little participatory," not to mention cleansing on a number of levels.
Illegal Art's work suits the thoughtful, mirthful vibe of HAHA, "a really fun way to flex our creative muscles," as Clark put it.
Co-curated by Christin Marcos and Kris Kwasniewski, Ah Haa's 10,000-square-foot Silver Jack building will soon be (as is the goal) unrecognizable for three days. Participating artists "are given carte blanche to do whatever they want," Clark said. "We have a massive wish list: we dream very big when it comes to who we bring in. Artists can execute their vision, as long as it's participatory and creative."
Those are the only "rules."
The requirements are even simpler for those who would like to purchase tickets to attend. "Head to ahhaa.org," Clark said. "You'll find the HAHA page there. It's kind of crazy and awesome," she added of this now-recurring annual event. "It's wild that it gets put on over a weekend," which offers the community a chance to not only visit once, but if so inspired, to return again.
Visit ahhaa.org to learn more.
Thank you for joining me, Anne-Britt, on this incredible journey through the Mountain Rose Realty blogs. It has been my utmost pleasure to share with you the wonders of Telluride and guide you through the captivating world of lifestyle and real estate in this mountain paradise.
At Mountain Rose Realty, we believe in the power of finding not just a house, but a home that reflects your unique aspirations and dreams. With my deep knowledge of Telluride and its surrounding areas, I am committed to helping you uncover the hidden gems and extraordinary opportunities that await.
Through our blogs, I have endeavored to provide you with insider insights, expert guidance, and an authentic glimpse into the Telluride lifestyle. From exploring the renowned festivals and cultural events that shape this vibrant community to uncovering the best hiking trails and outdoor adventures, we have delved into the very essence of what makes Telluride so special.
But this journey is far from over. I invite you to continue your exploration by reading and following our blogs, where I will continue to share captivating stories, real estate market updates, and insider tips that will elevate your Telluride experience.
As you immerse yourself in the tales of this mountain haven, you will uncover a community that embraces art, nature, and a zest for life. From the quaint streets of downtown Telluride to the grandeur of its surrounding peaks, there is always something new to discover and savor.
Stay connected with us through our social media channels, where you can find a wealth of inspiration, breathtaking visuals, and updates on the latest real estate opportunities in Telluride. Be the first to know about exclusive listings, market trends, and events that will deepen your connection with this remarkable place.
Thank you for being a part of the Mountain Rose Realty community. It is my honor to be your guide in navigating the world of Telluride lifestyle and real estate. Together, let's unlock the true essence of this enchanting mountain town and find the home that perfectly complements your dreams.
Join me on this journey of discovery, and let the magic of Telluride captivate your heart. Read our blogs, follow our adventures, and together, we will unveil the extraordinary opportunities that await in this cherished corner of the world.
Phone(970) 759-4886

Email[email protected]

Address Anne-Britt Ostlund | Mountain Rose Realty
ER.40037299
Mountain Rose Realty
220 East Colorado Avenue Suite 210
Telluride, CO 81435