Get Ready: The Best Time To List Your House Is Almost Here
Posted by Anne-Britt Ostlund on Saturday, April 1, 2023 at 3:30 AM
By Anne-Britt Ostlund / April 1, 2023
Comment
Spring is the perfect time to list your house, so don't miss out on this great chance! The ideal week to make the sale will come soon, so start preparing now and get ahead of the game.
Realtor.com experts investigated seasonal trends from recent years (excluding this pandemic-ridden year of 2020), and pinpointed the ideal week to list a house in 2021 - so you can get your home on the market with confidence!
"Home sellers on the fence waiting for that perfect moment to sell should start preparations, because the best time to list a home in 2023 is approaching quickly. The week of April 16-22 is expected to have the ideal balance of housing market conditions that favor home sellers, more so than any other week in the year."
The time has come to capitalize on the market, but before you put your house up for sale, it must be prepared. If you haven't commenced this process yet, act quickly! Here are some key points to keep in mind:
Work with an Agent To Determine Which Updates To Make
Before you begin upgrading your home, it's essential to identify which renovations are most important. According to a survey conducted by realtor.com in February of this year asking more than 1,200 current and potential property sellers what improvements they made before listing their house (see graph below):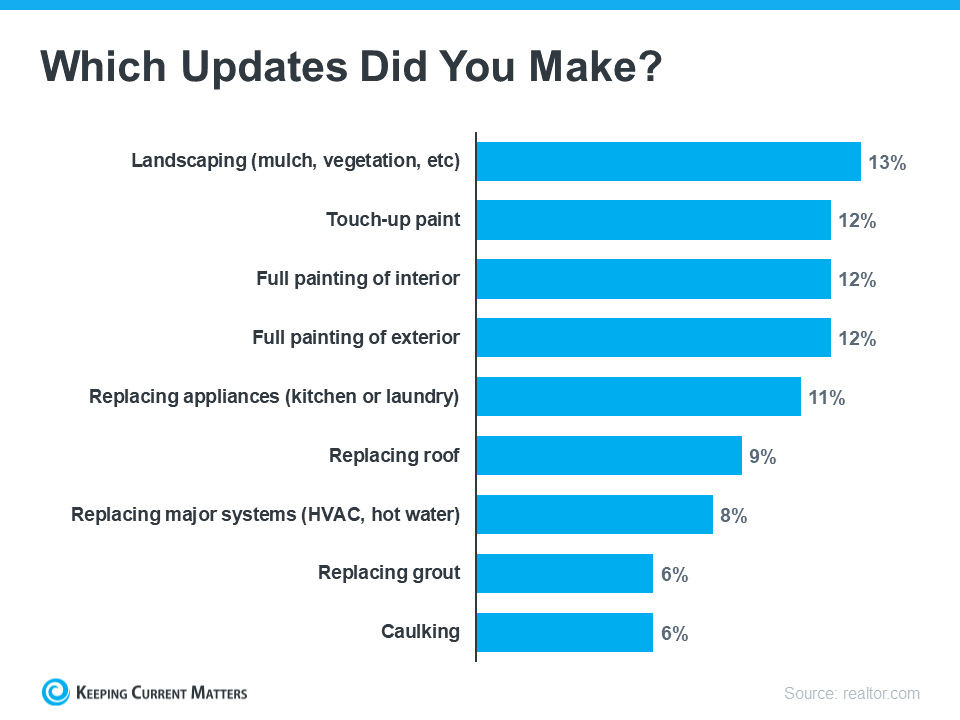 As it is clear, landscaping and painting were the most popular answers. Partner with a reliable real estate professional like Anne-Britt from Mountain Rose Realty in Telluride, Colorado to determine what projects are ideal for your objectives and neighborhood market.
If Possible, Plan To Have Your House Staged
Once your dwelling is repaired and upgraded, you should think about staging it. The National Association of Realtors found that 82% of buyers' agents said home staging made it easier for potential homeowners to envisage the house as their future residence. Moreover, almost half mentioned that staging had an influence on most purchasers' perspective towards the property overall. Staged properties are likely to be sold quickly at a greater price since they assist visitors in picturing their new life within its walls more easily than un-staged homes do.
Bottom Line
Ready to get your home on the market this spring? Connect with Anne-Britt today to begin mapping out your journey. Start by drafting a checklist of what you believe needs to be done in order for it to appeal, then we can collaborate and prioritize that list so that together, we can move forward successfully!
Anne-Britt of Mountain Rose Realty is an invaluable asset in the Telluride luxury real estate market. With years of experience and an extensive network, she is an expert at helping prospective homeowners find the perfect home in this beautiful mountain town. She has earned a reputation for being an enthusiastic and reliable realtor who puts her clients' needs first and works diligently to ensure they get the best outcome possible.
When it comes to finding a luxury property in Telluride, Anne-Britt's knowledge and expertise is second to none. As a resident of Telluride, she has a deep understanding of the local market, as well as insights on what kind of homes are most sought after by buyers. Her attention to detail helps her narrow down potential listings that fit each buyer's budget, lifestyle and other needs. Additionally, she has the ability to provide valuable advice and guidance on financing options, relocation tips, tax incentives and more -- making sure that every step of the process goes smoothly for her clients.
More than just a capable real estate agent, Anne-Britt also offers personalized consultation services to help buyers make informed decisions when purchasing their property in Telluride. She takes into account elements such as location, views and building regulations when searching for properties so that buyers can be confident they're getting exactly what they want out of their new home or investment. Anne-Britt also stays up-to-date with current trends so that she can adjust her approach accordingly in order to achieve excellent outcomes for all parties involved.
With Anne-Britt's help, you can rest assured that your experience will be stress free and successful! Whether you're looking for a primary residence or an investment opportunity - no matter what kind of luxury property you need - Anne-Britt will always have your best interest at heart!
Phone(970) 759-4886

Email[email protected]

Address Anne-Britt Ostlund | Mountain Rose Realty
ER.40037299
Mountain Rose Realty
220 East Colorado Avenue Suite 210
Telluride, CO 81435