Homeowners Have a Lot of Equity Right Now [INFOGRAPHIC]
Posted by Anne-Britt Ostlund on Wednesday, August 30, 2023 at 8:45 AM
By Anne-Britt Ostlund / August 30, 2023
Comment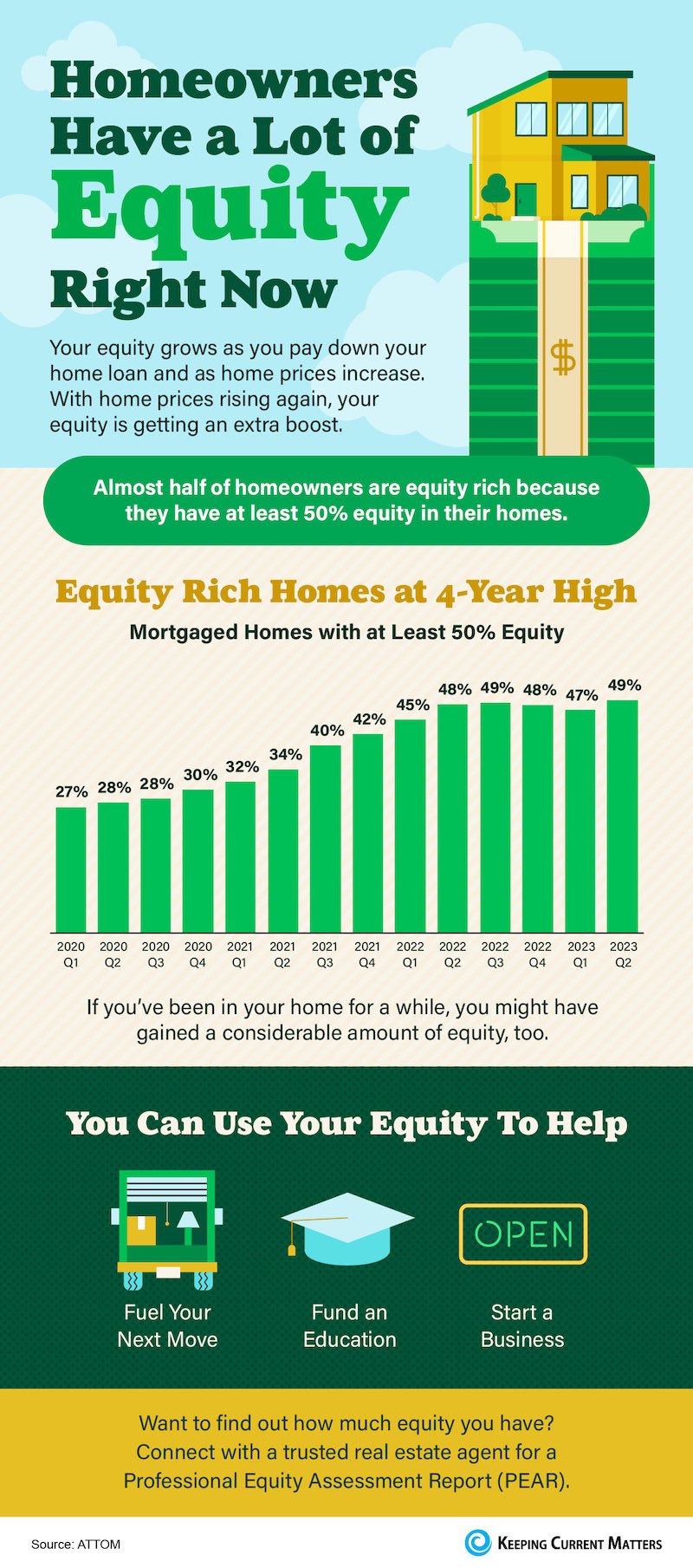 Introduction
Are you a homeowner in Telluride, Colorado, contemplating the potential of your property's equity? With Mountain Rose Realty, your trusted partner in Telluride real estate, you can leverage your home equity to achieve your financial goals. In this blog, we'll explore the benefits of homeownership and how rising home prices in Telluride are giving your equity an extra boost. Discover how Anne-Britt and the team at Mountain Rose Realty can help you find out how much equity you have through a Professional Equity Assessment Report (PEAR).
Unlocking the Power of Home Equity
Homeownership is not just about having a place to call your own; it's also a powerful financial investment. One of the significant advantages of owning a home is the potential for your equity to grow over time. Your equity in your home increases in two primary ways:
1. Paying Down Your Home Loan:
As you make mortgage payments, a portion of each payment goes towards paying down the principal balance of your loan. This means that with every payment you make, you own a little more of your home. Over time, these payments can significantly boost your equity.
2. Rising Home Prices:
The real estate market in Telluride has been on an upward trajectory, with home prices steadily increasing. This trend has a direct impact on your home's equity. When the value of your home appreciates, your equity grows along with it.
Equity Richness in Telluride
The Telluride real estate market is unique, and it has led to a significant number of homeowners becoming "equity rich." This term refers to homeowners who have at least 50% equity in their homes. Given the rising property values in Telluride, it's no surprise that almost half of homeowners in the area fall into this category. If you've been in your Telluride home for a while, you might be pleasantly surprised by the amount of equity you've accumulated.
Discover Your Equity with a PEAR
If you're curious about how much equity you've built up in your Telluride home, it's time to connect with a trusted real estate agent who understands the local market dynamics. Anne-Britt and the experienced team at Mountain Rose Realty specialize in Telluride real estate and can provide you with a Professional Equity Assessment Report (PEAR).
A PEAR is a comprehensive analysis of your property's current market value, outstanding mortgage balance, and, most importantly, your home equity. Armed with this information, you can make informed decisions about your financial future. Whether you're considering selling your home, refinancing, or using your equity for other investments, a PEAR is the first step towards achieving your goals.
Conclusion
As a homeowner in Telluride, your equity is a valuable asset that can open up a world of financial opportunities. With the expertise of Anne-Britt and the Mountain Rose Realty team, you can take full advantage of the rising home prices in Telluride and maximize your equity's potential. Don't wait; reach out today to schedule your Professional Equity Assessment Report and secure your financial future with Mountain Rose Realty. Your equity is waiting to work for you in Telluride, Colorado.
Phone(970) 759-4886

Email[email protected]

Address Anne-Britt Ostlund | Mountain Rose Realty
ER.40037299
Mountain Rose Realty
220 East Colorado Avenue Suite 210
Telluride, CO 81435