Homeownership Helps Protect You from Inflation [INFOGRAPHIC]
Posted by Anne-Britt Ostlund on Wednesday, June 21, 2023 at 10:00 AM
By Anne-Britt Ostlund / June 21, 2023
Comment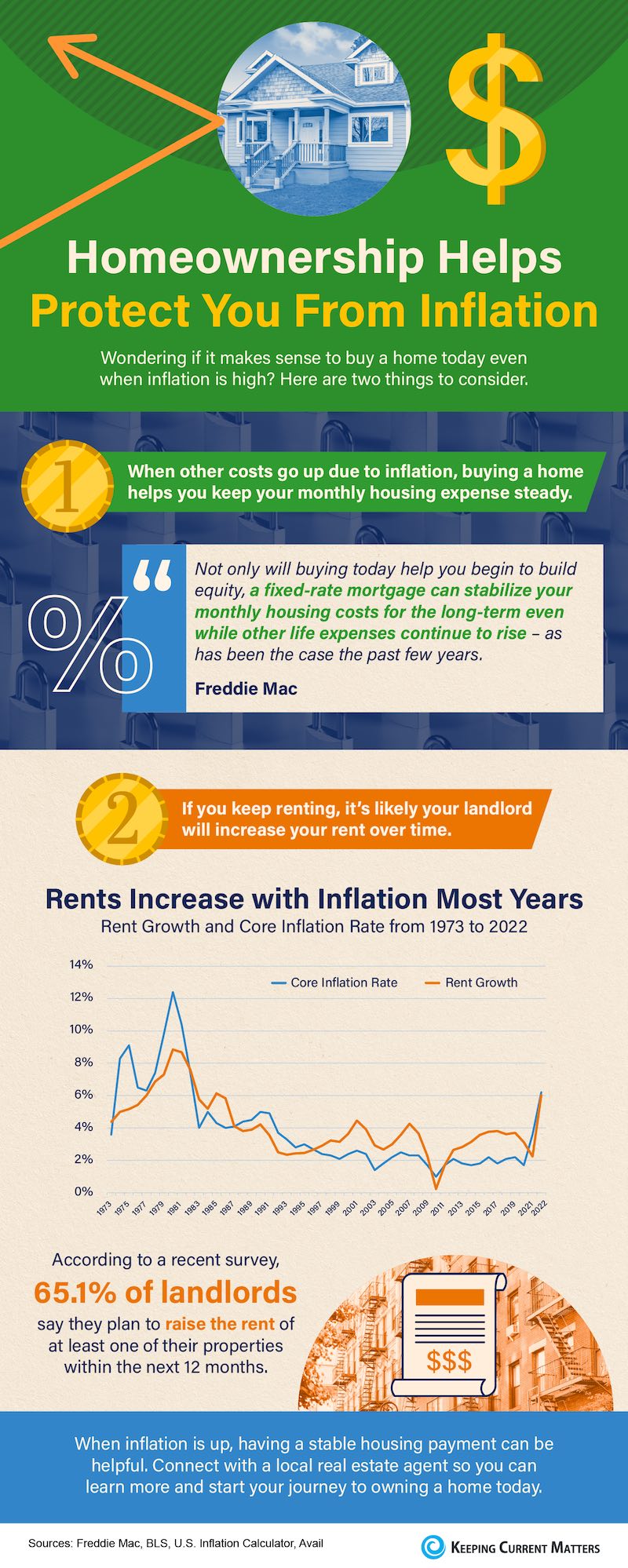 Some Highlights
Wondering if it makes sense to buy a home today even when inflation is high? When other costs go up due to inflation, buying a home helps you keep your monthly housing expense steady.
Rents typically increase with inflation. Maybe that's why, according to a recent survey, 65.1% of landlords say they plan to raise the rent of at least one of their properties within the next 12 months.
If you're ready to begin your journey towards homeownership, contact Anne-Britt of Mountain Rose Realty for expert advice regarding Telluride real estate. With her help, you can further understand the advantages of owning a home in today's market and how to achieve your financial goals through this investment. With years of experience in Colorado's real estate industry, Anne-Britt will provide valuable insight and guidance every step of the way. Don't wait – get in touch with Mountain Rose Realty today!
Are you considering a home purchase in Telluride this year? Get the most out of your investment by seeking the expert advice of Anne-Britt from Mountain Rose Realty. With decades of experience helping buyers and sellers in the area, she has an intimate understanding of the local real estate market and can help you get the best price for your dream home.
Anne-Britt will take the time to understand your needs and goals, before carefully crafting a plan tailored just for you. She'll provide detailed market analysis and trending data to ensure that you're making an informed decision when it comes to buying or selling a property. Plus, with her vast network of contacts across Telluride, she can connect you with experienced professionals who can assist in making your dream home come true.
But beyond just finding the right property for you, Anne-Britt can also provide an in-depth understanding of home price trends and reports throughout Telluride. With her expertise and insights, she'll help make sure that you're getting the best deal possible on any new property that you may be considering. Don't worry if there are any unexpected bumps along the way; Anne-Britt is highly experienced in managing transactions for both buyers and sellers alike!
Phone(970) 759-4886

Email[email protected]

Address Anne-Britt Ostlund | Mountain Rose Realty
ER.40037299
Mountain Rose Realty
220 East Colorado Avenue Suite 210
Telluride, CO 81435