Hope Lake Hike is The Ultimate Day Hike In Telluride, Colorado
Posted by Anne-Britt Ostlund on Monday, March 27, 2023 at 8:00 AM
By Anne-Britt Ostlund / March 27, 2023
Comment
If you're seeking a captivating alpine lake trek in Colorado, your quest is over! The Hope Lake Hike in Telluride offers unparalleled views of the San Juan Mountains located within Uncompadre National Forest. Boasting verdant meadows and glistening glacier-blue waters, it's an absolute dream come true for all Colorado outdoorsmen!
Hope Lake will astound you with its sensational views and take your breath away from not only the high altitude, but also a possible icy dip in the glacier! Take this chance to experience an unforgettable day hike.
Ready to explore one of the most spectacular lake hikes in Colorado? Look no further than this comprehensive guide on Lake Hope Trail in Telluride! Learn all you need to know including how and when to get there, trail specifics, plus what gear is necessary for a successful hiking adventure. So let's dive right into it and start planning your next outdoor journey!
Take a memorable adventure on the 6-mile, out and back Lake Hope Trail with an elevation gain of 1,515 feet. This moderate hike is popular among hikers and outdoor enthusiasts alike--so make sure to arrive early for your journey! For directions to the trailhead, consult All Trails Map for useful information.
Why Hike Hope Lake Telluride
Hopeful Lake Colorado, a breathtaking paradise that rivals our wildest imaginings - is an actual place! Around you, towering 13 and 14ers reach to the heavens while vivid green meadows paint a vibrant landscape. Copper-tinted mountains dance alongside captivating wildflowers in the sunshine and shimmering glacier lake views fill your vision with wonder as far as the eye can see. For travelers visiting Telluride during summer months, this trail promises all who come its way memories that will last for years to come—it's one bucket list experience not be missed!
Directions To Hope Lake
Escape to Hope Lake Trail and experience the beauty of Uncompahgre National Forest, just 45 minutes away from Telluride, Colorado. To get there: head west on Highway 145 toward Trout Lake, then take a left onto County road 63A (following the sign for Trout lake). You will drive alongside trout lake for about one mile before taking a left onto Hope Lake Road (Forest Service Rd #627) for 2.5 miles. This path can be quite rocky so it is highly recommended that you bring along your 4x4 vehicle with high clearance! There is parking for plenty of vehicles, but it can get busy in the summer because this is a very popular hike.
Trail Information
Before we venture off on a hike, I always make sure to gather all the pertinent details first with AllTrails. This app helps me plan what gear and clothing should be packed in advance by showing how long and arduous the trail is along with its GPS coordinates. Take Hope Lake Trail for instance: it's a 6-mile round trip with an elevation gain of 1515 feet. It may sound challenging, but hundreds have taken this moderately steep route before you!
Beginning The Hike
Starting at an elevation of 10,750 feet, the Hope Lake Trail winds its way through picturesque trees and striking meadows with high country wildflowers. As you make your ascent across Poverty Gulch, prepare for a challenging set of switchbacks as they will grant most of your sought-after elevation increase. Make sure to bring plenty of water - this is one popular trail after all!
Halfway Point
As you exit the forest, a majestic range of mountains appears on the horizon. Glimpses of Trout Lake provide incredible vistas and offer up spectacular views featuring three 14ers! We paused our journey to take in this surreal sight as we breathed in the fresh mountain air. To me, however, nothing compared to my favorite view—the sun bathed valley beneath us with lush greens that left me speechless.
Embark on a breathtaking journey and witness the majestic heights of these incredible mountain peaks: Vermilion Peak (13,894 ft - pictured below), El Diente (14,160 ft), Mt. Wilson (14,242 ft) and Wilson Peak (14,023ft).
Reaching Lake Hope In Telluride
The final steps to the lake comes as a surprise! The trail looks like it descends right into the lake. The wildflowers are in full bloom and you can see some snow left behind on the mountains in the background.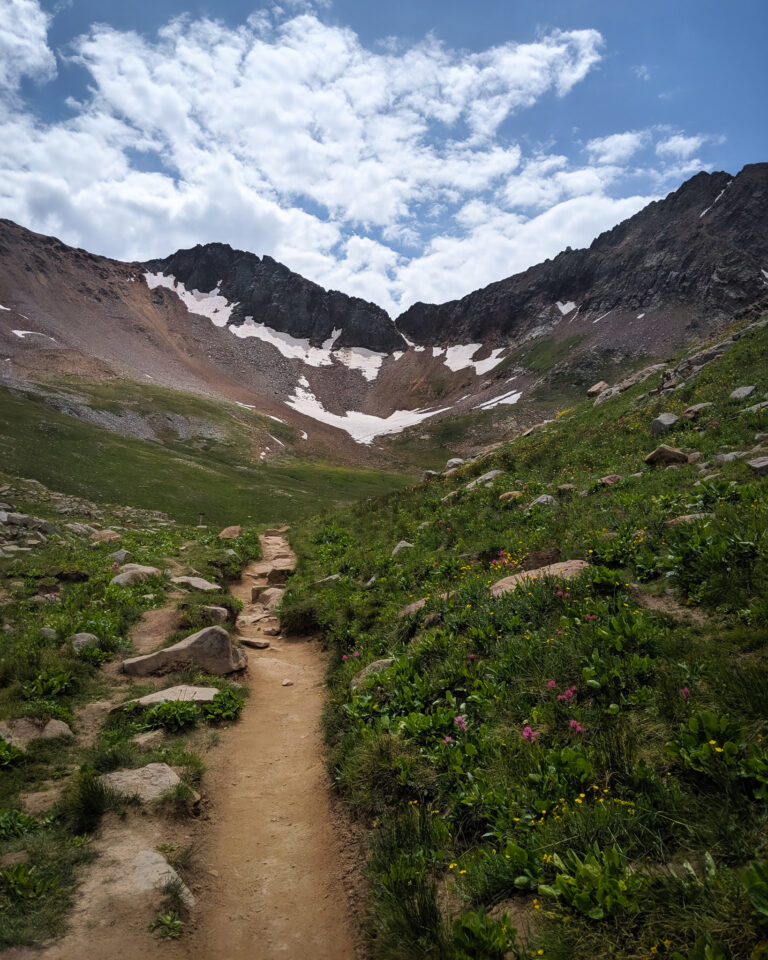 Witnessing the glistening Lake for the first time was truly spectacular. Its mountainous backdrop caused a reflection of its peaks in its crystal-clear, glassy waters of turquoise that could be admired from far away. As I stepped closer to it's edge, my awe only deepened as I took in this remarkable beauty with my own eyes!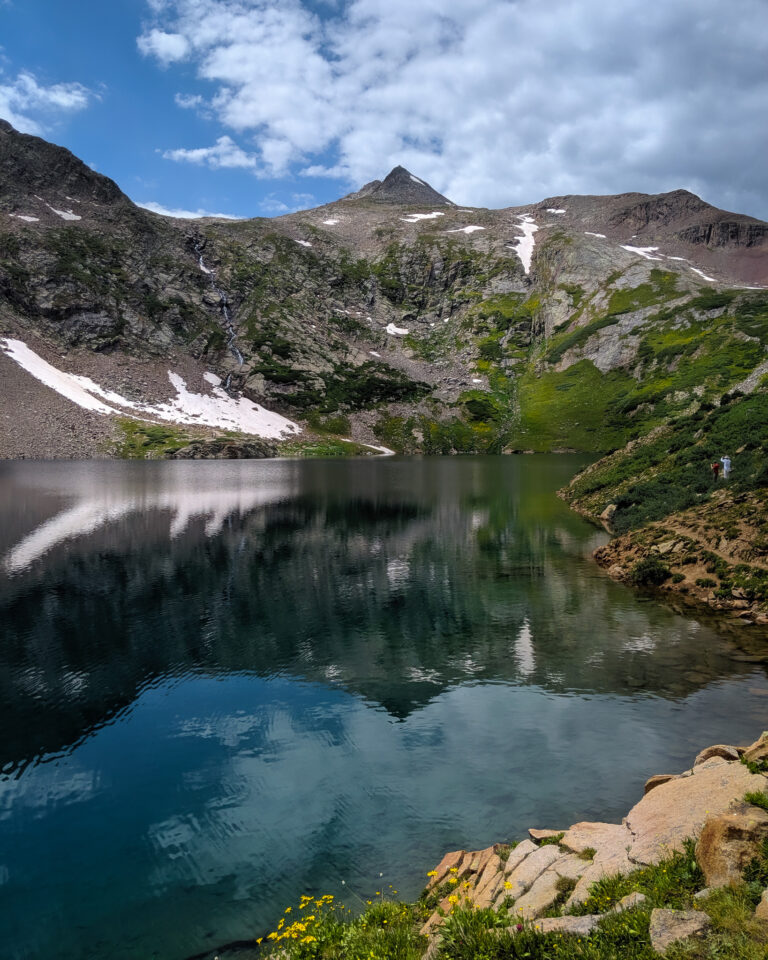 We yearned for a spot of solitude and an aerial view of the lake, so we set off on a journey up the trail to our left. After replenishing our water bottle with pure spring water along the way, we eventually reached the summit filled with stunning views of nearby peaks - even though it added an extra mile onto our hike! It was well worth it!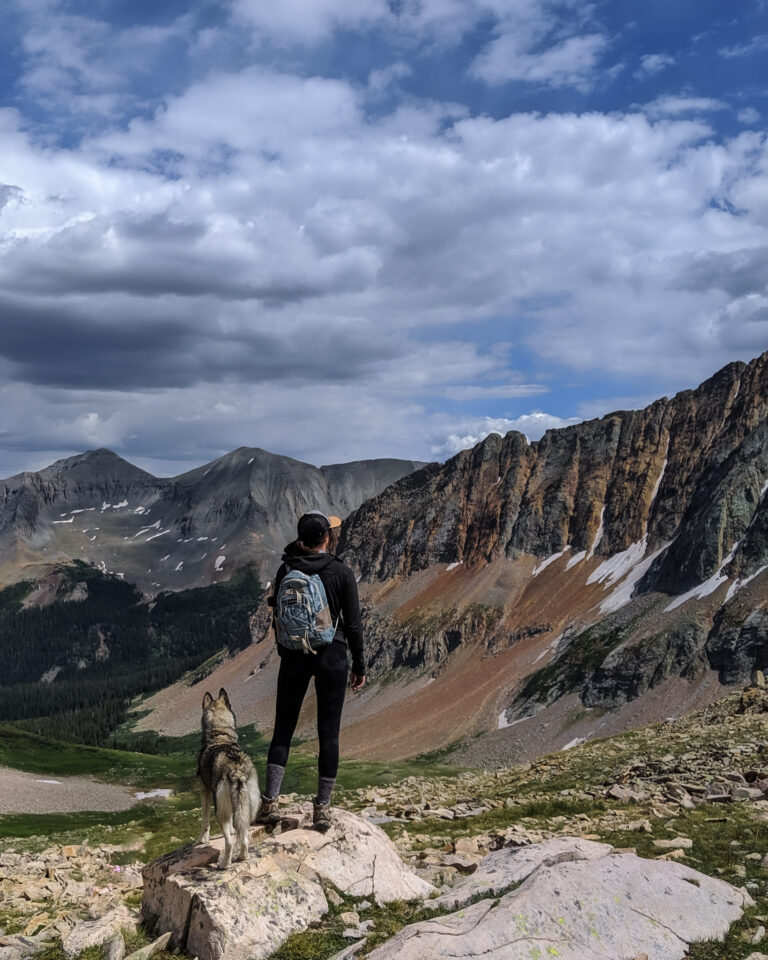 Can You Swim In Hope Lake?
Are you considering a quick dip in the lake? Many find it invigorating to swim in this alpine reservoir! Glacial-fed lakes, much like ice baths, are usually quite chilly. However, while we were munching on snacks beside the lake's edge, some people still jumped right into it! To make sure your experience is complete and comfortable, don't forget to bring a fast drying towel along with extra clothes for changing later.
How Long Does It Take To Hike Hope Lake?
The journey up to Hope Lake typically takes between 3 and 5 hours, depending on the hiker's skill level and how much they choose to admire the scenery. Telluride hikers can make it out in one day — just remember that getting back down will take less time than climbing did! We Colorado natives had a few moments of pause during our ascent due to the altitude changes; try not to be too surprised if you need a break as well!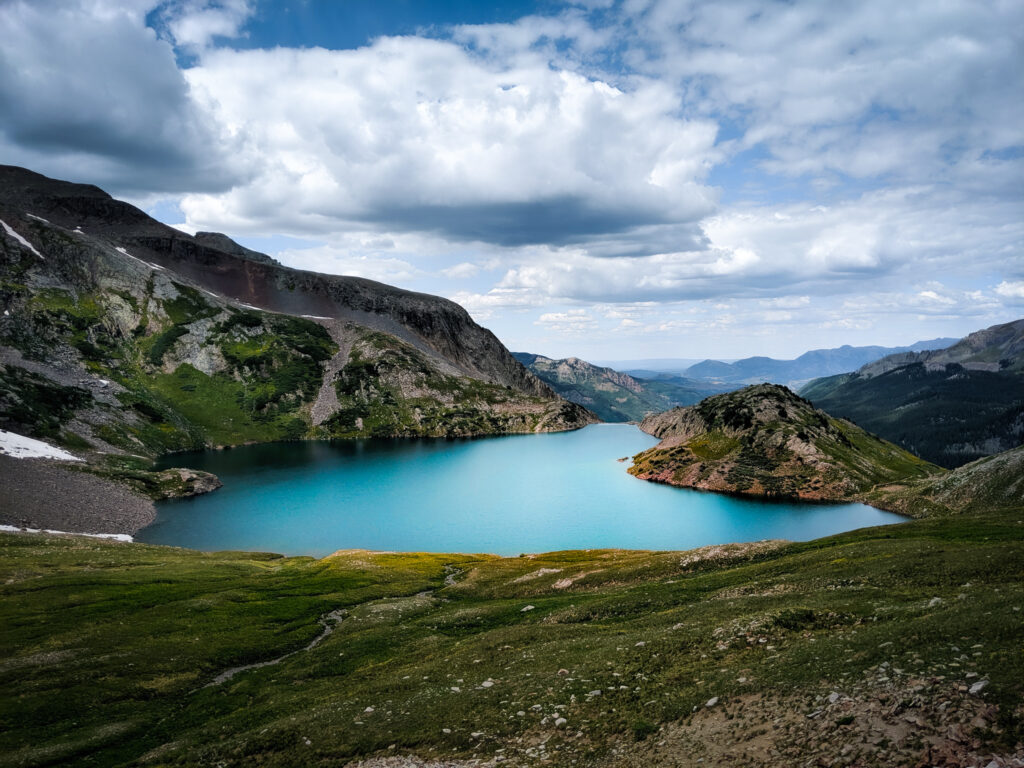 Best Time To Visit?
When is the ideal time to explore Colorado's backcountry trails? From June-August, when these routes are finally open for hikers and adventurers alike - making this season an optimal time of year. With warm weather and vibrant blooming wildflowers scattered around, you'll be in awe of nature at its finest!
Experience The Most Spectacular View In Telluride with Anne-Britt Of Mountain Rose Realty
Anne-Britt of Mountain Rose Realty is your go-to for the best real estate experience in Telluride. She can help you find the perfect place to make all your outdoor dreams come true! Whether you're looking for a cozy mountain cabin, or a luxurious residence with million-dollar views - Anne-Britt is your gal!
Her extensive knowledge of the surrounding area and her passion for all things outdoors ensures that your real estate adventure will be nothing short of spectacular. Reach out to her today at Mountain Rose Realty and explore the breathtaking beauty that Telluride, Colorado has to offer! You won't regret it.
Credits: livingtinywithawolf.com
Phone(970) 759-4886

Email[email protected]

Address Anne-Britt Ostlund | Mountain Rose Realty
ER.40037299
Mountain Rose Realty
220 East Colorado Avenue Suite 210
Telluride, CO 81435