How Homeownership Is Life Changing for Many Women
Posted by Anne-Britt Ostlund on Thursday, March 30, 2023 at 9:15 AM
By Anne-Britt Ostlund / March 30, 2023
Comment
As we commemorate Women's History Month, let us take a moment to reflect on the mark that women have left in our society– with one of those major impacts being felt in the housing market. In fact, since 1981 single women have consistently purchased more homes than their male counterparts each year and now make up an impressive 17% of all households across America!
Why Is Homeownership So Important to Women?
The surge in women homeowners has not only created a lasting effect on the housing market, but it has also presented many advantageous opportunities to these purchasers and their families. Homeownership is beneficial from both fiscal and emotional perspectives, with array of advantages for those who choose the path of home ownership.
On the financial side, housing proves to be the key to building wealth for single women. Ksenia Potapov, Economist at First American, says:
"For single women, housing has always made up a large share of total assets. Over the last 30 years, the average single woman's wealth has increased 88% on an inflation-adjusted basis, from just over $142,000 in 1989 to $267,000 in 2019, and housing has remained the single largest component of their wealth."
Owning a home not only provides financial security and independence, but it can also be life altering. When you add in the personal reasons for buying a house, its impact becomes even more evident.
The National Association of Realtors recently released a report that reveals the major driving factors behind single women's decision to purchase property today (see chart below):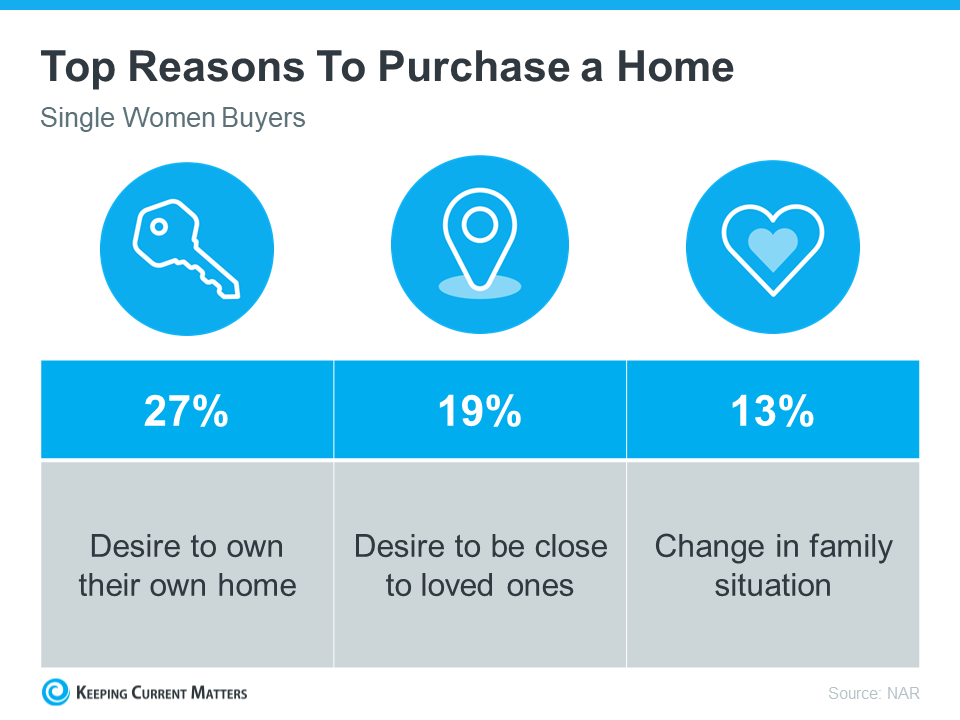 Homeownership is a remarkable and life-altering experience for everyone. Take the necessary steps today to begin achieving your real estate ambitions by enlisting the help of an experienced local realtor like Anne-Britt of Mountain Rose Realty.
Anne-Britt of Mountain Rose Realty is a luxury real estate consultant based in the beautiful town of Telluride, Colorado. With experience that spans decades, Anne-Britt has built a successful career in the real estate industry and established herself as one of the top realtors in Telluride.
Anne-Britt has worked hard to become an expert on the local market and can provide up-to-date information on market trends and shifts in housing prices. She takes great pride in helping her clients find their dream home, whether it's a mountain retreat or a ski chalet. Her expertise goes far beyond just finding a home; she provides her clients with detailed advice on how to secure financing, negotiate contracts and prepare for closing costs.
To ensure that all of her clients have the best chance at success, Anne-Britt goes above and beyond by offering them personalized service. She makes it her mission to get to know each individual client's needs and wants so she can locate properties that exactly match what they're looking for. As trustworthy and attentive as she is knowledgeable, Anne-Britt truly puts her clients first from start to finish.
Anne-Britt exemplifies excellence in the real estate business through her commitment to providing outstanding customer service combined with comprehensive expertise on the Telluride market. Whether you are seeking an investment property or your dream home, contact Anne-Britt of Mountain Rose Realty today for all your luxury real estate needs!