Invest in Yourself by Owning a Home
Posted by Anne-Britt Ostlund on Tuesday, October 24, 2023 at 9:23 AM
By Anne-Britt Ostlund / October 24, 2023
Comment
Are you wondering if it makes sense to buy a home right now? While today's mortgage rates might seem a bit intimidating, here are two compelling reasons why it still may be a good time to become a homeowner.
Home Values Appreciate over Time
There's been a lot of confusion around what's happened with home prices over the past two years. While they did dip ever so slightly in late 2022, this year they've been appreciating at a more normal pace, which is good news for the housing market. And while looking at price movement over just a year or two can make you worry prices are usually this unpredictable, history shows in the long run, home values rise (see graph below):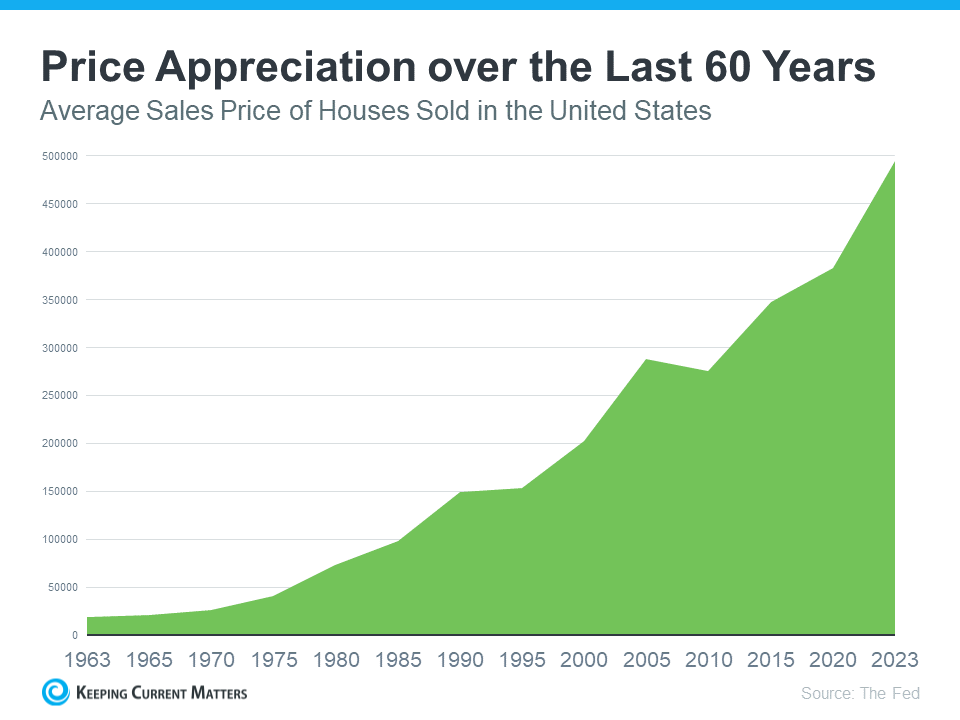 Using data from the Federal Reserve for the past 60 years, you can see the overall trend is home prices have climbed quite steadily. Sure, there was an exception around the housing crash of 2008 that caused prices to break the usual trend for a time, but overall, home values have been consistently on the rise.
Increasing home values is one great reason why buying may make more sense than renting. As prices rise, and as you pay down your mortgage, you build equity. Over time, that growing equity gives your net worth a boost.
Rent Keeps Going Up Through the Years
Another reason you may want to consider buying a home instead of renting is the never-ending rent hike. If you've ever felt the pinch of rent increasing year after year, you're not alone. That's because, rents have climbed steadily over the past six decades (see graph below):
By buying a home, you can lock in your monthly housing costs and bid farewell to those pesky rent hikes. That stability is a game-changer.
In the end, it all boils down to this: your housing payments are an investment, and you've got a choice to make. Do you want to invest in yourself or your landlord?
By becoming a homeowner, you're investing in your own future. When you rent, that's money you never get back.
When you factor in home values consistently rising, plus the opportunity to get relief from never-ending rent hikes, homeownership can be a path to financial security. As Dr. Jessica Lautz, Deputy Chief Economist and VP of Research at the National Association of Realtors (NAR), states:
"If a homebuyer is financially stable, able to manage monthly mortgage costs and can handle the associated household maintenance expenses, then it makes sense to purchase a home."
Bottom Line
Thank you for taking the time to explore the Telluride, CO 81435 housing market with us. At Mountain Rose Realty, we are committed to providing you with the latest insights on Telluride real estate. If you're considering making the shift from renting to owning in this beautiful region, you're making a wise choice.
Owning a home not only provides you with a sense of stability but also serves as a valuable investment for your future. With the median list price in Telluride standing at $8,625,000, it may seem like a significant investment, but when you factor in the long-term home price appreciation, it becomes clear that this is an opportunity you don't want to miss.
Our dedicated agent, Anne-Britt Ostlund, is here to guide you through the process of finding the perfect Telluride home for sale that suits your needs and budget. With extensive knowledge of the local market, she can help you navigate the intricacies of the Telluride real estate landscape. Whether you're looking for a cozy mountain retreat or a luxurious property in Telluride, Anne-Britt can make your dream a reality.
Take control of your future by investing in a home in Telluride, CO. Say goodbye to rising rents and hello to the potential for long-term financial security. If you're ready to take this significant step, reach out to Mountain Rose Realty, and let's make your real estate dreams come true.
Don't miss out on the incredible opportunities in the Telluride real estate market. Connect with Mountain Rose Realty today and let us help you find the perfect homes for sale in Telluride, CO. Your journey to homeownership starts here.