Investing in a Home Is an Intelligent Choice - Here's Why
Posted by Anne-Britt Ostlund on Friday, March 24, 2023 at 8:00 AM
By Anne-Britt Ostlund / March 24, 2023
Comment
If you're considering investing in a home, it is essential to ensure that your decision will be beneficial for years to come. To make sure of this, anticipating the potential trajectory of house prices over time should factor into your thinking!
Home prices this year have not decreased drastically. As the months pass, some areas may observe an increase in real estate value while others might experience a decline – so it is beneficial to keep the big picture in mind. Research points out that we should anticipate a return of steadier home appreciation rates within subsequent years.
Home Price Appreciation in the Years Ahead
In their latest quarterly Home Price Expectation Survey (HPES), over a hundred economists, investment strategists, and housing market analysts were consulted by Pulsenomics. Unsurprisingly, the report demonstrated that after some minor depreciation this year home prices are expected to make up for lost ground in the coming five years with more traditional levels of appreciation through 2027; as seen in the graph below.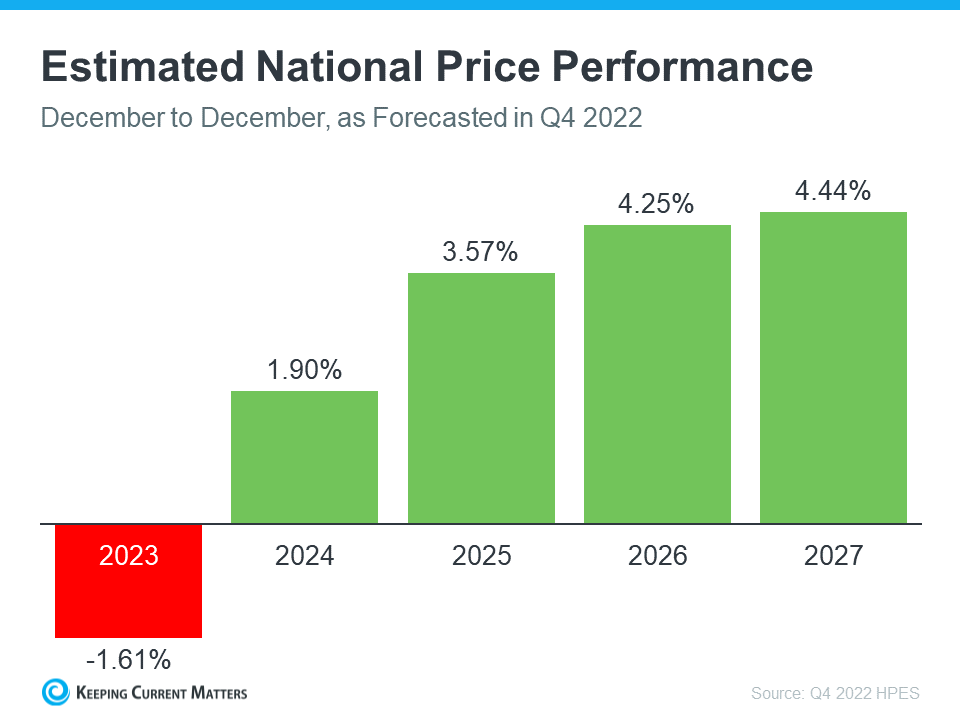 The big takeaway is experts aren't forecasting a drastic fall in home prices nationally, even though some markets will see home price appreciation while others may depreciate. And when they look further out, they see steady price appreciation in the long run. That's a great example of why homeownership wins over time.
What Does This Mean for You?
When you purchase a home, price appreciation will increase the worth of your property and build up your family wealth. Take a look at how an average home's value could be affected in the following years according to expert projections from the referenced survey (view graph below):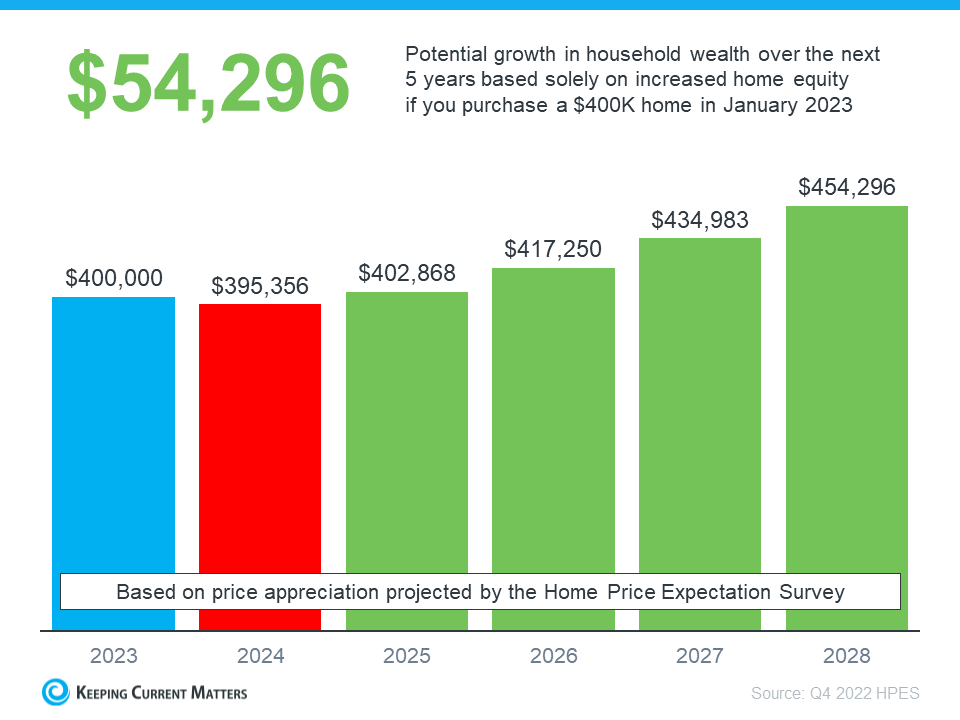 In this example, if you bought a $400,000 home at the beginning of this year and factor in the forecast from the HPES, you could accumulate over $54,000 in household wealth over the next five years. So, if you're wondering if buying a home is a sound decision, keep in mind what a strong wealth-building tool it is long term.
Bottom Line
According to the experts, while we may see slight depreciation this year, home prices are expected to grow over the next five years.
Purchasing a home is one of the most significant investments you can make. Mountain Rose Realty understands this and Anne-Britt, one of Telluride's best luxury real estate consultants, is committed to helping you find the ideal property that will continue to increase in value over time. Don't hesitate to reach out today for more information on Telluride real estate opportunities!
Your decision to invest in a home now will benefit your family in years come; so make sure you are well informed before embarking on the journey! Mountain Rose Realty and Anne-Britt are here to help you every step of the way.