More Jobs and Better Pay Leads to More Buyer Demand
Posted by Anne-Britt Ostlund on Saturday, August 19, 2023 at 9:53 AM
By Anne-Britt Ostlund / August 19, 2023
Comment
There's been talk about a recession for quite a while now. But the economy has been remarkably resilient. Why? One reason is employment and wages have stayed strong. Let's look at the latest information on each one and why both are good news if you're thinking about selling your house.
More Jobs Are Being Created
Instead of facing the job losses typical of any recession, the economy has been growing and adding jobs. According to the Bureau of Labor Statistics (BLS), 187,000 jobs were created in July, which is up from the 185,000 created in June. That means more people are finding work. In fact, so many jobs are being added that the unemployment rate is far lower than the long-term average of 5.7% (see graph below):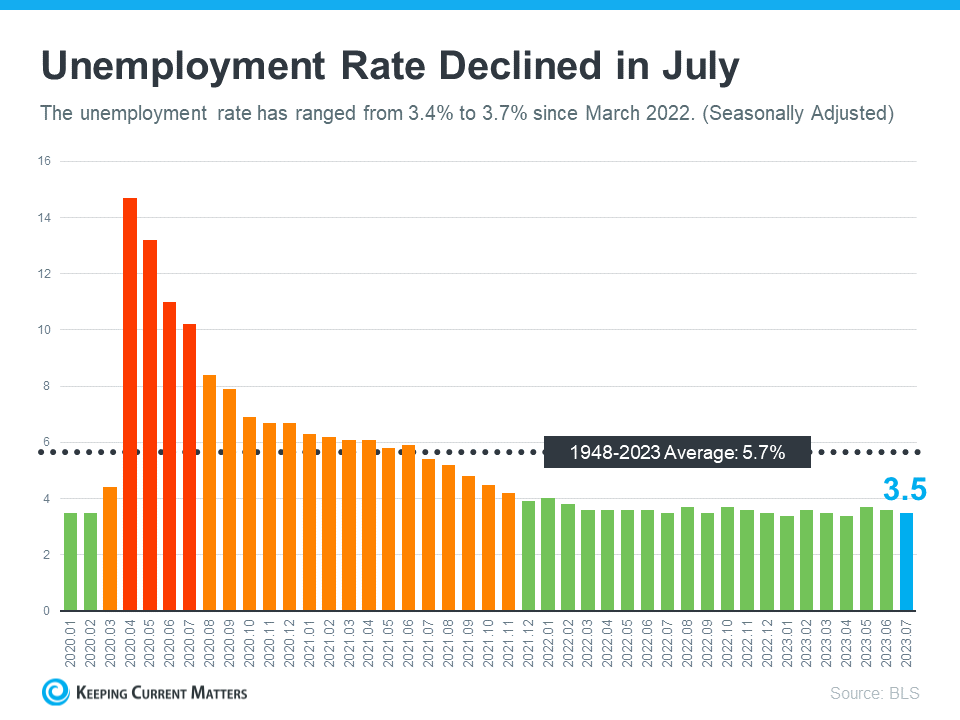 A low unemployment rate means that most people who want to work are finding jobs. When people have jobs, they have steady incomes – and that can help set them up to consider homeownership.
People Are Making More Money
And data also shows hourly earnings have been going up pretty steadily over the past few years (see graph below):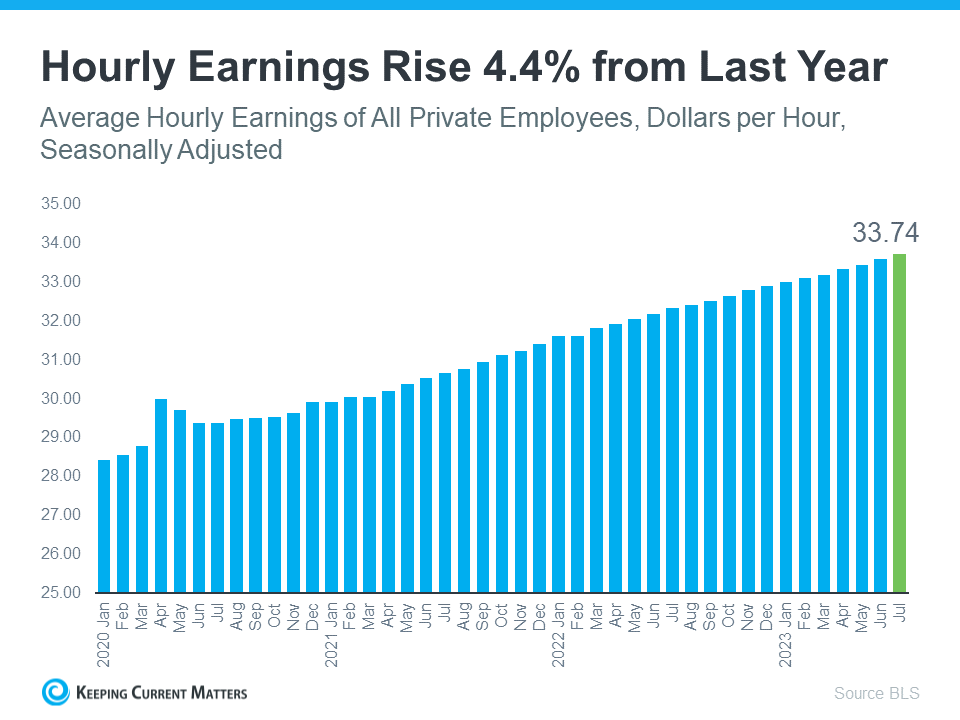 When wages rise, people have more money that they could save or use toward buying a home. This increase in income helps offset some of the affordability challenges in the housing market today. Affordability depends on three main factors: wages, home prices, and mortgage rates. With higher home prices and mortgage rates right now, Builder Online summarizes how growing wages can help:
"The housing market has been a beneficiary of the strong economy and labor market. Many of those employed have saved money over the past few years and used those funds toward a down payment on a home."
If you're thinking about selling your house, a strong job market, growing wages, and the resulting buyer demand is fantastic news. It means there's a larger pool of potential buyers out there who are in a position to pursue their dreams of homeownership.
Bottom Line
In the picturesque town of Telluride, where the majestic peaks and stunning landscapes capture the heart of every visitor, the real estate market is buzzing with excitement. If you've been considering making a move, now might just be the perfect time. With more jobs becoming available and wages on the rise, the demand for homes in this charming mountain haven is growing stronger by the day. And that's where we at Mountain Rose Realty come in, your trusted partners in Telluride real estate.
As a prominent name in the Telluride real estate scene, we understand the unique charm and allure of this town. Our dedicated team, led by the experienced Anne-Britt, is here to ensure that your real estate journey is not only smooth but also tailored to your individual needs. Whether you're looking to sell your home or are on the hunt for the perfect Telluride property to call your own, we have the expertise to guide you through every step of the process.
When it comes to Telluride homes for sale, we have an impressive portfolio that showcases a variety of options, each with its own touch of mountain magic. From cozy cabins tucked away in the woods to elegant homes with breathtaking mountain views, there's something to suit every taste and lifestyle. Our goal is to make your dream of owning a piece of Telluride a reality, and we'll work tirelessly to find the right match for you.
Selling your home can be a daunting task, but with the right support, it can also be an exciting and rewarding journey. Partnering with a local real estate agent is essential to navigate the intricacies of the market. At Mountain Rose Realty, we specialize in Telluride real estate, and we understand the nuances that make this market unique. From setting the optimal price for your property to preparing it for potential buyers, we'll be by your side, ensuring you make the most of this opportunity.
So, whether you're considering selling or buying a home in Telluride, remember that you're not alone. The team at Mountain Rose Realty is here to help you achieve your real estate goals in this stunning mountain paradise. Reach out to us today and let's embark on this exciting journey together. Your dream Telluride home is waiting, and we're here to make it a reality.