Mortgage Rates: Past, Present, and Possible Future
Posted by Anne-Britt Ostlund on Wednesday, September 13, 2023 at 11:00 PM
By Anne-Britt Ostlund / September 13, 2023
Comment
If you're hoping to buy a home this year, you're probably paying close attention to mortgage rates. Since mortgage rates impact what you can afford when you take out a home loan – and affordability is a challenge today – it's a good time to look at the big picture of where mortgage rates have been historically compared to where they are now. Beyond that, it's important to understand their relationship with inflation for insights into where mortgage rates might go in the near future.
Giving Context to the Sticker Shock
Freddie Mac has been tracking the 30-year fixed mortgage rate since April of 1971. Every week, they release the results of their Primary Mortgage Market Survey, which averages mortgage application data from lenders across the country (see graph below):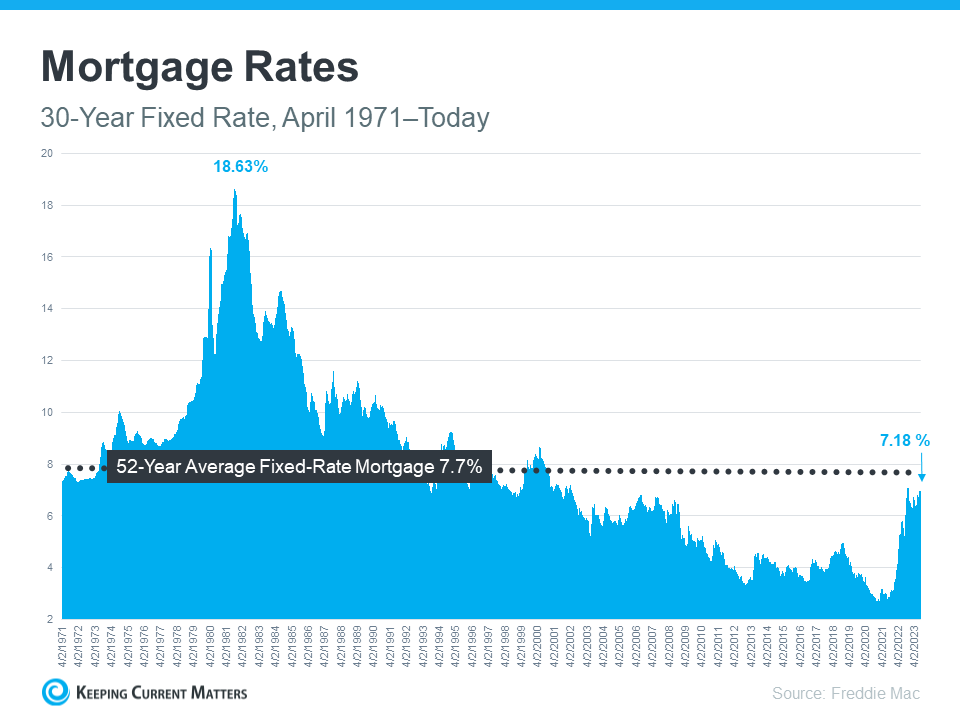 Looking at the right side of the graph, mortgage rates have increased significantly since the start of last year. But even with that rise, today's rates are still below the 52-year average. While that historical perspective is good context, buyers have gotten used to mortgage rates between 3% and 5%, which is where they've been over the past 15 years.
That's important because it explains why the recent jump in rates might have you feeling sticker shock even though they're close to their long-term average. While many buyers have adjusted to the elevated rates over the past year, a slightly lower rate would be a welcome sight. To determine if that's a realistic possibility, it's important to look at inflation.
Where Could Mortgage Rates Go in the Future?
The Federal Reserve has been working hard to lower inflation since early 2022. That's significant because, historically, there's been a connection between inflation and mortgage rates (see graph below):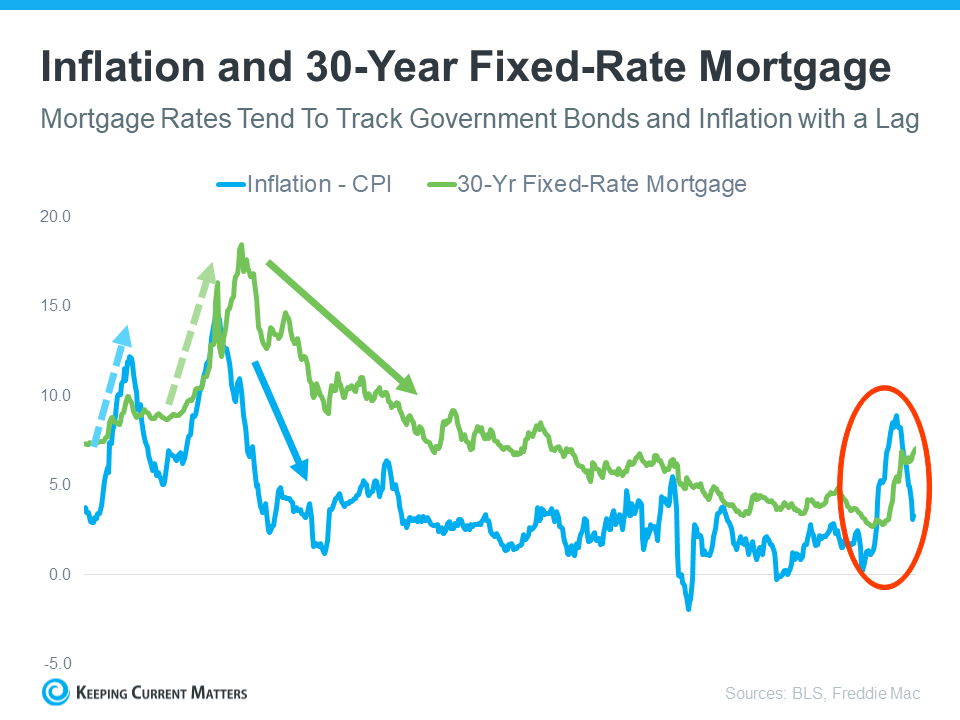 This graph shows a pretty reliable relationship between inflation and mortgage rates. Looking at the left side of the graph, each time inflation moves significantly (shown in blue), mortgage rates follow suit shortly after (shown in green).
The circled portion of the graph points out the most recent spike in inflation, with mortgage rates following closely behind. As inflation has moderated a bit this year, mortgage rates haven't yet made a similar move.
That means, if history is any guide, the market is waiting for mortgage rates to follow inflation and head back down. It's impossible to accurately predict where mortgage rates will go for sure, but moderating inflation means mortgage rates going down in the near future would fit a well-established trend.
Bottom Line
Thank you for joining us on this insightful journey into the world of mortgage rates and its fascinating connection with inflation. As you navigate your path towards homeownership in the picturesque Telluride region, understanding these intricacies becomes all the more crucial. At Mountain Rose Realty, we're committed to helping you find your dream home in this stunning Colorado destination.
With a wealth of experience in Telluride Real Estate, our dedicated team, led by Anne-Britt, is here to guide you through the process. Whether you're exploring Telluride homes for sale or considering homes for sale in Telluride, CO, we've got you covered. We believe in empowering you with knowledge and insights to make informed decisions about your real estate investments.
As you anticipate the future of mortgage rates and their potential impact on your homeownership goals, remember that our team at Mountain Rose Realty is here to provide expert guidance every step of the way. Stay tuned for more valuable real estate tips and updates from us.
For personalized assistance and to explore the latest Telluride real estate opportunities, please don't hesitate to reach out to us. Your dream home in this enchanting mountain paradise might be closer than you think.
Wishing you success and prosperity on your journey towards homeownership in Telluride!
Phone(970) 759-4886

Email[email protected]

Address Anne-Britt Ostlund | Mountain Rose Realty
ER.40037299
Mountain Rose Realty
220 East Colorado Avenue Suite 210
Telluride, CO 81435