PEAK SHEET: WHAT'S HAPPENING IN TELLURIDE & MOUNTAIN VILLAGE (August 4 - 10)
Posted by Anne-Britt Ostlund on Thursday, August 3, 2023 at 11:33:15 AM
By Anne-Britt Ostlund / August 3, 2023
Comment
Are you an enthusiastic real estate investor or homeowner in Telluride and Mountain Village? Staying updated on the latest happenings in the local real estate market is essential for making informed decisions. At Mountain Rose Realty, we understand the importance of staying connected, which is why we present the "Peak Sheet" – your go-to resource for all things related to Telluride real estate.
What is the Peak Sheet?
The Peak Sheet is a comprehensive update on the current real estate trends, events, and news in Telluride and Mountain Village. It is brought to you by Mountain Rose Realty, a reputable and experienced real estate agency led by the accomplished Anne-Britt.
Your Guide to What's Happening
Stay Informed: Whether you're a seasoned investor or a first-time homebuyer, being informed about the latest developments in the local real estate market is crucial. The Peak Sheet delivers insights on property trends, market analysis, and investment opportunities, allowing you to make well-informed decisions.
Events and Happenings: Beyond real estate updates, the Peak Sheet also features local events and happenings in Telluride and Mountain Village. From community gatherings to cultural festivals, it's your ticket to staying engaged and connected with the vibrant life of the region.
Exclusive Features: Want to have your event featured on the Peak Sheet? You can submit your event through our simple form, and our team will review it for inclusion. Additionally, the Peak Sheet offers the chance to showcase your property or real estate event, providing valuable exposure to potential buyers and investors.
Subscribe for Direct Updates
Would you like to receive the latest edition of the Peak Sheet directly in your inbox? It's simple! Join our mailing list and stay updated with the most recent developments in the Telluride and Mountain Village real estate market. Just sign up, and we'll ensure you never miss an essential update again.
Trust in Mountain Rose Realty and Anne-Britt
Mountain Rose Realty is a renowned real estate agency specializing in Telluride properties. Led by the experienced Anne-Britt, our team of experts is committed to helping you achieve your real estate goals. Whether you're looking to buy, sell, or invest, we provide personalized and professional services to ensure your success.
Click here to print the latest version. Want to have your event featured on the Peak Sheet? Submit an event here.
Want to be on our list and get the Peak Sheet delivered straight to your inbox?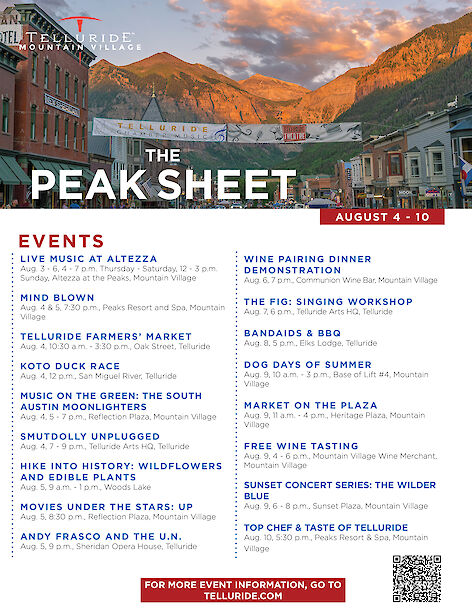 Phone(970) 759-4886

Email[email protected]

Address Anne-Britt Ostlund | Mountain Rose Realty
ER.40037299
Mountain Rose Realty
220 East Colorado Avenue Suite 210
Telluride, CO 81435