People Want Less Expensive Homes – And Builders Are Responding
Posted by Anne-Britt Ostlund on Tuesday, August 22, 2023 at 10:33 AM
By Anne-Britt Ostlund / August 22, 2023
Comment
In today's housing market, there are two main affordability challenges impacting buyers: mortgage rates that are higher than they've been the past couple of years, and rising home prices caused by low inventory. To overcome those challenges, many people are working with their agents to find less expensive homes. And with newly built homes making up a historically large percentage of the total available inventory today, that search often includes brand new homes.
People Are Spending Less on Newly Built Homes
The graph below uses the latest information from the Census to show, in June, more of the newly built home sales in this country were in lower price ranges than in 2022: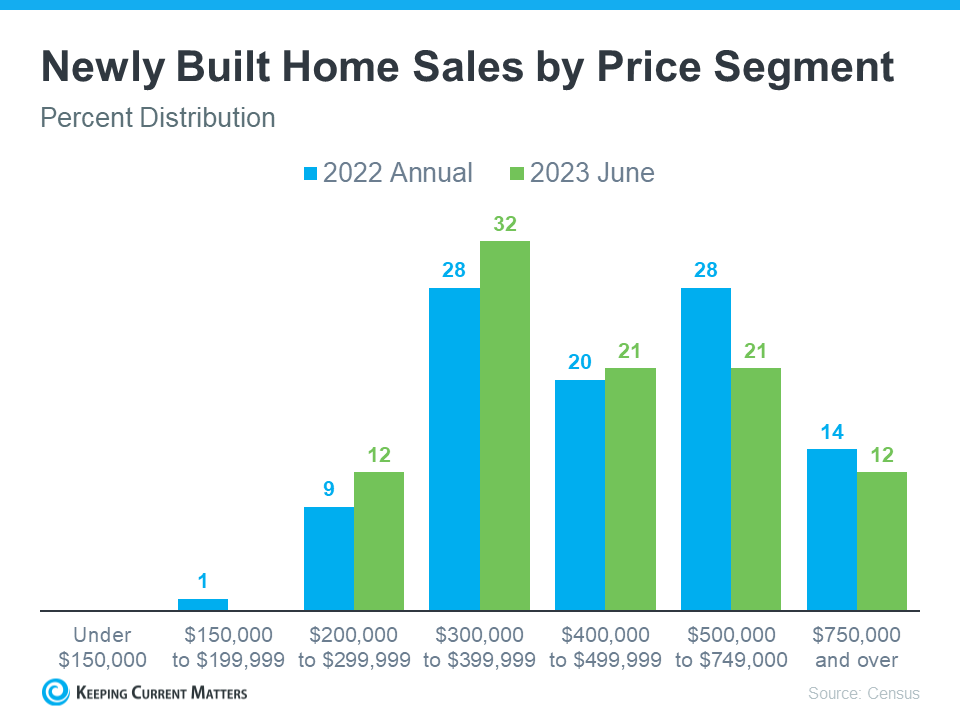 Last year, only 58% of newly built home sales were less than $500,000. This June, that number was up to 65%. This means more people are buying less expensive newly built homes right now while affordability remains a challenge.
Builders Are Offering Lower-Cost Options
Builders have picked up on this trend and are reacting accordingly. George Ratiu, Chief Economist at Keeping Current Matters, explains:
"Builders are also responding to this shift by bringing slightly smaller homes to market in an effort to meet lower price points . . ."
New data from the Census further confirms this pattern – it shows the median sales price of newly built homes has dipped down in recent months (see graph below):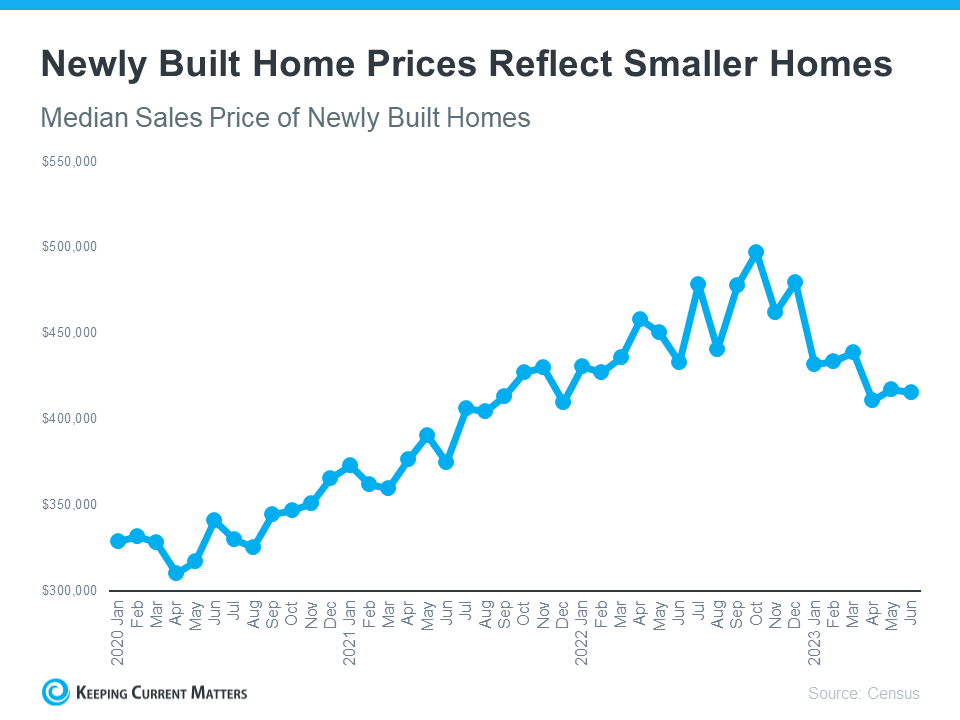 And as Mikaela Arroyo, Director of the New Home Trends Institute at John Burns Real Estate Consulting, says, the builders who are most responsive to this trend are forming pathways to homeownership:
". . . it is creating opportunities for people to be able to afford an entry-level home in an area. . . . if you get that size down, that automatically will make it a more affordable home. The [builders] that are decreasing [size] the most are probably the ones that try to build more of an affordable product."
How an Agent Can Help
Builders producing smaller, less expensive newly built homes give you more affordable options at a time when that's really needed. If you're hoping to buy a home soon, partner with a local real estate agent to find out what's available in your area. An agent can help you look at newly built homes or ones under construction nearby.
Bottom Line
In the midst of your quest to find the perfect home within your budget, it's crucial to recognize that the path to homeownership doesn't have to be a daunting one. When every listing seems like a maze of choices and decisions, there's one solution that stands out: connecting with a real estate professional who truly understands the landscape of the market. And that's where Mountain Rose Realty steps in, offering you a guiding hand through the intricate world of Telluride real estate.
In the picturesque expanse of Telluride, finding the right property can feel like a journey unto itself. However, with Mountain Rose Realty by your side, your journey transforms into a streamlined experience. As the go-to experts in Telluride real estate, their team, led by the knowledgeable Anne-Britt, is well-versed in the nuances of the local market. Anne-Britt and her team possess an in-depth understanding of the latest inventory, extending beyond what's currently available to include homes still under construction or newly built.
When it comes to navigating the maze of Telluride homes for sale, Anne-Britt's expertise shines brightly. Not only will you gain access to a wealth of information about available properties, but you'll also be privy to insights about builder reputations, intricate builder contracts, and negotiation tactics. With Anne-Britt and her team on your side, you're not just purchasing a home; you're making an informed investment in your future.
In a market as dynamic as Telluride, having a dedicated professional who's attuned to its every shift can make all the difference. The journey to finding your dream home becomes an exciting exploration of possibilities, rather than a perplexing puzzle. Mountain Rose Realty excels at connecting you with homes for sale in Telluride, CO, that align with your desires and budget, offering you the chance to craft your own haven amidst the awe-inspiring beauty of this region.
So, if you're ready to take the leap into the world of Telluride real estate, remember that you don't have to navigate it alone. Let Mountain Rose Realty and Anne-Britt guide you through the process, ensuring that every step you take is backed by their expertise and commitment to your satisfaction. Your dream home is out there, waiting to welcome you with open doors. Embark on this exciting journey with the confidence that Mountain Rose Realty brings – a partner that turns your vision of homeownership into a tangible reality.
Phone(970) 759-4886

Email[email protected]

Address Anne-Britt Ostlund | Mountain Rose Realty
ER.40037299
Mountain Rose Realty
220 East Colorado Avenue Suite 210
Telluride, CO 81435