Real Estate Is Still Considered the Best Long-Term Investment
Posted by Anne-Britt Ostlund on Monday, June 12, 2023 at 10:30 AM
By Anne-Britt Ostlund / June 12, 2023
Comment
With all the headlines circulating about home prices and rising mortgage rates, you may wonder if it still makes sense to invest in homeownership right now. A recent poll from Gallup shows the answer is yes. In fact, real estate was voted the best long-term investment for the 11th consecutive year, consistently beating other investment types like gold, stocks, and bonds (see graph below):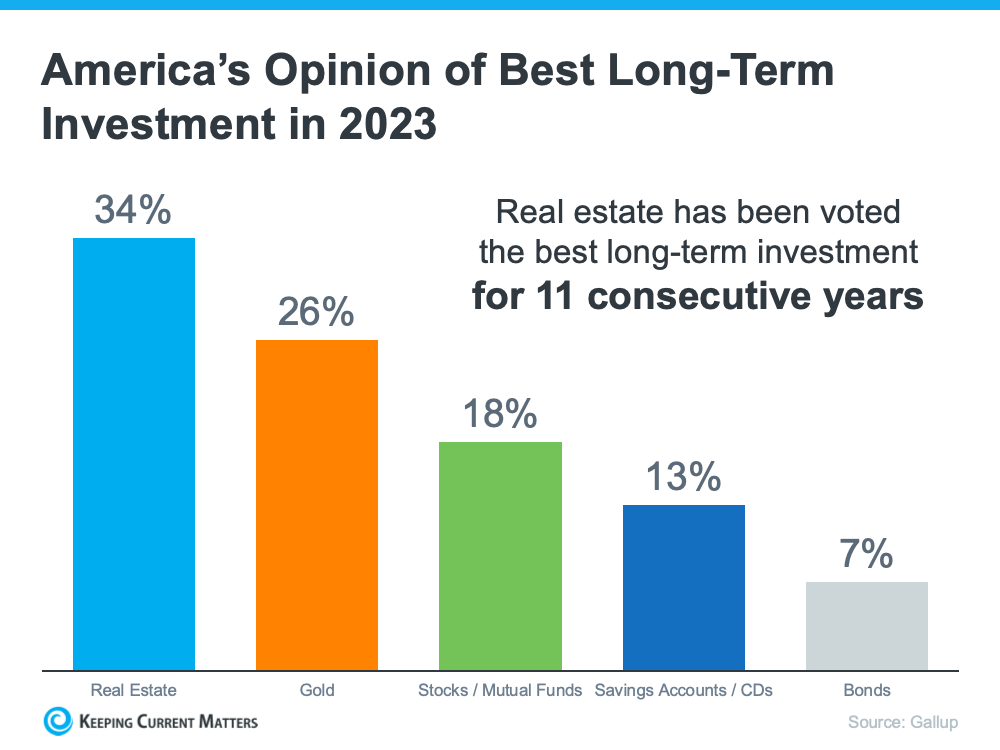 If you're thinking about purchasing a home, let this poll reassure you. Even with everything happening today, Americans recognize owning a home is a powerful financial decision.
Why Do Americans Still Feel So Positive About the Value of Investing in a Home?
Purchasing real estate has typically been a solid long-term strategy for building wealth in America. As Lawrence Yun, Chief Economist at the National Association of Realtors (NAR), notes:
". . . homeownership is a catalyst for building wealth for people from all walks of life. A monthly mortgage payment is often considered a forced savings account that helps homeowners build a net worth about 40 times higher than that of a renter."
That's because owning a home grows your net worth over time as your home appreciates in value and as you pay down your mortgage. And, since building that wealth takes time, it may make sense to start as soon as you can. If you wait to buy and keep renting, you'll miss out on those monthly housing payments going toward your home equity.
Bottom Line
Buying a home is a powerful decision. So, it's no wonder so many people view real estate as the best long-term investment. If you're ready to start on your own journey toward homeownership, connect with a Telluride real estate advisor today like Anne-Britt of Mountain Rose Realty!
If you're ready to take the plunge into homeownership, there's no one better to guide you through the process than Anne-Britt of Mountain Rose Realty. With over a decade of experience in Telluride real estate, Anne-Britt is an absolute expert when it comes to finding the perfect property for her clients' needs. From luxurious mansions to cozy condominiums, she has an eye for detail that helps buyers make informed decisions and get the most out of their investments.
At Mountain Rose Realty, they understand that buying or selling property can be a stressful task. That's why they strive to provide superior customer service and access to exclusive data points about the local market. Their blog is also full of insider tips and tricks that give clients an edge when it comes to navigating the Telluride real estate market. So if you need reliable advice on home loan requirements, closing costs, or any other important matters related to your purchase, Anne-Britt will gladly lend her expertise and knowledge.
Whether it's your first time purchasing a home or you're an experienced investor looking for opportunities in Telluride, connect with Anne-Britt today at Mountain Rose Realty! With her extensive experience in the area and dedication to providing excellent customer service, she'll help you find exactly what you're looking for so that you can make smart decisions about your investments.
Phone(970) 759-4886

Email[email protected]

Address Anne-Britt Ostlund | Mountain Rose Realty
ER.40037299
Mountain Rose Realty
220 East Colorado Avenue Suite 210
Telluride, CO 81435