Saturday's Community Fiesta brings music, food, games and a celebration of immigrants to Town Park
Posted by Anne-Britt Ostlund on Saturday, June 24, 2023 at 10:15 AM
By Anne-Britt Ostlund / June 24, 2023
Comment
Via Telluride News By Erin Spillane Planet Contributor Jun 22, 2023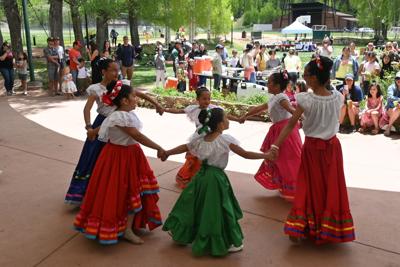 Traditional dancers at the 2022 Community Fiesta. This year's event takes place on Saturday in Town Park from 1:30 to 4:30 p.m. (Courtesy photo)
Immigrants hold an important place in Telluride's history, their influence apparent in historic buildings like St. Patrick's Church and Swede-Finn Hall and in local lore that is peppered with characters like Swede Marie and French Alex, immigrants who settled in Telluride during its mining heyday.
There are also those customs brought to the area thanks to immigration, like Finnish saunas, Basque arborglyphs and St. Patrick's Day dances at the Sheridan, as well as traditions of making foods from "home" like polenta and nissua.
And, of course, there is the very practice of skiing, with miners, mostly Scandinavian, using skis to move around snowbound mining camps long before a ski area was ever dreamed of in Telluride.
Celebrations were common too.
Telluride's Italian immigrants, for instance, held a summer picnic throughout the 1920s in Ellis Park, which was located on the south side of today's Telluride Town Park.
It's fitting, then, that Town Park is once again the setting for a celebration of Telluride's immigrant community: this year's Community Fiesta, which takes place on Saturday, 1:30-4:30 p.m., under the big tent.
The event coincides with Immigrant Heritage Month, which takes place each June, and will include entertainment by five-piece band Agrupación Clave 5 and a DJ, as well as food, a piñata, field games and an outdoor gear giveaway.
Local advocacy group Collaborative Action For Immigrants, or CAFI, is organizing the event with support from the Wilkinson Public Library, Raíces sin Fronteras, Tri-County Health Network, One to One Mentoring, San Miguel County Public Health, Bright Futures, San Miguel Resource Center, Telluride Mountain Club, Telluride Foundation, Pinhead Institute, 221 South Oak, Town of Telluride, Angel Baskets, Johnson Family Foundation, Rotary Club and Uncompahgre Medical Center.
Local Briky Rodriguez was at last year's event with her family.
"I really enjoyed it," she said. "It made me feel like I was back in my country with the music, the food and the folklorico dancers and the atmosphere. It's important to continue with our traditions and continue preserving them in the way we live so we can come together as a community."
Claudia García Curzio, the library's Latinx outreach specialist, is one of those involved in organizing the event.
"I celebrate Immigrant Heritage Month because I am an immigrant honoring the rich contributions that immigrants have made to our shared history and culture," said García Curzio. "Here in Telluride, we have a huge immigrant population and it brings me joy to have the Community Fiesta to celebrate everyone. It's an opportunity for our community to come together and strengthen those connections. It's important for us to recognize our diverse community and to make members feel seen, but most importantly, to celebrate them."
She continued, "Unless you are Native American, you are an immigrant on Ute land."
Fellow organizer Ximena Rebolledo León pointed to the benefits of a diverse community.
"The more diverse our perspectives, the richer we are," she said. "We all can learn from one another. When there are different cultures that are being included in community events, it's a richer, healthier environment to live in."
Rebolledo León also echoed García Curzio: "Thinking about the history of this country, unless you are an indigenous person, all of us came from somewhere else. It's important to honor that."
García Curzio noted that the event also has benefits for the local community itself.
"It's an opportunity for our community to celebrate together," she said. "We all come from different places and we all have different stories to share, but in Telluride the one thing we have in common is our love for our community."
Rebolledo León, a registered nurse at the Telluride Medical Center, pointed to the event as providing a festive, family-friendly environment and the opportunity for busy, hard-working community members to "take a moment, connect with others and just really enjoy themselves."
She remarked, "Our community as a whole keeps growing. We've had so many folks who moved here during the pandemic, so many new folks who now call Telluride home — whether they are from Texas, Florida, Guatemala, El Salvador — and this event creates an opportunity to connect and meet new people. That's really special. I want to say to everyone, 'Hey, show up. It's going to be fun.' "
Saturday's Community Fiesta is part of a wider program of events to mark Immigrant Heritage Month, including a book club, Coffee with a Cop from the region and an event on how to heal from immigrational trauma.
What do organizers hope to achieve with these events?
Said García Curzio, "That representation matters and, with all of the events happening in June, that we celebrate our immigrants and embrace different cultures."
Noted Rebolledo León, "I know so many people who say that they go to Mexico, or other places, for the 'cultural experience.' There is definitely this idea of 'I travel abroad to tap into this cultural piece.' By celebrating Immigrant Heritage Month and offering all of these events, we are telling the community 'hey, this — living here in Telluride — is a cultural experience.' We have so many cultures right here to celebrate."
Thank you for being a part of the Mountain Rose Realty community and staying up to date with the latest Telluride news through our blog. We are committed to keeping you informed about the happenings, developments, and stories that shape the fabric of this remarkable town. From real estate market trends to community events and noteworthy achievements, we aim to deliver timely and relevant content that keeps you connected to Telluride's pulse. We invite you to continue following our blog as we strive to be your trusted source for all things Telluride. Together, let's stay informed and inspired as we celebrate the vibrant spirit of this extraordinary mountain town.
At Mountain Rose Realty, we believe that everyone should have access to the best real estate services in Telluride. That's why Anne-Britt is dedicated to providing her clients with unparalleled customer service and knowledgeable guidance throughout their home search or property investment process. If you're looking for a reliable real estate consultant who will help you make informed decisions and find your dream home or property in Telluride, then contact Anne-Britt at Mountain Rose Realty today!
Phone(970) 759-4886

Email[email protected]

Address Anne-Britt Ostlund | Mountain Rose Realty
ER.40037299
Mountain Rose Realty
220 East Colorado Avenue Suite 210
Telluride, CO 81435