Solving Mountain Village parking parking challenges: proposal looks at new day fees, tiered-rate structure
Posted by Anne-Britt Ostlund on Sunday, April 30, 2023 at 7:00 AM
By Anne-Britt Ostlund / April 30, 2023
Comment
Via Telluride News By Ashley Bunton Associate Editor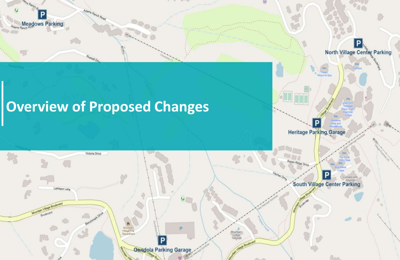 A map depicts parking locations in Mountain Village that were included in a presentation by Walker Consultants on April 20 regarding future parking solutions and implementing changes to parking fees.(Screenshot by Ashley Bunton/Telluride Daily Planet)
Mountain Village Town Council is hearing about all of the solutions to parking challenges that could potentially help to increase revenue for local businesses, generate more local taxes and offset overflows.
Council held a nearly hour-long discussion during a work session on April 20 to review a parking and transportation management presentation of potential solutions prepared by Walker Consultants.
Winter employees would be offered a lower parking permit option than visitors with the option to have employee parking permits shareable and transferable.
Proposed changes to parking could include differentiating between weekday and weekend fees, changing hourly parking rates, establishing paid parking in both the Gondola Parking Garage and the Meadows Parking Lot and raising fines for parking violations.
A proposed new tiered-rate structure would designate the Meadows Parking Lot as an economy lot with the lowest parking rate, followed by a preferred parking rate for Gondola Parking Garage access. Heritage Parking Garage and North and South Village Lots would be priced as premium parking areas with the highest rates. Permit-only parking would be applicable to the Airport Lot.
Andrew Vidor from Walker Consultants spoke during the April 20 meeting and reiterated the importance of everyone having access to parking and looking for ways to provide that access.
"It's going to be people coming to the resort, the people that are here that are maybe not skiing or riding, but here in the summer," Vidor said. "Or just coming to visit and spend money and shop and dine in the village. Also of importance is our employees, whether they work for Telski, they work for the Town of Mountain Village or one of the businesses within the Town of Mountain Village."
Vidor said Walker Consultants looked at parking solutions in resort towns across the mountain west with a "wide cross-section of more than 20 different communities and resorts."
"And … we found a couple of different things that are interesting. One is almost all communities or resorts charge more for parking than the Town of Mountain Village does during the winter season," he said. "Most of them also have tiered-pricing models. So the most convenient and preferred parking is going to be the most expensive."
In the resort towns where Vidor looked at parking, he said most communities do not provide overnight parking and talked about differences in price rates.
"One thing that is unique about Mountain Village is you do offer overnight parking in the Gondola Parking Garage. That is not normal in most communities," Vidor said. "Most communities do not provide that. So you have something special there and something that you can leverage."
From a pricing perspective, Vidor said, most weekday rates are around $20 and weekend rates average about $26.
"Steamboat has the highest day rate of $50, but most of them are going to be in the $20 to $25 range for the average rate," he said. For overnight parking, the range is $30 to $60 a night, he said.
Vidor emphasized the need to retain affordable and accessible parking for employees so that employees are not negatively impacted.
"We talked last time about the importance of making sure that our employees in the Town of Mountain Village, which also include employees that would work for Telski on the mountain, do not live in Mountain Village by choice, or because they're priced out, not be negatively impacted by proposed changes to parking rates, pricing and policies," Vidor said. "Because of that, we believe it's truly important to implement what we would consider to be a commuter or employee permit that is going to be for employees that work within the village limits. It's intended to be a low-priced option."
Vidor said some businesses choose to pay for parking permits for their employees, while some do not.
"The other thing that's really cool about this permit idea is it's intended to be and could very well be a transferable permit," he said. "So a group of individuals could go in and buy a single permit that could move from vehicle to vehicle. So it really encourages the opportunity for carpooling."
With any implementation of a new tiered-rate structure for parking, Vidor said the town could see carpooling initiate a behavior change as a benefit to the climate action plan.
Vidor said parking fees are a method of "not only generating revenue to help pay for these ongoing expenses (of maintaining parking garages spaces)," but begin to move people to "a less car-centric community, particularly for those coming from out of the town limits."
Parking rate adjustments could be made annually or once every few years. No action was taken by council on the proposed solutions at the April 20 meeting.
---
At Mountain Rose Realty, we strive to provide the best real estate services in Telluride. We understand that buying and selling a home can be an overwhelming process, so our team of professionals are here to help make it as simple and straightforward as possible. If you're looking for more information on Telluride real estate and lifestyle updates, be sure to subscribe to our blog! Our blog is filled with helpful tips and advice from Anne-Britt and her experienced team of agents who have years of expertise in the local market. So what are you waiting for? Subscribe today!
Mountain Rose Realty is ready to help you find your dream home in beautiful Telluride. Contact us today and let us guide you through the process of finding the perfect place to call home!
We look forward to hearing from you!
Have a question about Telluride Real Estate? Contact the experts at Mountain Rose Realty. Our team of professionals are here to provide you with the information and advice needed to make your real estate transaction successful. With Anne-Britt's extensive knowledge of the Telluride market, you can trust that she will give you the best advice and guidance throughout your journey. Get in touch today and let us help find your perfect home in Telluride!
Don't miss out on all that Telluride has to offer! Let us help make this amazing mountain town your new home. Contact Mountain Rose Realty today for more details or book an appointment with one of our experienced agents. We look forward to hearing from you!
Phone(970) 759-4886

Email[email protected]

Address Anne-Britt Ostlund | Mountain Rose Realty
ER.40037299
Mountain Rose Realty
220 East Colorado Avenue Suite 210
Telluride, CO 81435