Telluride girls trouble dangerous Dawson
Posted by Anne-Britt Ostlund on Wednesday, May 17, 2023 at 6:57 AM
By Anne-Britt Ostlund / May 17, 2023
Comment
Lady Miners' season ends with 2-1 loss
Via Telluride News By Joel Priest Planet Contributor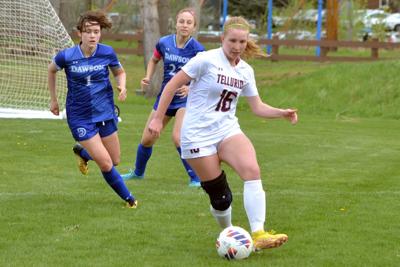 Chased by Dawson School's Olivia Baker (1) and Sophie Sampliner (22), Telluride junior Brooke Duncan (16) controls the ball in the offensive end during the second half of the Lady Miners' Class 2A State Tournament, opening Round-of-16 match Friday, May 12, in Lafayette. (Photo by Joel Priest/Telluride Daily Planet)
Down two goals at halftime Friday afternoon, May 12, but incredibly fortunate to not be trailing by more, the Telluride Lady Miners recharged as much as possible during the ten-minute halftime.
And in the huddle, some smiles began emerging; the players knew they'd be getting a second wind.
As in a steady north-to-south breeze at their backs in the second half. The same breeze which had helped match-hosting Dawson School break the ice in the 14th minute when sophomore Kanoe Bihag chased down a long goal kick deep into THS territory, and out-raced THS goalkeeper Jayden Fortner — who'd come off her line in hopes of stopping the play — to the ball.
Fortner later dove left to rob junior Lauren Muniz of a sure score in the 35th, but despite Telluride trying to push play away from Fortner, the Lady Mustangs counter-struck moments later with a fluke-ish goal credited to Bihag.
"Our coach did a little scouting report — he watched their game against, I think it was, Delta — and we had a little team talk yesterday about just approaching it with intensity, and going hard from the start," said Muniz. "Because you never know what these mountain teams can bring; don't underestimate them."
Telluride sophomore Lexton Gregory nearly got the guests on the scoreboard in the 37th minute, but — as junior Brooke Duncan had back in the ninth on a threatening breakaway — narrowly missed. However, with Fortner having denied Muniz twice in the opening minutes, and the home side launching several quality chances wide of frame, Dawson head coach John Welsch knew THS had achieved a crucial mental objective of staying within reach.
"We got chances, got some looks, and that first goal was like, 'Here we go; now the dam will break!'" he said. "But when it was 2-0 I didn't feel great. I was like, 'Okay, Telluride's feeling good…and now they've got the wind at their back.'"
And as long as it took them to arrive in Lafayette, the Lady Miners weren't about to leave empty-handed, win or lose.
"One thing we told them at halftime is 'You've got 40 minutes left. That's it,'" said THS skipper Ramon Rodriguez. "Our thoughts were, 'Guys, you've got this! You can beat this team!' And they came out and proved it."
And after junior Avery Ireland was yellow-carded in the 46th minute, and freshman Kimberly Magana in the 67th, Telluride finally broke through in the 68th. Sophomores Taylor Carter and Pella Ward worked the ball deep inside Dawson's 18 at goalie Rowan Harral's near post, but when the ball was played across to the far side, sophomore Emma Reggiannini was there and zinged a 15-yard shot into the net.
"In the second half I felt we had a lot of possession," Carter said."The wind was definitely weird. The first half, it was not in our favor; second half, it was. And when we did get through balls downfield, it was definitely different speeds; it was hard to adjust to that. But I think we played a great game."
Given a third "wind" by the goal, Telluride cranked up the intensity even more and nearly equalized in the 70th, but Harral denied sophomore Mae Scarborough. Gregory nearly netted a five-hole goal not long after, but the Lady Mustang senior keeper prevented the ball from crossing the goal line by essentially sitting on it as a reflex action.
"She steps up in big games, so I'm really proud of her," said Muniz. "I know soccer isn't her first sport, so I'm proud of how far she's come; I think she did an amazing job."
Seeded 13th in the 2023 CHSAA Class 2A State Tournament's initial Round-of-16, the Lady Miners weren't done yet, and could virtually see overtime when Duncan received a Gregory cross paralleling Dawson's goal line in the 78th minute. Unluckily, Duncan's redirect went wide of the exposed strings.
Still, THS wasn't out of contention; senior Summer Johnson was given a yellow in the 79th, but after the Lady Mustangs soon put the ball in Fortner's gloves, Fortner boomed a gust-aided, last-gasp punt towards Carter and Duncan.
Unfortunately the final whistle sounded before THS could take one final shot, and 4-seed Dawson held on for a 2-1 win.
"We were all-in that half, played well," Fortner said. "If we could have played that second half in the first half, we could have won. But I absolutely think that we had the motivation."
"Yeah, we'd have had it," agreed Carter. "I think next year we're just going to need to work on shooting, getting it in the back of the net. But I think we did pretty good."
"We had seniors playing today, and they've all season been such good leaders. So it was fun coming out here and playing that game for them," she continued. "Because of the snow — we were practicing in the gym! — we definitely had ups and downs this year, and it was a little bit like a roller-coaster…but it was fun — definitely a season to remember."
"I think if you give us another half with no wind, we could probably have pulled something out," Rodriguez said. "But they never stopped playing, and that's what we expect. It was just an overall good game."
The Lady Miners finished the season standing 7-8 overall; Dawson improved to 13-3.
"You just never know; I thought they gave us a challenge," said Welsch, a former University of Colorado assistant. "On our scoreboard it says State Champion 2021, 2022…but I feel the competition's getting better and better."
"We went 2-1 with one of the best teams ever. So there's…lots to look forward to next year," Fortner said."It'll be my senior year, so I'm hoping to see some new freshmen out and have some fun. We're going to make it further."
---
At Mountain Rose Realty, Anne-Britt is dedicated to providing her clients with the best real estate services in Telluride. Keep up with all of the latest updates from her and her team by subscribing to their blog. With valuable insights into the market, tips on how to make your home buying or selling process easier, and much more, you won't want to miss out on what they have to offer! So be sure to follow them for all the latest news in Telluride real estate.
Follow Mountain Rose Realty and gain access to all the latest news in Telluride Real Estate. With Anne-Britt's expert knowledge of the market, you can trust her and the team at Mountain Rose Realty to help you make your real estate goals a reality. Whether you're looking for a home, land, or commercial property in Telluride, they will be able to assist you in finding just what you need. Let them guide you through the process of buying or selling your property so that it is as stress-free and successful as possible. Contact Anne-Britt today and get started on making your real estate dreams come true!
Phone(970) 759-4886

Email[email protected]

Address Anne-Britt Ostlund | Mountain Rose Realty
ER.40037299
Mountain Rose Realty
220 East Colorado Avenue Suite 210
Telluride, CO 81435