Telluride Gravel Race hits the roads
Posted by Anne-Britt Ostlund on Thursday, June 15, 2023 at 8:00 AM
By Anne-Britt Ostlund / June 15, 2023
Comment
Via Telluride News By Sophie Stuber, Planet Contributor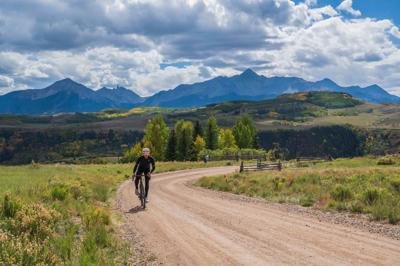 Race courses this weekend follow gravel roads through valleys and high-alpine country in the San Juan mountains following a neutral start through downtown Telluride beginning at 8 a.m. on Saturday. (Photo courtesy of Scott Benge)
Rain or shine, the second annual Telluride Gravel Race will set off this Saturday, June 10. As of press time, the weather looks favorable and the approaching summer solstice brings long days of light.
The two races will take riders through the San Juans on iconic local trails and dirt roads.
The race is put on by Telluride Bicycle Racing, which also hosts the Telluride 100. Last year was a success and this year's registration is full.
The inaugural event took place in October 2022, but the second edition will kick off as summer is approaching in the San Juans.
"We wanted to move it to June for the longer days and warmer weather," Scott Benge, one of the two race directors, told the Planet. "Riders will see freshly manicured gravel roads, vibrant green trees and flowing water."
There are a few course changes from last year, with the heavy late season snowpack affecting some parts of the previous course. But this edition also incorporates the Whiskey Charlie 62 Trail for some spicy single track on this 3.5-mile mountain bike trail that follows Rio Grande Southern Railroad along Highway 62.
The Telluride Gravel Race has two race options, a long course and a short.
Called "To Hell U Ride," the long race is a grueling 93 miles with 10,000 feet of vertical gain.
The shorter "Outlaw" race, which is geared towards riders of all abilities, is 42 miles with 4,000 feet of climbing. In 1889, Butch Cassidy used part of the Outlaw course during his escape from a robbery in Telluride.
The long course departs at 8:00 a.m. and the short course starts an hour later. Both races feature a neutral start through downtown Telluride before heading off into the San Juan mountains. There are no cutoff times for either race, so riders can take as long as they need to complete the course.
Both courses follow gravel roads through valleys and high-alpine country. Gravel racing can include a variety of terrain, including techy singletrack, washboard roads and smooth dirt.
Pro cyclist and Durango local Sarah Sturm is lining up on Saturday. She travels a lot to race and is looking forward to being close to home.
"I live in Durango, so I love any opportunity that I get to race in the mountains here," Sturm told the Planet. "Telluride 100 was my first endurance race, so it has a special place in my heart."
Sturm is coming off a podium finish at Unbound Gravel, a highly-competitive 205-mile gravel race in Kansas. She took third place last weekend.
This gravel weekend is full of events, starting with a shakeout ride on Friday at 1pm at Oak Street Plaza.
Sturm, Flavia Oliveira Parks and Starla Teddergreen will lead the 25-mile ride, which will have about 1,800 feet of elevation gain to get the legs spinning before the big race.
Friday night in Mountain Village, Sturm, Teddergreen and Parks will be joined by Brooke Goudy for a Women of Gravel talk from 6-7 p.m. in Mountain Village Plaza.
They will discuss their passion for cycling, how they balance other life commitments, and training and racing strategies. Nearby, Telluride Brewery and Distillery will be serving beers, cocktails and non-alcoholic beverages.
"We really wanted to focus on inclusion and highlight women in the sport and bring together the community," Benge said.
Before the race on Saturday morning, the Coffee Cowboy will be on site near the race start from 7:30-8:30 a.m. so that racers and spectators can get their caffeine dose before hours in the mountains.
The post-race celebration for the Telluride Gravel Race will once again take place at the Oak following the awards ceremony.
For cyclists who don't feel like racing, Protect Our Winters is hosting a casual mountain bike ride on Sunday at 9:30 a.m. from Oak Street Plaza.
The social ride is an opportunity for people to learn more about the nonprofit's work fighting against climate change as well as a chance to help clean up parts of the race course from Saturday.
More details are available online at telluridegravelrace.com. The race's sponsors include Alpine Bank, Sram, The Feed, Bike Flights, Hammer Nutrition, WTB, Telluride and Mountain Village Owners Association, Protect Our Winters, Distance to Empty and Alpine Lodging Telluride.
Are you looking for the latest news and events in Telluride, Colorado? Look no further than Anne-Britt of Mountain Rose Realty! As one of the top real estate consultants in Telluride, Anne-Britt has her finger on the pulse of all things related to local real estate. Whether you're a buyer or seller, she'll help guide you through every step of your transaction with expertise and professionalism.
Follow Mountain Rose Realty's blog for everything from market reports to tips on how to get the most out of your next property purchase or sale. Join us as we explore what makes Telluride such an amazing place to live! With Anne-Britt's expertise and insights, you'll be sure to find the perfect home in beautiful Telluride. Let Mountain Rose Realty help make your real estate dreams a reality!
Phone(970) 759-4886

Email[email protected]

Address Anne-Britt Ostlund | Mountain Rose Realty
ER.40037299
Mountain Rose Realty
220 East Colorado Avenue Suite 210
Telluride, CO 81435