Telluride Homebuyer Activity Shows Signs of Warming Up for Spring
Posted by Anne-Britt Ostlund on Monday, April 10, 2023 at 12:00 AM
By Anne-Britt Ostlund / April 10, 2023
Comment
The spring season appears to be warming up in housing as more and more Telluride homebuyers enter the market. And after rising mortgage rates sidelined so many buyers last year, that's a good sign for sellers. Realtor.com has the latest:
"Spring is officially here, and like green shoots emerging from the bleak winter, new data suggests that more buyers are back in the market, although more subdued compared to a year ago."
We know buyer activity is trending up because of mortgage purchase application data. According to Investopedia:
"A mortgage application is a document submitted to a lender when you apply for a mortgage to purchase real estate."
That means the number of mortgage applications shows how many Telluride buyers are applying for mortgages. Put another way, an increase in mortgage applications means an increase in buyer demand – and as Joel Kan, VP and Deputy Chief Economist at the Mortgage Bankers Association (MBA), explains, application activity started ramping up as mortgage rates fell steadily in March:
"Application activity increased as mortgage rates declined . . . recent increases, along with data from other sources showing an uptick in home sales, is a welcome development."
In fact, we can see how mortgage rates have a direct impact on applications over time. As rates rose dramatically last year, applications fell in response (see graph below):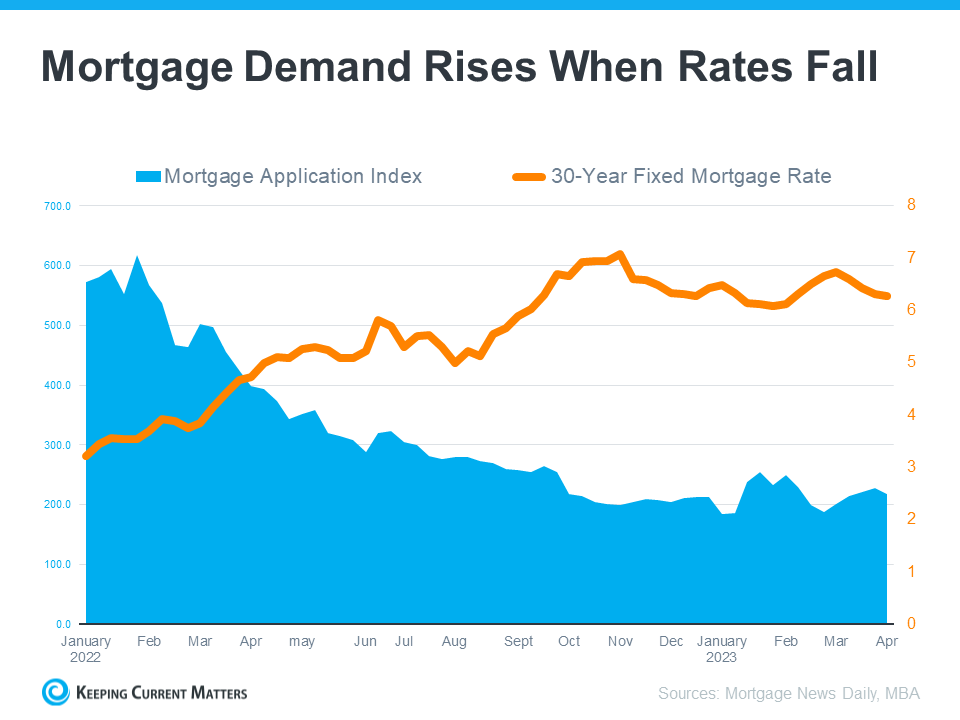 The recent uptick in mortgage applications, as well as the decline in mortgage rates, is good news for Telluride homeseller because it means more buyers are actively looking for Telluride homes.
What This Means for You
Telluride home buyers are coming this spring, which is typically the busiest time of the year in real estate. And as Realtor.com tells us, if you're a seller, you need to prepare:
"If homeowners are planning to sell in 2023, now is the time to get ready."
If you're in the Telluride area, Anne-Britt of Mountain Rose Realty is one of the best real estate consultants around. With her experienced local insight and an intimate knowledge of the Telluride Real Estate market, Anne-Britt helps home sellers maximize their returns when they list their homes.
So if it's time to list your property this spring, don't forget to consult with Anne-Britt at Mountain Rose Realty. She will help ensure that you get maximum value for your home in today's dynamic market. Get started with a free consultation or call (phone number) to book yours today!
Bottom Line
The housing market in Telluride, Colorado is definitely warming up this spring, and it's a great time for those looking to capitalize on the recent uptick in buyer activity. Partnering with a local real estate agent to help you through the process of selling your home can be invaluable.
Anne-Britt of Mountain Rose Realty is an experienced real estate agent in the Telluride area who has extensive knowledge of the local market and will work hard to get you the maximum value for your property. She employs advanced marketing strategies designed to reach as many potential buyers as possible and will provide you with updates about the current market trends. Anne-Britt also offers a free consultation to discuss all your selling options, so call her today at (phone number) to get started!
When selling your home, there are numerous factors that come into play, such as home condition, location, price, taxes, closing costs and more. An experienced real estate professional like Anne-Britt will be able to guide you through these factors and ensure that you make informed decisions throughout the process. By having someone with years of experience in Telluride Real Estate by your side, you'll maximize your opportunities for success and have peace of mind knowing that your home will be sold quickly and efficiently.
Work with Anne-Britt of Mountain Rose Realty this spring if you're looking to take advantage of this recent uptick in buyer activity. With Anne-Britt's experience and expertise in Telluride Real Estate, she can help make sure that you get top dollar for your property!
Phone(970) 759-4886

Email[email protected]

Address Anne-Britt Ostlund | Mountain Rose Realty
ER.40037299
Mountain Rose Realty
220 East Colorado Avenue Suite 210
Telluride, CO 81435