Telluride named top vacation spot, followed by Colorado Springs
Posted by Anne-Britt Ostlund on Tuesday, May 9, 2023 at 4:45 AM
By Anne-Britt Ostlund / May 9, 2023
Comment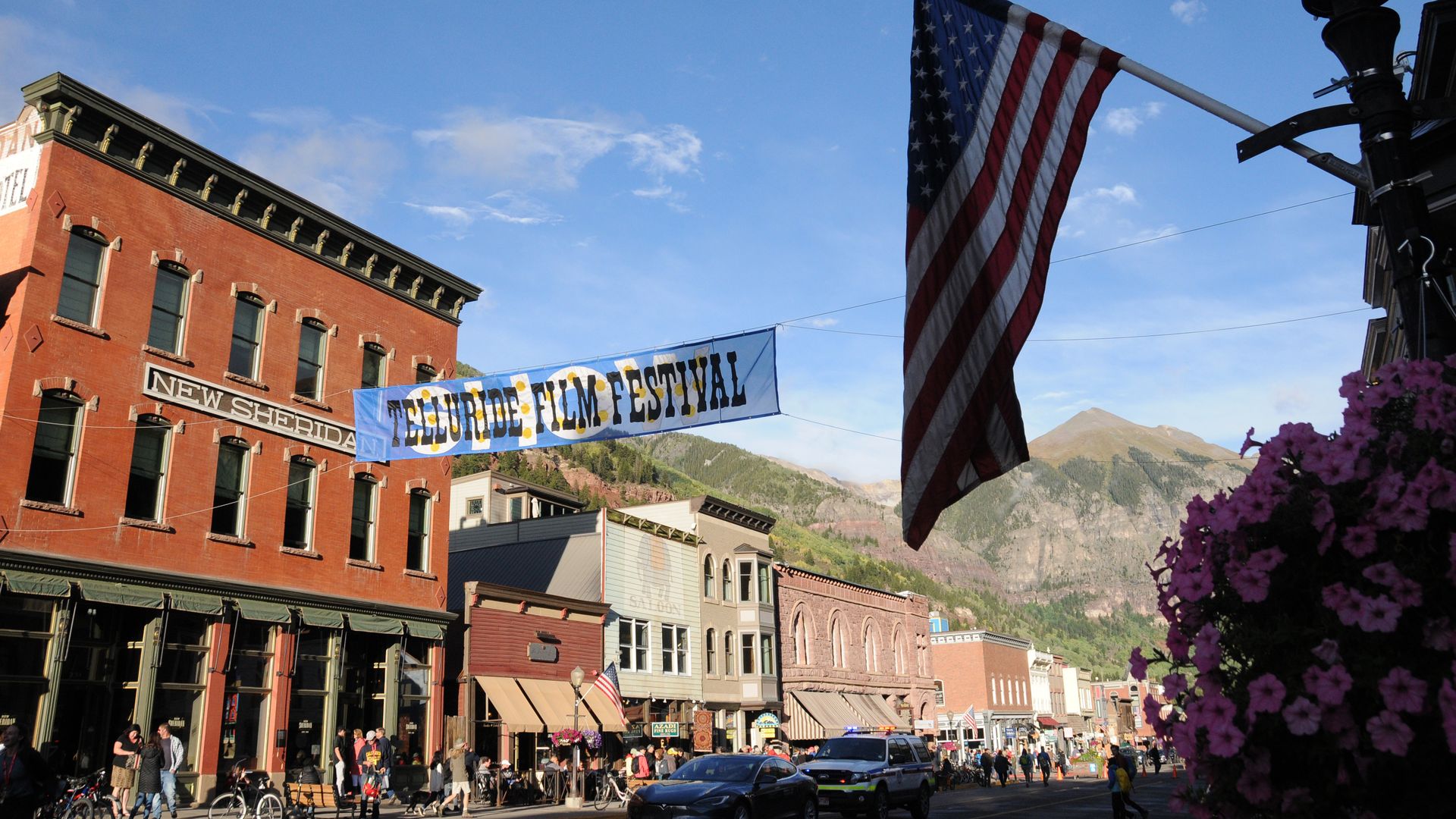 Telluride during its annual film festival in 2018. Photo: Paul Best/Getty Images
Telluride, Colorado has been making headlines lately as one of the top vacation destinations in the United States. This charming mountain town nestled in the Rockies offers a variety of activities for visitors to enjoy. With its breathtaking scenery, world-class skiing and snowboarding, unique festivals, and year-round events, it's easy to see why Telluride is becoming a popular destination for both domestic and international travelers.
The U.S. News & World Report recently named Telluride as one of the top 30 places to take a vacation in the country, ranking 24th place overall and second best small town to visit in the USA. It's also an ideal spot for snow sports lovers; each winter season brings downhill skiing, snowboarding, snowshoeing, cross-country skiing, and more. Ski enthusiasts from around the globe flock to Telluride's vast ski resorts each year to take advantage of its excellent slopes and deep powder conditions.
But it's not just the winter season that attracts visitors to this beautiful mountain town; there are plenty of activities for all seasons. From Telluride's film festival each summer to its vibrant music scene throughout the year, there is always something exciting going on in this charming ski village located at 8500 feet above sea level. Outdoorsy types will love exploring Telluride's endless trails filled with lush greenery during warmer months while history buffs can learn all about its mining roots at various museums throughout town.
For those looking for luxury accommodations and real estate solutions, Mountain Rose Realty has got you covered with their premier real estate consultant Anne-Britt at your service. Whether you're looking for a short-term rental or a permanent residence in Telluride area, they have got it all covered! So come experience what everyone is talking about - there won't be any regrets after spending time in this picturesque alpine paradise!
For more updates about Telluride real estate and lifestyle, be sure to follow Mountain Rose Realty Blogs. Anne-Britt of Mountain Rose Realty is one of the best real estate consultants in Telluride, Colorado and her blog can provide you with all the latest news on what's happening in this beautiful mountain town. From updates on new properties for sale to tips for living a healthy outdoor lifestyle, you'll find it all here! So don't miss out - subscribe today and get access to all the information you need to make your next trip or move to Telluride an unforgettable experience.
For more information on Telluride real estate and lifestyle, contact Anne-Britt of Mountain Rose Realty. With years of experience in the Telluride Real Estate market, Anne-Britt is your go-to source for all things related to properties in this beautiful mountain town. Get the guidance you need to make informed decisions when it comes to buying or selling a home in Telluride - contact Mountain Rose Realty today! You can also follow us on social media for regular updates about what's happening around town. Come join us as we explore the beauty and culture of this stunning Colorado mountain town. We look forward to helping you find your dream home in Telluride!
Phone(970) 759-4886

Email[email protected]

Address Anne-Britt Ostlund | Mountain Rose Realty
ER.40037299
Mountain Rose Realty
220 East Colorado Avenue Suite 210
Telluride, CO 81435