Telluride Peak Sheet: August 18 - 24, 2023
Posted by Anne-Britt Ostlund on Friday, August 18, 2023 at 4:00 AM
By Anne-Britt Ostlund / August 18, 2023
Comment
WHAT'S HAPPENING THIS WEEK
Rainy days have brought exceptional sunsets and alpenglows to the valley this week! We hope you've been able to step outside and soak in a few.
Summer is winding down quickly, but there are still plenty of events to partake in around Telluride and Mountain Village. In addition to the
Telluride Reserve
and
Telluride Mushroom Festival
this weekend (more details below), be sure to catch
Mind Blown
on Friday and Saturday,
historic walking tours
on Tuesdays and Thursdays,
Hike Into History
on Saturday, a
food and wine pairing class
at
221 South Oak
on Aug. 19 & 23, and the
Telluride Historical Museum
's
Dinner Party
next Thursday.
Need even more music for your ears? Live music will be taking over Telluride for the next week! Enjoy
live music at Altezza
Thursday through Sunday, a Mushroom Fest-inspired performance with
Travis Fisher
tonight at
Telluride Arts HQ
,
Music on the Green
tomorrow with Cousin Curtiss, a
singer-songwriter series with Anneke Dean
at
Telluride Arts HQ
on Wednesday,
happy hour with River Spell
at the
SHOW Bar
as well as
Kenny Goldman and Yasuo Ishikawa Jazz Duo
at
Telluride Arts HQ
next Thursday.
As always, be sure to shop and support local at the
Telluride Farmers' Market
on Oak Street on Fridays, in addition to the
Market on the Plaza
on Wednesdays in
Heritage Plaza
in Mountain Village.
View more events on the
Peak Sheet
or
submit your event
.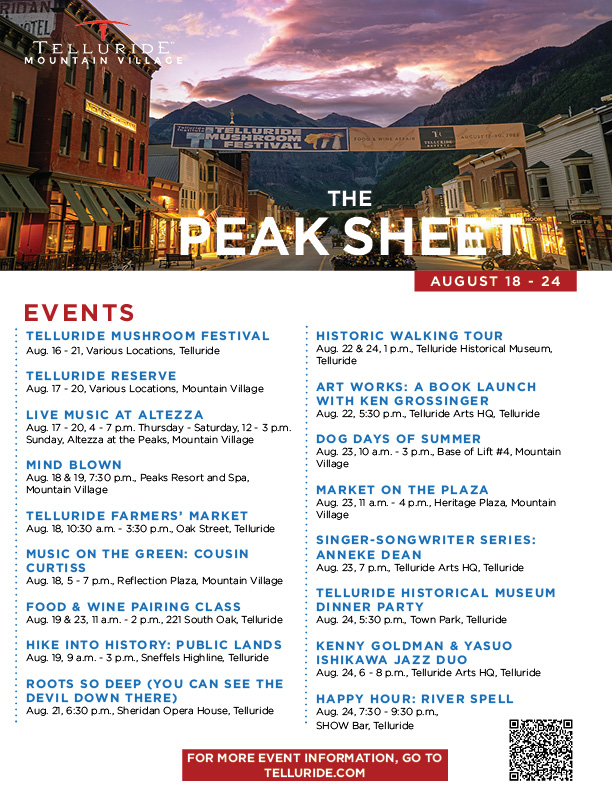 As we draw the curtains on our exploration of Telluride real estate, it's time to reflect on the stunning landscapes, luxurious homes, and the expertise of Anne-Britt from Mountain Rose Realty that have made this journey unforgettable. From the charming streets to the awe-inspiring mountains, Telluride has showcased its unique charm and vibrant real estate market.
When it comes to navigating the Telluride real estate landscape, Anne-Britt and her team at Mountain Rose Realty stand out as your trusted guides. With their in-depth knowledge of the area, unwavering dedication, and a passion for connecting buyers with their dream properties, Mountain Rose Realty has proven to be the beacon of excellence in Telluride's real estate market.
**Discovering Telluride Real Estate**
Nestled amidst the stunning San Juan Mountains, Telluride is more than just a destination – it's a lifestyle. Our journey through Telluride's real estate offerings has unveiled a diverse array of properties, each with its own unique charm. From cozy mountain cabins to exquisite modern homes, Telluride homes for sale cater to a wide range of tastes and preferences.
Anne-Britt's deep-rooted understanding of the Telluride real estate market has consistently proven to be invaluable to both buyers and sellers. Her insights extend beyond the transaction – she's a true advocate for creating lasting connections between people and the homes they adore. With a sharp focus on personalized attention and a commitment to transparency, Anne-Britt has set the gold standard for real estate professionals in Telluride.
As the sun sets on our Telluride adventure, one thing is clear: the perfect home for you is waiting amidst these breathtaking landscapes. Whether you're captivated by the allure of a cozy cabin, the elegance of a contemporary masterpiece, or anything in between, Telluride's real estate market has something extraordinary to offer.
Homes for sale in Telluride, CO, present a remarkable opportunity to embrace the mountain lifestyle and become a part of this vibrant community. Let Anne-Britt and the Mountain Rose Realty team guide you through the process, ensuring that you not only find a house, but you discover a place you can truly call home.
As we conclude our Telluride Peak Sheet series, we extend our heartfelt thanks to you for joining us on this journey. The splendor of Telluride real estate will continue to unfold, and Mountain Rose Realty will remain your partner in turning real estate dreams into reality.
For inquiries, advice, and to start your Telluride real estate journey, reach out to Anne-Britt at Mountain Rose Realty. Your dream home in Telluride awaits – let's make it a reality, together.
Phone(970) 759-4886

Email[email protected]

Address Anne-Britt Ostlund | Mountain Rose Realty
ER.40037299
Mountain Rose Realty
220 East Colorado Avenue Suite 210
Telluride, CO 81435