The Latest Expert Forecasts for Home Prices in 2023
Posted by Anne-Britt Ostlund on Wednesday, October 11, 2023 at 11:21 AM
By Anne-Britt Ostlund / October 11, 2023
Comment
Are you thinking about making a move? If so, all the speculation that home prices would crash this year may have you feeling a bit on edge about your decision. Let the data and the experts reassure you. Prices aren't in a downward spiral and will actually finish the year strong.
Even though you may have heard talk that prices would drop 5, 10, or even 20% this year, that hasn't happened. The big reason why is the supply of homes for sale is too low. There are just more buyers looking to buy than homes available, and that's kept prices from falling.
To prove this year wasn't a bust for home prices, let's look at the latest 2023 forecast from a number of experts.
Most Experts Project Home Prices Will Net Positive this Year
The general consensus from industry experts is that home price appreciation will actually be positive for 2023. The graph below shows the latest 2023 year-end forecasts from six different organizations: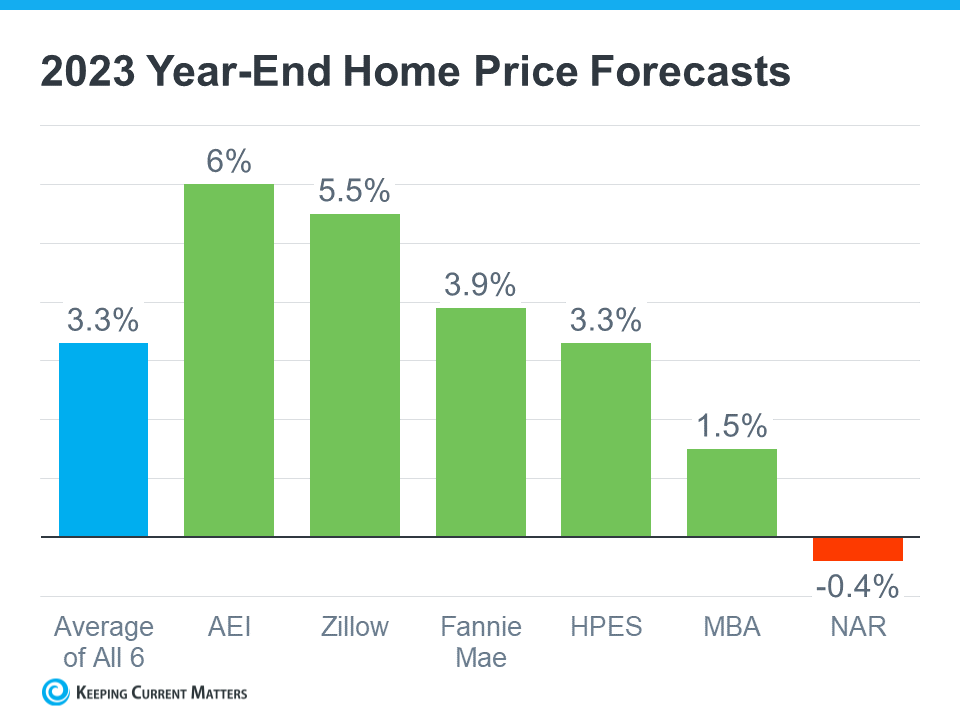 As you can see, all but one project nationally prices will net positive this year. That's significant because it shows the majority are optimistic about home price growth.
If you're still worried about the one red bar that shows an overall price drop for the year, think about this. The projection from the National Association of Realtors (NAR) is for only a slight decline. It's not the big crash all the headlines called for. Plus, if you average all six forecasts together, the expectation is that prices will net somewhere around 3.3% positive growth for the year.
If these 6 organizations aren't enough to convince you that prices won't come tumbling down, here's something else to consider. One of the six forecasts represented in the graph is the Home Price Expectation Survey (HPES) from Pulsenomics. It combines survey results from over 100 economists, investment strategists, and housing market analysts. The HPES found that the average from all 100 of those experts is 3.3% price growth for the year.
If you look back at the graph above, you'll notice the blue average for the forecasts in this graph is also 3.3%. While individual forecasts may vary, both the HPES survey and the average of these forecasts provide the same projection. And 3.3% appreciation is a completely different story than prices falling.
Bottom Line
In conclusion, when it comes to the state of the housing market, the future looks promising. Despite concerns about declining home prices, industry experts predict that we can expect positive growth this year. So, whether you're a prospective buyer or a homeowner, there's no need to lose sleep over property values plummeting.
For those interested in the vibrant real estate scene of Telluride, we've got you covered. Mountain Rose Realty, led by the seasoned professional Anne-Britt Ostlund, is your go-to source for all things Telluride Real Estate. We specialize in connecting you with the finest Telluride homes for sale, ensuring that you'll find the perfect property that suits your lifestyle and budget.
If you're ready to take the plunge into the Telluride real estate market or have any questions about homes for sale in Telluride, CO, don't hesitate to reach out to us. Anne-Britt Ostlund and her team at Mountain Rose Realty are here to provide you with the expertise and guidance you need to navigate the market successfully. Your dream Telluride home might be just a click or a call away.
Stay informed, stay confident, and trust the experts at Mountain Rose Realty to help you make the most of your real estate journey in beautiful Telluride, Colorado. Your future home awaits, and we're here to make that dream a reality.
Phone(970) 759-4886

Email[email protected]

Address Anne-Britt Ostlund | Mountain Rose Realty
ER.40037299
Mountain Rose Realty
220 East Colorado Avenue Suite 210
Telluride, CO 81435