The Perks of Selling Your House When Inventory Is Low
Posted by Anne-Britt Ostlund on Monday, October 23, 2023 at 9:16 AM
By Anne-Britt Ostlund / October 23, 2023
Comment
When it comes to selling your house, you're probably trying to juggle the current market conditions and your own needs as you plan your move.
One thing that may be working in your favor is how few homes there are for sale right now. Here's what you need to know about the current inventory situation and what it means for you.
The Supply of Homes for Sale Is Far Below the Norm
When you're selling something, it helps if what you're selling is in demand, but is also in low supply. Why? That makes it even more desirable since there's not enough to go around. That's exactly what's happening in the housing market today. There are more buyers looking to buy than there are homes for sale.
To tell the story of just how low inventory is, here's the latest information on active listings, or homes available for sale. The graph below uses data from Realtor.com to show how many active listings there were in September of this year compared to what's more typical in the market.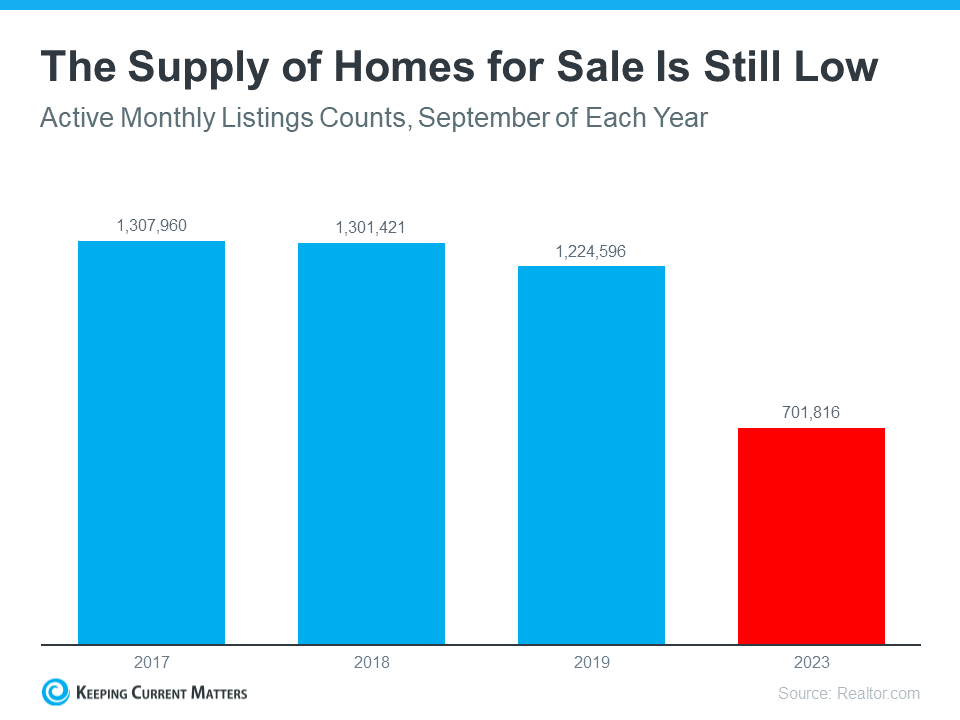 As you can see in the graph, if you look at the last normal years for the market (shown in the blue bars) versus the latest numbers for this year (shown in the red bar), it's clear inventory is still far lower than the norm.
What That Means for You
Buyers have fewer choices now than they did in more typical years. And that's why you could still see some great perks if you sell today. Because there aren't enough homes to go around, homes that are priced right are still selling fast and the average seller is getting multiple offers from eager buyers. Based on the latest data from the Confidence Index from the National Association of Realtors (NAR):
69% of homes sold in less than a month.
2.6 offers: the average number of offers on recently sold homes.
An article from Realtor.com also explains how the limited number of houses for sale benefits you if you're selling:
". . . homes spent two weeks less on the market this past month than they did in the average September from 2017 to 2019 . . . as still-limited supply spurs homebuyers to act quickly . . ."
Bottom Line
In conclusion, the Telluride, CO 81435 housing market is currently experiencing a unique dynamic with high demand and limited inventory. If you're a homeowner contemplating selling your property, this might be the opportune time to capitalize on the market conditions. With a median list price of $8,625,000 and a slight buyer's advantage, working with a knowledgeable real estate agent is crucial.
At Mountain Rose Realty, our experienced team, led by Anne-Britt Ostlund, specializes in Telluride real estate. We understand the intricacies of this market and can help you list your property at the right price to attract potential buyers. Telluride homes for sale are in high demand, and with our expertise, you can increase your chances of a quick sale and possibly even receive multiple offers.
Homes for sale in Telluride, CO are a hot commodity, and Mountain Rose Realty is here to guide you through the process. Whether you're buying or selling, our commitment is to provide you with the best real estate services available in this stunning mountain town. Don't miss out on the opportunities this market offers – contact us today to explore your options in Telluride real estate.
Phone(970) 759-4886

Email[email protected]

Address Anne-Britt Ostlund | Mountain Rose Realty
ER.40037299
Mountain Rose Realty
220 East Colorado Avenue Suite 210
Telluride, CO 81435