There's Only Half the Inventory of a Normal Housing Market Today
Posted by Anne-Britt Ostlund on Monday, August 14, 2023 at 10:03 AM
By Anne-Britt Ostlund / August 14, 2023
Comment
Wondering if it still makes sense to sell your house right now? The short answer is, yes. Especially if you consider how few homes there are for sale today.
You may have heard inventory is low right now, but you may not fully realize just how low or why that's a perk when you go to sell your house. This graph from Calculated Risk can help put that into perspective: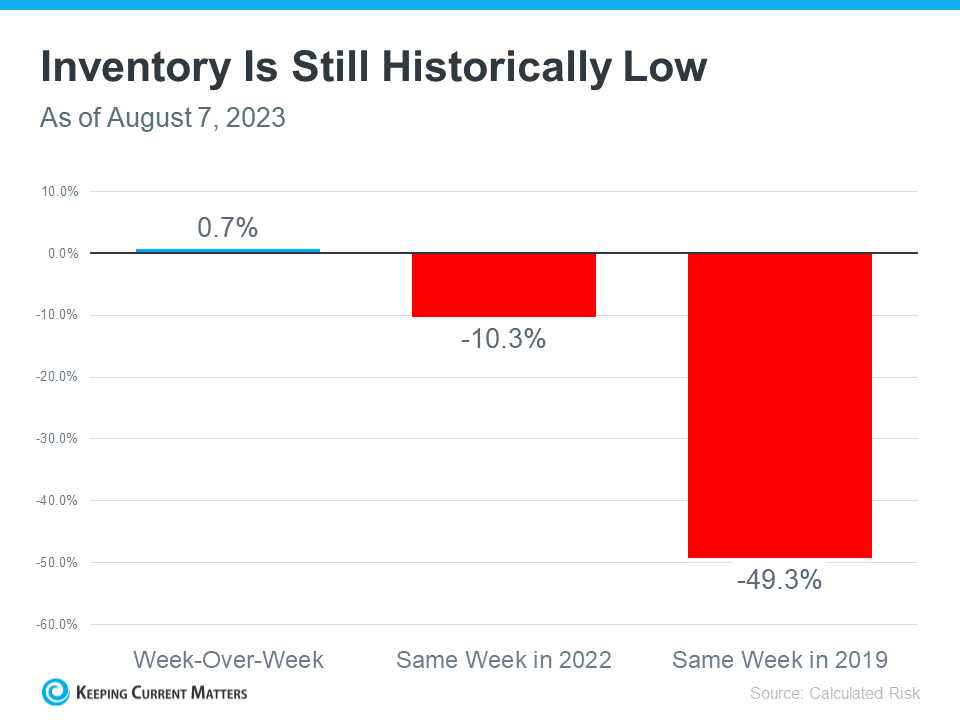 As the graph shows, while housing inventory did grow slightly week-over-week (shown in the blue bar), overall supply is still low (shown in the red bars). Compared to the same week last year, supply is down roughly 10% – and it was already considered low at that time. But, if you look further back, you'll see inventory is down even more significantly.
To gauge just how far off from normal today's inventory is, let's compare right now to 2019 (the last normal year in the market). When you compare the same week this year with the matching week in 2019, supply is about 50% lower. That means there are half the homes for sale now than there'd usually be.
The key takeaway? We're still nowhere near what's considered a balanced market. There's plenty of demand for your house because there just aren't enough homes to go around. As Lawrence Yun, Chief Economist at the National Association of Realtors (NAR), explains:
"There are simply not enough homes for sale. The market can easily absorb a doubling of inventory."
So, if you want to list your house, know that there's only about half the inventory there'd usually be in a more normal year. That means your house will be in the spotlight if you sell now and you may see multiple offers and a fast home sale.
Bottom Line
In a year that has seen the Telluride real estate market take an intriguing turn, opportunities have emerged that both buyers and sellers can seize. As the proud owners of properties in this breathtaking corner of Colorado, you're likely well aware of the unique charm and allure that Telluride homes hold. With the current market conditions, marked by a notable decrease in available homes for sale, it's essential to make your move wisely.
At Mountain Rose Realty, we understand the pulse of the Telluride real estate scene like no other. With our finger on the market's pulse, we've witnessed the inventory dwindle to approximately half of its regular capacity. Yet, this scarcity has ushered in a silver lining – a surge in demand for properties like yours. If you've been contemplating listing your Telluride home for sale, now is the time to act.
Our dedicated team, led by the experienced and knowledgeable Anne-Britt, is here to guide you through this dynamic real estate landscape. We specialize in navigating the nuances of Telluride real estate, ensuring that your property not only stands out but shines brightly among the limited options available. With our expertise and personalized approach, we're committed to helping you achieve your real estate goals.
Selling a home is a significant decision, and one that's made even more critical in today's market. Partnering with a local real estate agent who understands the intricacies of Telluride can make all the difference. Your property deserves a spotlight, and we're here to ensure it receives the attention it merits.
So, whether you're searching for Telluride homes for sale or considering listing your property, don't hesitate. Reach out to Mountain Rose Realty today, and let's embark on this exciting journey together. The Telluride real estate market is evolving, and the time to make your mark is now.
Phone(970) 759-4886

Email[email protected]

Address Anne-Britt Ostlund | Mountain Rose Realty
ER.40037299
Mountain Rose Realty
220 East Colorado Avenue Suite 210
Telluride, CO 81435