Today's Housing Inventory Is a Sweet Spot for Sellers
Posted by Anne-Britt Ostlund on Friday, July 7, 2023 at 7:00 AM
By Anne-Britt Ostlund / July 7, 2023
Comment
One of the biggest challenges in the housing market right now is how few homes there are for sale compared to the number of people who want to buy them. To help emphasize just how limited housing inventory still is, let's take a look at the latest information on active listings, or homes for sale in a given month, as it compares to more normal levels.
According to a recent report from Realtor.com:
"On average, active inventory in June was 50.6% below pre-pandemic 2017–2019 levels."
The graph below helps illustrate this point. It uses historical data to provide a more concrete look at how much the numbers are still lagging behind the level of inventory typical of a more normal market (see graph below):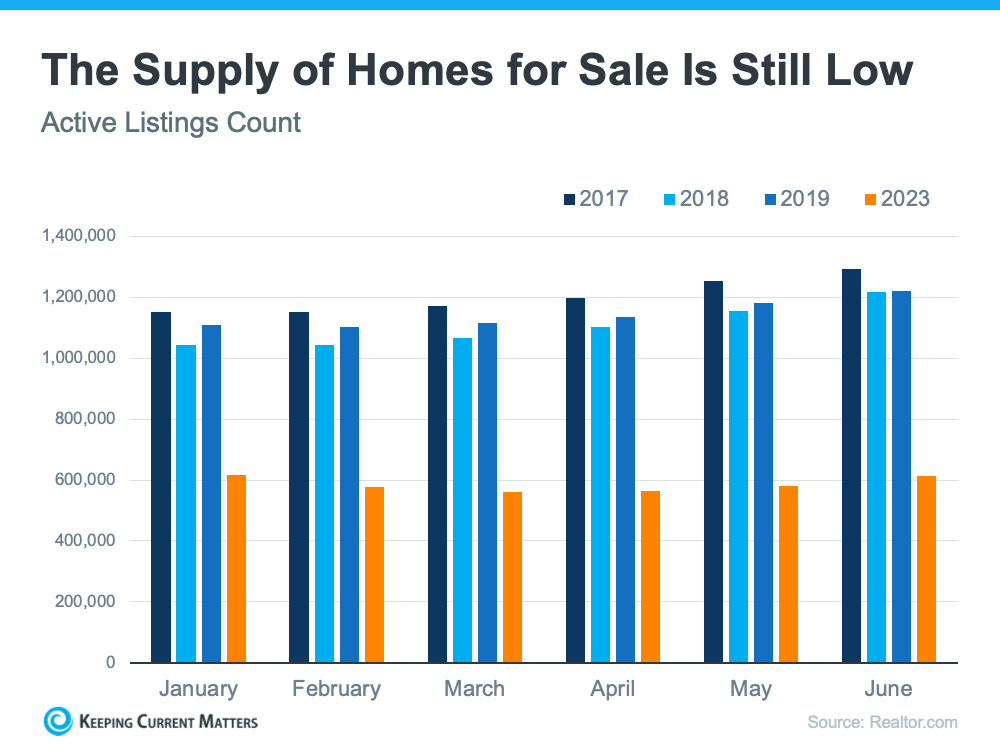 It's worth noting that 2020-2022 are not included in this graph. That's because they were truly abnormal years for the housing market. To make the comparison fair, those have been omitted so they don't distort the data.
When you compare the orange bars for 2023 with the last normal years for the housing market (2017-2019), you can see the count of active listings is still far below the norm.
What Does This Mean for You?
If you're thinking about selling your house, that low inventory is why this is a great time to do so. Buyers have fewer choices now than they did in more normal years, and that's continuing to impact some key statistics in the housing market. For example, sellers will be happy to see the following data from the latest Confidence Index from the National Association of Realtors (NAR):
The percent of homes that sold in less than a month ticked up slightly to 74%.
The median days on market went down to 18 days, showing homes are still selling fast when priced right.
The average number of offers on recently sold homes went up to 3.3 offers.
Bottom Line
When supply is so low, your house is going to be in the spotlight. That's why sellers are seeing their homes sell a little faster and get more offers right now. If you've thought about selling, now's the time to make a move. Connect with a trusted real estate professional like Anne-Britt to get the process started.
Anne-Britt of Mountain Rose Realty is the go-to real estate consultant in Telluride, Colorado. She understands that looking for a new home can be daunting and overwhelming, but with her experienced expertise, she makes it easy and enjoyable. Anne-Britt will guide you through every step of the process to find the perfect home for you.
Whether it's helping you understand what characteristics to look for in a home or recommending top-notch contractors for renovations, Anne-Britt has got your back! With her knowledge of Telluride's real estate market and dedication to customer service, Anne-Britt at Mountain Rose Realty is sure to take the stress out of buying or selling a home. Reach out to her today and see why she's the best in Telluride!
Phone(970) 759-4886

Email[email protected]

Address Anne-Britt Ostlund | Mountain Rose Realty
ER.40037299
Mountain Rose Realty
220 East Colorado Avenue Suite 210
Telluride, CO 81435