Today's Real Estate Market: The 'Unicorns' Have Galloped Off
Posted by Anne-Britt Ostlund on Monday, May 29, 2023 at 10:15 AM
By Anne-Britt Ostlund / May 29, 2023
Comment
Comparing real estate metrics from one year to another can be challenging in a normal housing market. That's due to possible variability in the market making the comparison less meaningful or accurate. Unpredictable events can have a significant impact on the circumstances and outcomes being compared.
Comparing this year's numbers to the two 'unicorn' years we just experienced is almost worthless. By 'unicorn,' this is the less common definition of the word:
"Something that is greatly desired but difficult or impossible to find."
The pandemic profoundly changed real estate over the last few years. The demand for a home of our own skyrocketed, and people needed a home office and big backyard.
Waves of first-time and second-home buyers entered the market.
Already low mortgage rates were driven to historic lows.
The forbearance plan all but eliminated foreclosures.
Home values reached appreciation levels never seen before.
It was a market that forever had been "greatly desired but difficult or impossible to find." A 'unicorn' year.
Now, things are getting back to normal. The 'unicorns' have galloped off.
Comparing today's market to those years makes no sense. Here are three examples:
Buyer Demand
If you look at the headlines, you'd think there aren't any buyers out there. We still sell over 10,000 houses a day in the United States. Of course, buyer demand is down from the two 'unicorn' years. But, according to ShowingTime, if we compare it to normal years (2017-2019), we can see that buyer activity is still strong (see graph below):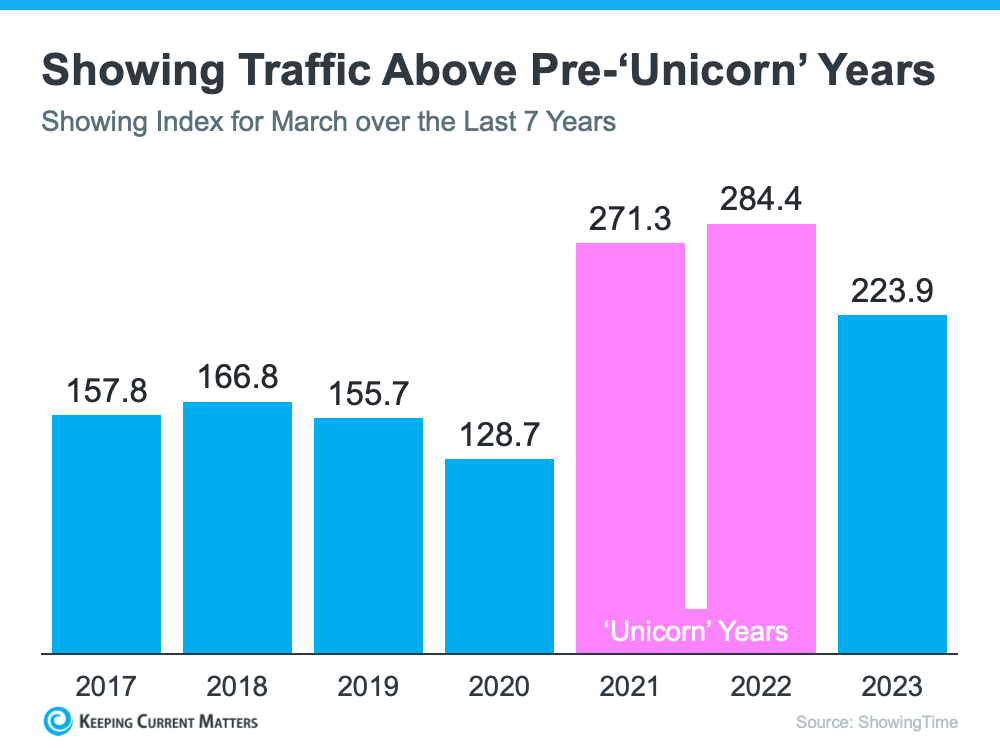 Home Prices
We can't compare today's home price increases to the last couple of years. According to Freddie Mac, 2020 and 2021 each had historic appreciation numbers. Here's a graph also showing the more normal years (2017-2019):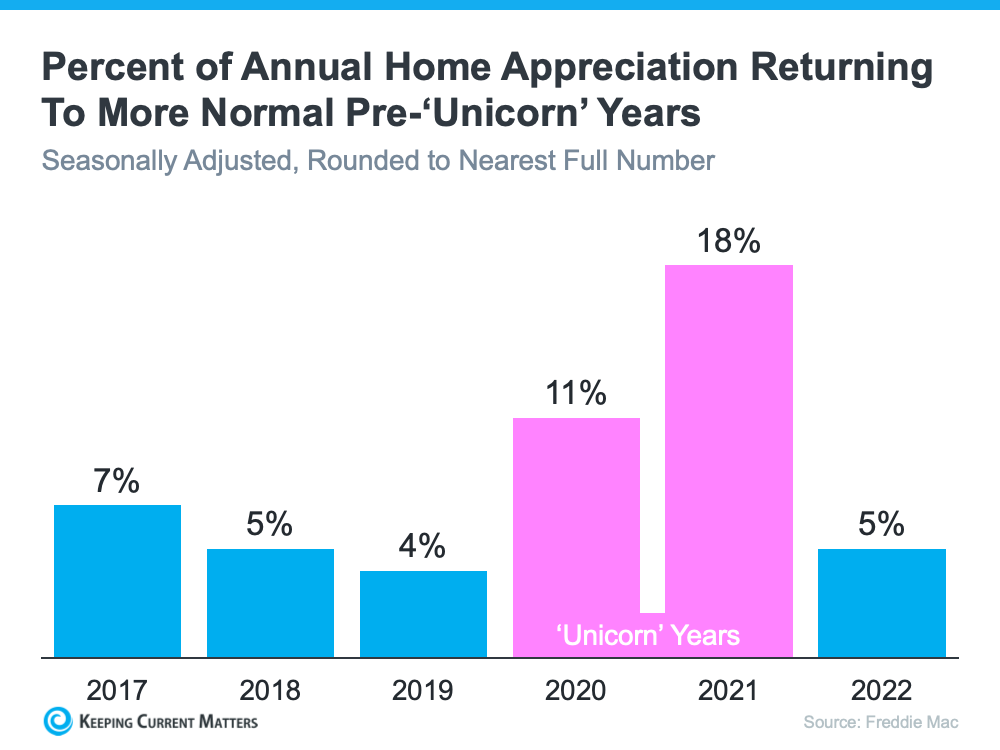 We can see that we're returning to more normal home value increases. There were several months of minimal depreciation in the second half of 2022. However, according to Fannie Mae, the market has returned to more normal appreciation in the first quarter of this year.
Foreclosures
There have already been some startling headlines about the percentage increases in foreclosure filings. Of course, the percentages will be up. They are increases over historically low foreclosure rates. Here's a graph with information from ATTOM, a property data provider: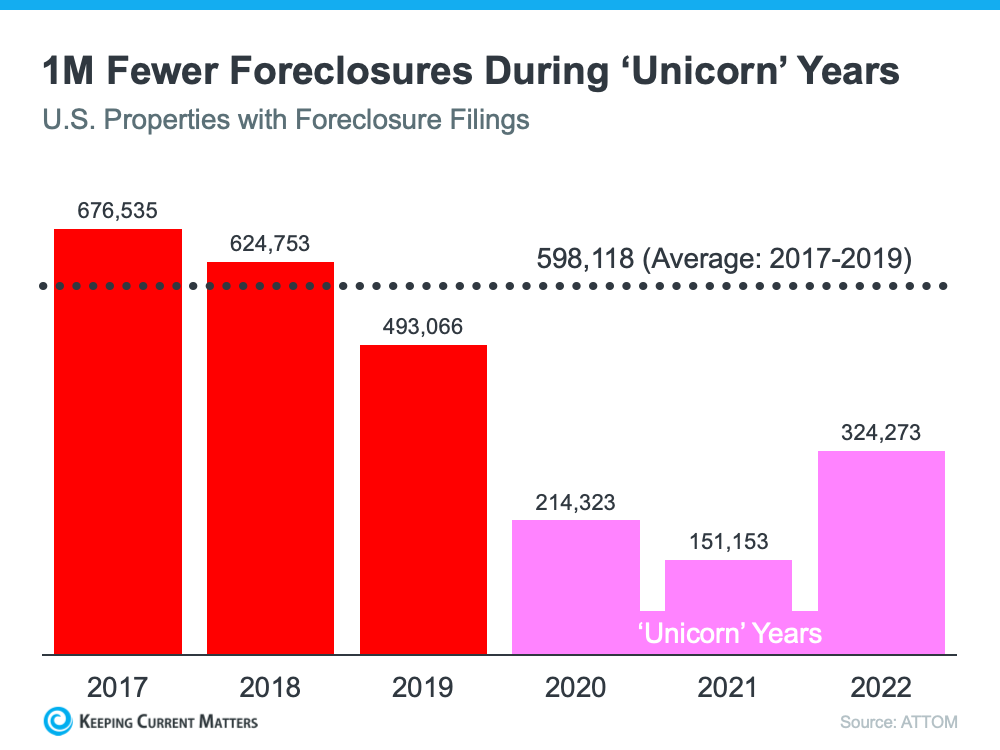 There will be an increase over the numbers of the last three years now that the moratorium on foreclosures has ended. There are homeowners who lose their home to foreclosure every year, and it's heartbreaking for those families. But, if we put the current numbers into perspective, we'll realize that we're actually going back to the normal filings from 2017-2019.
Bottom Line
There will be very unsettling headlines around the housing market this year. Most will come from inappropriate comparisons to the 'unicorn' years.
In the dynamic world of real estate, having a trusted professional by your side can make all the difference. If you're navigating the Telluride real estate market, Anne-Britt of Mountain Rose Realty is the resource you need to keep everything in proper perspective.
Telluride, Colorado, is a place of natural beauty, vibrant community, and diverse real estate opportunities. Understanding the market dynamics and staying informed is crucial when buying or selling property in Telluride. This is where Anne-Britt's expertise shines.
As a seasoned real estate professional, Anne-Britt brings a wealth of knowledge and experience to the table. She has a deep understanding of Telluride's neighborhoods, pricing trends, and market conditions. Anne-Britt's insights and guidance can help you make informed decisions and keep your real estate goals in proper perspective.
Anne-Britt's role extends beyond the transactional aspects of real estate. She takes the time to listen to your needs, concerns, and aspirations. By understanding your unique perspective, she can tailor her approach to ensure that your real estate journey aligns with your goals.
Whether you're a first-time buyer, a seasoned investor, or looking to sell your property, Anne-Britt offers a comprehensive range of services. From providing market analysis and strategic pricing advice to creating effective marketing strategies, she is dedicated to helping you achieve success.
With Anne-Britt by your side, you can navigate the Telluride real estate market with confidence. She is a great resource who will ensure that you have a clear perspective on your options, empowering you to make informed decisions.
In the fast-paced and ever-changing world of real estate, it's crucial to have a professional who can keep everything in proper perspective. Anne-Britt of Mountain Rose Realty is that resource. Contact Anne-Britt today and experience the difference she can make in your Telluride real estate journey.
Phone(970) 759-4886

Email[email protected]

Address Anne-Britt Ostlund | Mountain Rose Realty
ER.40037299
Mountain Rose Realty
220 East Colorado Avenue Suite 210
Telluride, CO 81435