Unpacking the Long-Term Benefits of Homeownership
Posted by Anne-Britt Ostlund on Sunday, October 1, 2023 at 9:18 AM
By Anne-Britt Ostlund / October 1, 2023
Comment
If you're thinking about buying a home soon, higher mortgage rates, rising home prices, and ongoing affordability concerns may make you wonder if it still makes sense to buy a home right now. While those market factors are important, there's more to consider. You should think about the long-term benefits of homeownership too.
Think about this: if you know people who bought a home 5, 10, or even 30 years ago, you're probably going to have a hard time finding someone who regrets their decision. Why is that? The reason is tied to how home values grow with time and how, by extension, that grows your own wealth. That may be why, in a recent Fannie Mae survey, 76% of respondents say they believe buying a home is a safe investment.
Here's a look at how just the home price appreciation piece can really add up over the years.
Home Price Growth over Time
The map below uses data from the Federal Housing Finance Agency (FHFA) to show just how noteworthy price gains have been over the last five years. And, since home prices vary by area, the map is broken out regionally to help convey larger market trends: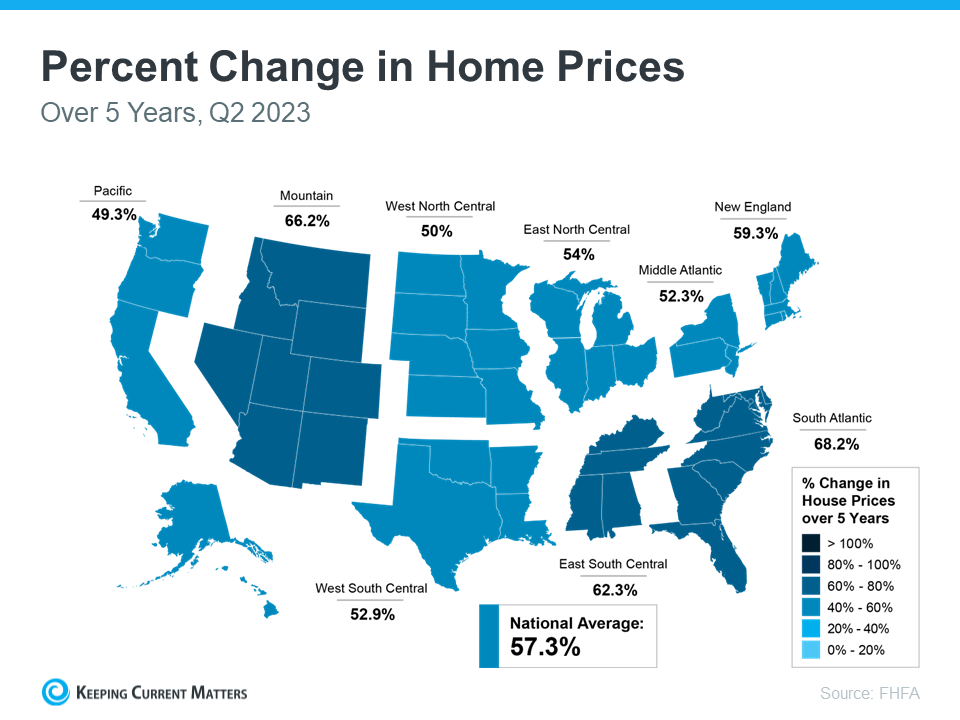 If you look at the percent change in home prices, you can see home prices grew on average by just over 57% nationwide over a five-year period.
Some regions are slightly above or below that average, but overall, home prices gained solid ground in a short time. And if you expand that time frame even more, the benefit of homeownership and the drastic gains homeowners made over the years become even clearer (see map below):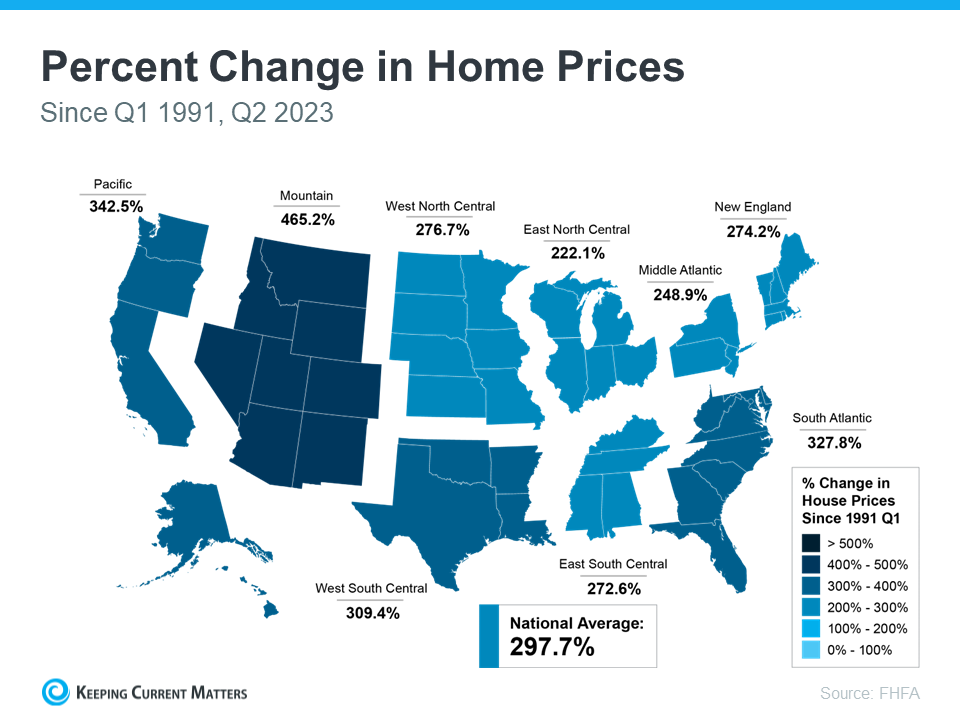 The second map shows, nationwide, home prices appreciated by an average of over 297% over a roughly 30-year span.
This nationwide average tells you the typical homeowner who bought a house 30 years ago saw their home almost triple in value over that time. That's a key factor in why so many homeowners who bought their homes years ago are still happy with their decision.
And while you may have heard talk throughout the year that home prices would crash, it hasn't happened. In fact, experts project home prices will continue to rise for years to come.
Bottom Line
In conclusion, the decision to invest in Telluride real estate and make Mountain Rose Realty your trusted partner in your homebuying journey is a choice that can lead to a wealth of long-term benefits. As you contemplate the question of whether now is the right time to buy a home, remember the enduring advantages that homeownership brings, not only in terms of financial stability but also the sense of belonging it fosters.
Anne-Britt and the team at Mountain Rose Realty are your go-to experts for Telluride real estate. With an intimate knowledge of the Telluride area and a commitment to finding you the perfect property, Anne-Britt is your trusted resource for Telluride homes for sale. Whether you're a first-time homebuyer or looking to upgrade to your dream home in Telluride, co, she's here to guide you every step of the way.
Don't let the current market conditions deter you from realizing your homeownership dreams. Reach out to Anne-Britt and her dedicated team at Mountain Rose Realty today to explore the exceptional homes for sale in Telluride, co. Your future in the picturesque Telluride community awaits, and Anne-Britt is here to make it a reality. Take the first step towards your new home – contact us now and let's embark on this exciting journey together!
Phone(970) 759-4886

Email[email protected]

Address Anne-Britt Ostlund | Mountain Rose Realty
ER.40037299
Mountain Rose Realty
220 East Colorado Avenue Suite 210
Telluride, CO 81435