Week in Wenatchee: Nationals qualifiers reflect on ski journey
Posted by Anne-Britt Ostlund on Thursday, April 27, 2023 at 6:15 AM
By Anne-Britt Ostlund / April 27, 2023
Comment
Via Telluride News By Joel Priest Planet Contibutor
Telluride Ski & Snowboard Club hangs in Washington state. Week in Wenatchee: Nationals qualifiers reflect on ski journey.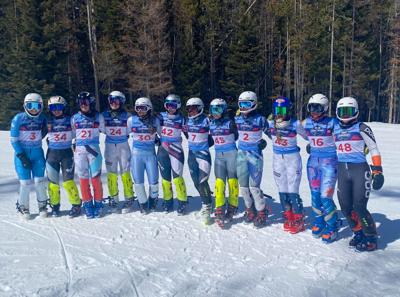 The U16 Rocky/Central Region team captured the championship at nationals.(Photo courtesy of Erika Anne Henschel)
Host city of the 2023 U16 National Alpine Championships, Wenatchee, Wash., was certainly far from home.
Yet to Telluride Ski & Snowboard Club athletes Regan Chandler and Eva Henschel, it…kind of felt like home.
"Imagine Montrose…with a ski resort," said Chandler, recuperating on Spring Break after the April 1-6 spectacle situated some three hours east of Seattle. "It's this desert-y, dry town, and then you drive 30 minutes up to this kind of small, flat—compared to Telluride—mountain and it had a lot of snow, surprisingly!"
"Then we'd go…off of Mission Ridge into the town of Wenatchee and it would be, like, 50 degrees! It was like you're almost in Montrose or something," Henschel said in a separate interview a few days later. "It was kind of in the middle of nowhere, but it was really quaint, really cute…a unique place to host."
Amongst the top 51 skiers in the U.S., Henschel and Chandler found both the opposition and course conditions at Mission Ridge Ski & Board Resort most challenging, but proved they could hang by posting some upper-tier times.
On the first true day of competition, April 3, Henschel clocked a 1:13.37 and a 1:10.78 in the giant slalom for a combined 2:24.15 and ownership of 16th place. Also able to complete two trips down the Skookum course, Chandler totaled 2:26.95 (1:15.07 + 1:11.88) and placed 25th.
"I wasn't able to train much, prior to Nationals," said Chandler, alluding to a concussion picked up on the first day of the 19-state Rocky/Central Region Junior Championships, March 6-10 in Winter Park, "but it was still super fun, and I did pretty well—25th out of…51 girls. I'll remember the GS."
"We had a GS training day, then a super-G training day…and those were the two days that it snowed a lot," recalled Henschel. "So I wouldn't really call it, like, 'training'; we were really just freeskiing. There was so much snow on the ground you could hardly turn…so the track wasn't as great. That, and a part of it being really flat…. It had its challenges, to say the least.
"My best discipline is GS—and super-G—and I had a blast! It was really cold, but the runs were great," she continued. "At the start, you're kind of on a little knoll, then it's '3-2-1, go!' and you've just got to get in that tuck right away…be really aero. But I was happy with the results I put forth in GS; I came down and was like, 'Wow, that felt strong!'"
In the next day's single-run super-G, Henschel was 18th out of 51 entrants (but 47 finishers; just 36 had logged two times in GS) with a 1:03.22, and Chandler 39th with a 1:05.38. Held Wednesday, April 5, the slalom event didn't turn out as well; out of only 35 skiers recording two times, Henschel and Chandler finished 34th and 35th, respectively, with efforts of 1:46.44 and 1:48.85.
"When we fell or didn't do too good in a run, we just helped each other realize that we were both glad to be there. We helped each other realize the fun in it," said Chandler. "It was a little overwhelming meeting all these new people, but at least I had Eva with me; we've known each other our whole lives, so it was awesome to have someone there who I could be close to."
"We hang out with the Aspen team a lot, but none of the Aspen girls made it, which was a bummer," Henschel said, "so we went into it thinking, 'Oh, we're going to room with other people.' But when we got there they were like, 'You guys will room together.' So honestly we were having the time of our lives; we'd get home after training, and we'd go on a jog, get take-out, watch a movie and go to bed. It was great!"
There was also a parallel, or 'dual' event on the 6th in which skiers, using their GS gear, went one-on-one with each other.
"That was really fun, but I crashed against the first person I raced," Chandler said with a slight laugh.
"There was some amazing skiers out there," stated Henschel. "Logan Grosdidier…she's amazing. Younger than me, she's wicked fast…and also on the Rocky/Central team. Regan and I got to hang out with her, and Abby Olson. Abby's my age, and they're…at this whole other level of elite-ness, as hardcore as it gets. The proof is in the pudding."
Grosdidier, a Wenatchee local but Steamboat Springs Winter Sports Club team member, placed first in both slalom (1:28.70) and giant slalom (2:17.47), and fourth in super-G (1:01.42). Based on results, the eighth-grader ranked second in the overall—she'd been No. 1 at the regional, with SSWSC's Olson No. 2—behind Ski & Snowboard Club Vail's Viktoria Zaytseva, first in both super-G (1:01.06) and the 4/2 SkillsQuest feature, plus runner-up in slalom (1:29.82) and fourth in GS (2:19.72).
Both Chandler and Henschel saluted coach Max Lamb and the whole TSSC family—and especially their own families—as they looked back upon their now-completed 2022-23 season.
"I think I definitely improved from the first race and got better at everything," said Chandler, recipient of a 'discretionary' Nationals berth after it was decided that had it not been for the concussion, she would have qualified on her own merits. "It was fun to win the downhill in Aspen; I'd never won a race at the higher U16 level before—that was a really cool experience."
"And to travel to Nationals with the rest of the Rocky/Central team," she continued, "was good. I just told myself that I'm glad to be somewhere different from Colorado. I've never really skied anywhere else, so I was excited to be at a new place."
"It's obviously a great achievement," Henschel stated. "As a Telluridian, like, skiing is life; I think everyone has skiing in their blood—you've got to love it. And getting to be a part of the best in the country is great; you really can't believe it."
"I got to meet people from the East Coast, the West Coast, and all these different coaches—it was great," she added. "I was really honored to be part of the Rocky/Central Region team."
Which, as you probably guessed, earned the overall Regions Cup.
---
If you're looking for the best real estate advice in Telluride, Colorado, then look no further than Anne-Britt of Mountain Rose Realty. With her knowledge and expertise of the local market, she can help you find your dream home or investment property. To stay up to date with all things related to Telluride Real Estate and lifestyle updates, be sure to subscribe to the Mountain Rose Realty blog. Here you will find helpful tips and insights from one of the top real estate consultants in town. Don't miss out! Subscribe today!
Anne-Britt of Mountain Rose Realty is one of the most highly sought after real estate consultants in Telluride, Colorado. With her years of experience and knowledge, she has an impressive track record for helping clients find the perfect property or home that fits their needs. She is also well known for going above and beyond to ensure a smooth transaction from start to finish. Whether you are looking for a ski chalet, mountain retreat or luxury estate; Anne-Britt can help make your dreams come true! Contact her today to get started on finding your new home in beautiful Telluride!
Phone(970) 759-4886

Email[email protected]

Address Anne-Britt Ostlund | Mountain Rose Realty
ER.40037299
Mountain Rose Realty
220 East Colorado Avenue Suite 210
Telluride, CO 81435