What Buyer Activity Tells Us About the Housing Market
Posted by Anne-Britt Ostlund on Thursday, March 16, 2023 at 4:30 AM
By Anne-Britt Ostlund / March 16, 2023
Comment
Though the housing market is no longer experiencing the frenzy of a year ago, buyers are showing their interest in purchasing a home. According to U.S. News:
"Housing markets have cooled slightly, but demand hasn't disappeared, and in many places remains strong largely due to the shortage of homes on the market." That activity can be seen in the latest ShowingTime Showing Index, which is a measure of buyers actively touring available homes (see graph below):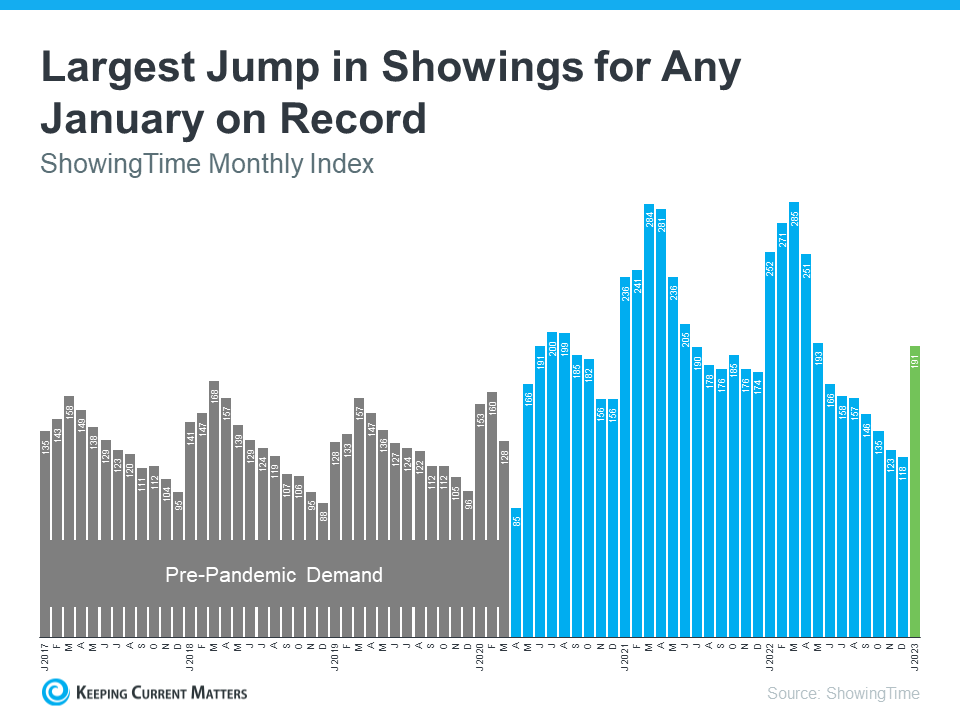 The 62% jump in showings from December to January is one of the largest on record. There were also more showings in January than in any other month since last May. As you can see in the graph, it's normal for showings to increase early in the year, but the jump this January was larger than usual, and a lot of that has to do with mortgage rates. Michael Lane, VP of Sales and Industry at ShowingTime+, explains:
"It's typical to see a seasonal increase in home showings in January as buyers get ready for the spring market, but a larger increase than any January before after last year's rapid cooldown is significant. Mortgage rate activity this spring will play a big role in sales activity, but January's home showings are a positive sign that buyers are getting back out there . . ."
It's important to note that mortgage rates hovered in the low 6% range in January, which played a role in the high number of showings. What does this mean? When mortgage rates eased, buyer interest climbed. The jump in home showings early this year makes one thing clear – while rates may be volatile right now, there are interested buyers out there, and when mortgage rates are favorable, they're ready to make their move.
The increase in showings in January was one of the largest on record, according to the ShowingTime Showing Index. This indicates that buyers are actively searching for homes and ready to make a purchase when mortgage rates are favorable.
If you're considering selling your home, now is a great time to talk with an experienced real estate agent. Anne-Britt of Mountain Rose Realty in Telluride, Colorado is known for her expertise as a top Telluride Real Estate agent. She can guide you through the process, advise on pricing strategies and assist in finding qualified buyers who are ready to purchase your property. Don't miss out on the current market opportunity - contact Anne-Britt today!
Phone(970) 759-4886

Email[email protected]

Address Anne-Britt Ostlund | Mountain Rose Realty
ER.40037299
Mountain Rose Realty
220 East Colorado Avenue Suite 210
Telluride, CO 81435