What's Ahead for Home Prices in 2023
Posted by Anne-Britt Ostlund on Saturday, March 18, 2023 at 4:00 AM
By Anne-Britt Ostlund / March 18, 2023
Comment
In the last twelve months, home prices have been a hot button issue. While some predicted that we would be in for another 2008-style decline, this fortunately has not occurred. Other analysts anticipated an uneven market with certain regions appreciating or depreciating depending on their location - and as spring approaches these same experts continue to ponder what will happen over the next year and further down the line.
Selma Hepp, Chief Economist at CoreLogic, says:
"While 2023 kicked off on a more optimistic note for the U.S. housing market, recent mortgage rate volatility highlights how much uncertainty remains. Nevertheless, the continued shortage of for-sale homes is likely to keep price declines modest, which are projected to top out at 3% peak to trough."
Additionally, every quarter, Pulsenomics surveys a panel of over 100 economists, investment strategists, and housing market analysts regarding their five-year expectations for future home prices in the United States. Here's what they said most recently: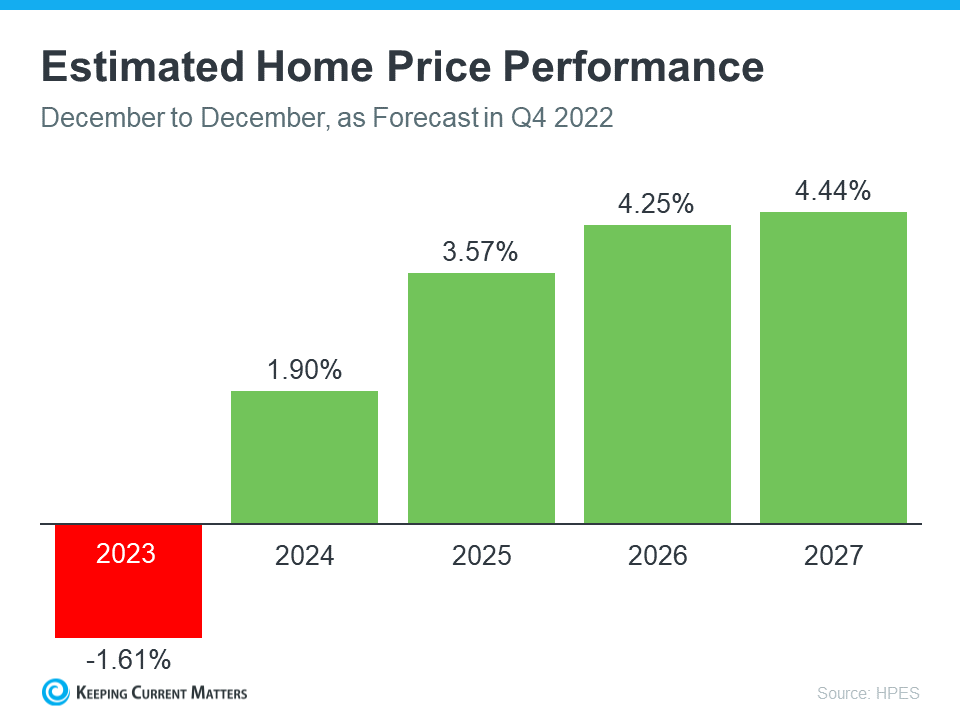 So, given this information and what experts are saying about home prices, the question you might be asking is: should I buy a home this spring? Here are three reasons you should consider making a move:
Buying a home helps you escape the cycle of rising rents. Over the past several decades, the median price of rent has risen consistently. The bottom line is, rent is going up.
Homeownership is a hedge against inflation. A key advantage of homeownership is that it's one of the best hedges against inflation. When you buy a home with a fixed-rate mortgage, you secure your housing payment, so it won't go up like it would if you rent.
Homeownership is a powerful wealth-building tool. The average net worth of a homeowner is $255,000 compared to $6,300 for a renter. That's because owning a home is one of the most important elements of wealth-building.
And, when you choose Telluride, Colorado for your home, there's no better realtor to help guide you through the process than Anne-Britt of Mountain Rose Realty. With over two decades of experience in Telluride Real Estate, she has the knowledge and expertise to make sure your search for Telluride Real Estate leads you to a perfect match. From luxury homes to vacation properties, Anne-Britt will provide the insight and personalized attention you need in order to make an informed decision about Telluride Real Estate. Contact her today and learn more about Telluride Real Estate with Mountain Rose Realty.