Why It's Still a Seller's Market Today
Posted by Anne-Britt Ostlund on Saturday, August 26, 2023 at 8:59 AM
By Anne-Britt Ostlund / August 26, 2023
Comment
Even though activity in the housing market has slowed from the frenzy that was the 'unicorn' years, it's still a seller's market because the supply of homes for sale is so low. But what does that really mean for you? And why are conditions today so good if you want to sell your house?
The latest Existing Home Sales Report from the National Association of Realtors (NAR) shows housing supply is still astonishingly low. Housing inventory is measured by the number of available homes on the market. It's also measured by months' supply, meaning the number of months it would take to sell all those available homes based on current demand. In a balanced market, there's usually about a six-month supply. Today, we have only about 3 months' supply of homes at the current sales pace (see graph below):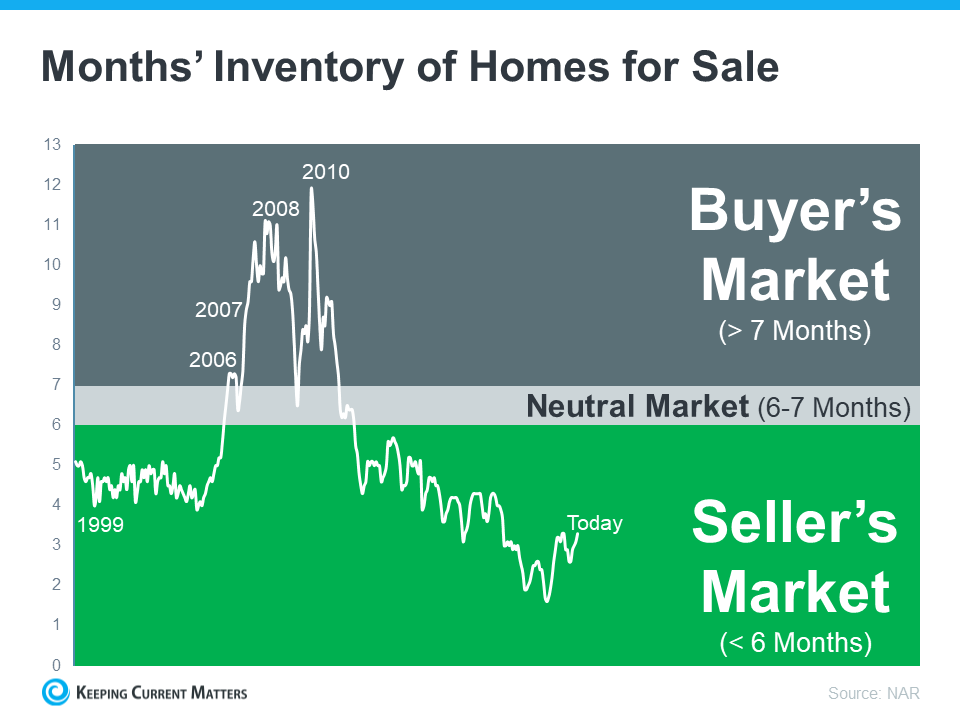 As the visual shows, given the current inventory of homes, it's still a seller's market.
Today, we're nowhere near what's considered a balanced market. In fact, the current months' supply is half of what's typical of a normal market. That means there just aren't enough homes to go around based on today's buyer demand.
As Lawrence Yun, Chief Economist for NAR, says:
"There are simply not enough homes for sale. The market can easily absorb a doubling of inventory."
How Does Being in a Seller's Market Benefit You?
Sellers, these conditions give you a real edge. Right now, there are buyers who are ready, willing, and able to purchase a home. And, because there's a shortage of homes up for sale, the ones that do hit the market are like magnets for those buyers.
If you work with a local real estate agent to list your house right now, in good condition, and at the right price, it could get a lot of attention. You might even end up with multiple offers.
Bottom Line
Thank you for joining us today to explore the exciting opportunities in Telluride's real estate market. At Mountain Rose Realty, we're dedicated to helping you make the most of this unique seller's market. With demand soaring and inventory limited, your home is a precious commodity that can fetch top dollar.
If you're considering selling your property in Telluride, you're in a prime position to capitalize on the current conditions. The scarcity of available homes is attracting eager buyers actively seeking more options in this picturesque region.
To navigate this competitive landscape successfully, it's essential to partner with a trusted local real estate expert. Anne-Britt, our seasoned Telluride real estate agent, possesses unparalleled knowledge of the area and can provide you with invaluable insights into the market dynamics.
Whether you're new to the world of Telluride real estate or a seasoned homeowner, Anne-Britt will work closely with you to understand the intricacies of your specific neighborhood and property. With her guidance, you can confidently prepare to enter the market and optimize your selling strategy.
If you're ready to take advantage of this seller's market and explore the Telluride homes for sale, don't hesitate to contact Anne-Britt at Mountain Rose Realty. Her expertise, combined with the high demand for homes in Telluride, will ensure that your property receives the attention it deserves.
Remember, in today's competitive Telluride real estate landscape, having a local expert like Anne-Britt on your side can make all the difference. Get in touch with us today, and let's embark on this exciting journey together.
Don't miss out on the opportunity to maximize your Telluride home's value in this red-hot market. Connect with Mountain Rose Realty and Anne-Britt today, and let's turn your Telluride real estate dreams into a reality.
Phone(970) 759-4886

Email[email protected]

Address Anne-Britt Ostlund | Mountain Rose Realty
ER.40037299
Mountain Rose Realty
220 East Colorado Avenue Suite 210
Telluride, CO 81435