Why You Don't Need To Fear the Return of Adjustable-Rate Mortgages
Posted by Anne-Britt Ostlund on Wednesday, August 23, 2023 at 10:39 AM
By Anne-Britt Ostlund / August 23, 2023
Comment
If you remember the housing crash back in 2008, you may recall just how popular adjustable-rate mortgages (ARMs) were back then. And after years of being virtually nonexistent, more people are once again using ARMs when buying a home. Let's break down why that's happening and why this isn't cause for concern.
Why ARMs Have Gained Popularity More Recently
This graph uses data from the Mortgage Bankers Association (MBA) to show how the percentage of adjustable-rate mortgages has increased over the past few years: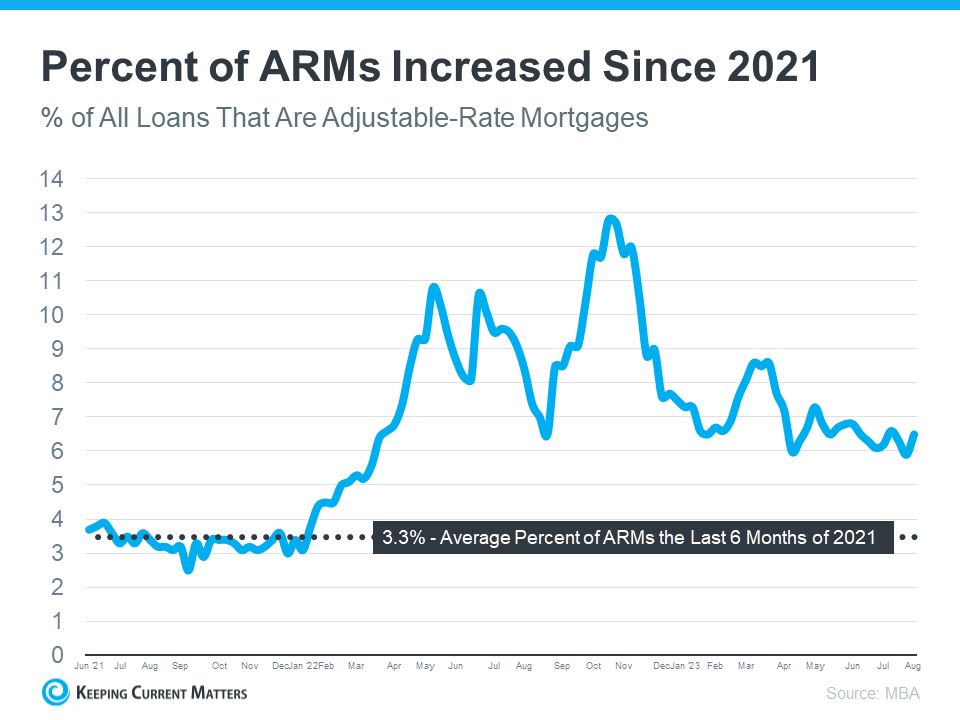 As the graph conveys, after hovering around 3% of all mortgages in 2021, many more homeowners turned to adjustable-rate mortgages again last year. There's a simple explanation for that increase. Last year is when mortgage rates climbed dramatically. With higher borrowing costs, some homeowners decided to take out this type of loan because traditional borrowing costs were high, and an ARM gave them a lower rate.
Why Today's ARMs Aren't Like the Ones in 2008
To put things into perspective, let's remember these aren't like the ARMs that became popular leading up to 2008. Part of what caused the housing crash was loose lending standards. Back then, when a buyer got an ARM, banks and lenders didn't require proof of their employment, assets, income, etc. Basically, people were getting loans that they shouldn't have been awarded. This set many homeowners up for trouble because they couldn't pay back the loans that they never had to qualify for in the first place.
This time around, lending standards are different. Banks and lenders learned from the crash, and now they verify income, assets, employment, and more. This means today's buyers actually have to qualify for their loans and show they'll be able to repay them.
Archana Pradhan, Economist at CoreLogic, explains the difference between then and now:
"Around 60% of Adjustable-Rate Mortgages (ARM) that were originated in 2007 were low- or no-documentation loans . . . Similarly, in 2005, 29% of ARM borrowers had credit scores below 640 . . . Currently, almost all conventional loans, including both ARMs and Fixed-Rate Mortgages, require full documentation, are amortized, and are made to borrowers with credit scores above 640."
In simple terms, Laurie Goodman at Urban Institute helps drive this point home by saying:
"Today's Adjustable-Rate Mortgages are no riskier than other mortgage products and their lower monthly payments could increase access to homeownership for more potential buyers."
Bottom Line
In conclusion, if the thought of adjustable-rate mortgages conjures up memories of the housing crash, let's put your worries to rest. The landscape has evolved, and today's adjustable-rate mortgages are not the same as those of the past. With more stringent regulations, improved financial practices, and a keen eye on economic stability, the mortgage industry has made significant strides to ensure a safer borrowing experience.
For those considering Telluride as their next home and seeking the best in Telluride real estate, look no further than Mountain Rose Realty. With a deep-rooted understanding of the local market and a commitment to providing top-notch service, Mountain Rose Realty stands as your premier partner in navigating the world of Telluride homes for sale. Led by the esteemed Anne-Britt, the team's expertise and dedication will guide you through the intricate process of finding your dream property in this picturesque corner of Colorado.
Whether you're a seasoned homeowner or a first-time buyer, the world of real estate can be both exciting and overwhelming. If you're a first-time homebuyer, faced with the challenges of today's affordability landscape, remember that options are available to you. To gain a clearer picture of lending solutions tailored to your unique needs, don't hesitate to reach out to a trusted lender. Their knowledge and guidance can illuminate the path to homeownership, making your dream of owning a piece of Telluride real estate a reality.
In the end, the real estate journey is a multi-faceted one, but it's a journey you don't have to embark on alone. Mountain Rose Realty and trusted lenders are here to support and guide you every step of the way. As you set your sights on the remarkable offerings of Telluride homes for sale, take comfort in the fact that today's mortgage landscape is vastly different from the past, and your aspirations for homeownership are well within reach.
Phone(970) 759-4886

Email[email protected]

Address Anne-Britt Ostlund | Mountain Rose Realty
ER.40037299
Mountain Rose Realty
220 East Colorado Avenue Suite 210
Telluride, CO 81435